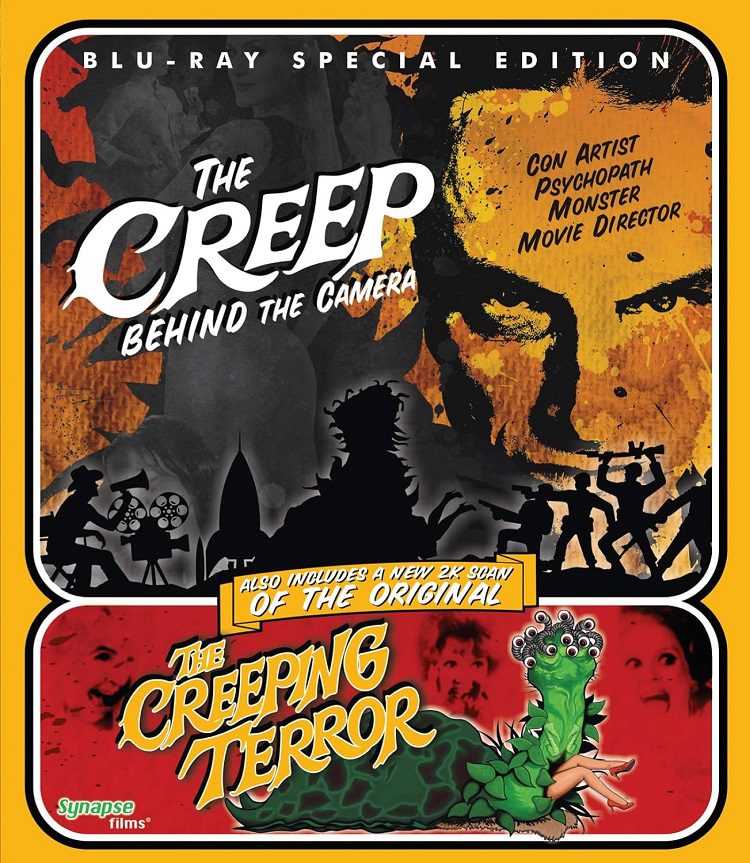 Sometimes, the most interesting aspect of a movie is its production history. Especially when the movie in question is something as legendarily awful as Vic Savage's 1964 magnum oopus, The Creeping Terror ‒ a film so bad, it makes even the worst Ed Wood flick seem like fine art by comparison. Indeed, the story behind the infamous black-and-white no-budget monster movie messterpiece has garnered the interest of several twisted minds throughout the years, most notably by the honorably dishonorable mentionings of said in two of Harry and Michael Medved's books, The Golden Turkey Awards (1980) and Son of Golden Turkey Awards (1986).
Published long before the Internets came into play, these two books were, for years, the closest anyone could get to learning the "truth" behind how a con artist from Connecticut once pulled the woolly carpet over the eyes of everyone in a small Los Angeles community. Thankfully, as interest in the film (and its background) grew over the years, so did technology, making it easier for the many people whose lives were (negatively) affected by the unbelievable excuse for a production to communicate with one another. To this extent, several other bad movie historians (thank you, Brian Albright) began to research not just the making-of the film itself, but the wandering madman responsible for it, as well.
Of course, it also opened the doors for a variety of contradicting ‒ if not entirely incorrect ‒ information about the movie and its maker, leading to some of the craziest Hollywood stories never told.
For those of you who have never been blessed with the dubious honor of experiencing the film for yourself (and I really can't blame you if you haven't), The Creeping Terror is a science-fiction horror movie of cosmic disproportions. Shot for next to nothing from funds a would-be showman named A.J. Nelson (who preferred to be referred to by his alleged "actor" alias, Vic Savage) managed to scrape together through various "investors" in and around the then-sleepyheaded community of Glendale in the early '60s. The story, penned by Stirling Silliphant's half-brother Allen, involved a monster from outer space that lands in Lake Tahoe before setting out to eat everyone.
As a reward for their financial support, film's backers were to be paid in the form of a share in profits as well as a part in the movie. If their luck held out, that is. But it didn't, naturally, and many of the people who would become a part of The Creeping Terror's history learned a valuable life lesson a little too late in life. Even the lesser Silliphant brother's tongue-in-cheek script would get lost in the translation, transmutating from whatever pre-hentai creation he had in mind into what the most laughable movie monster ever: a crawling, man-eating critter thing resembling every human sex organ, as assembled from a large piece of foam, discarded vacuum hoses, and a heap of carpet remnants.
However fancy the gold-rimmed business card he proudly showed off to prospective suckers may have been, there was little getting around the notion that Nelson was nothing more than a sleazy psychopathic leech whose morals were as bankrupt as his finances. And it is that very sordid tale we are treated to here in Pete Schuermann's 2014 docudrama The Creep Behind the Camera. Originally beget as a straight-up documentary about Art J. Nelson simply entitled Creep! in the latter half of the 2000s, Schuermann's dream project ran into its fair share of hiccups throughout its own production. Namely, a total lack of actual behind-the-scenes remnants, carpet or otherwise.
Reassessing the situation somewhat, Schuermann decided to take a different approach to the idea, creating in the process a rare strain of filmmaking that is almost right on par with the narrative of Rudolph Grey's 1992 celebrated biography about another legendary Hollywood maverick, Nightmare of Ecstasy: The Life and Art of Edward D. Wood, Jr.
Presented as a bizarre documentary/biopic mashup featuring character reenactments straight out of a cheeky version of Unsolved Mysteries, the bulk of The Creep Behind the Camera finds TV/voice actor Josh Phillips taking on the role of a lifetime as Art Nelson, alias Vic Savage. Teeter-tottering between the nonlinear and the non sequitur, Schuermann's Creep shows us Nelson's transition from a shady Connecticut delinquent to a wasted Los Angeles conman, of which his bemused, battered, and sheltered first (known) wife, Lois ‒ effectively brought to tormented life by Preacher alumni Jodi Lynn Thomas ‒ who is, for all accounts and purposes, the heroine of our tale.
In-between the various depravities depicted in the tragic dramatic recreations of Nelson's various activities (fair warning, it gets very dark in there ‒ with topics ranging from drug use to the sexual exploitation of a minor!), Schuermann shows us many of the strange ‒ and strangely comical ‒ aspects of Nelson's tenure in Tinseltown. Such as a deranged hippie named Charlie Manson who lets Nelson shoot at Spahn Ranch. Or Charlie's friend, Randy Starr, who has plenty of guns to spare, and who would serve as Assistant Director on the film. Even doomed former child star Carl "Alfalfa" Switzer is briefly depicted as a "connection" of Nelson in one slightly over-the-top scene.
While the reenactments border on being too cutesy at times, one can easily overlook 'em thanks to the many fascinating recollections from actual survivors of The Creeping Terror and its monster of a maker. Among those presented are the real Lois Wiseman (whose 2009 biography Hollywood Con Man exposes the physical and psychologically abusive relationship she had with Nelson), Allan Silliphant, Michael Medved, Byrd Holland, and even Star Wars effects guru Richard Edlund, who anonymously designed The Creeping Terror's title sequence! But nothing pales to the input provided by the late William Thourlby, who somehow managed to salvage the wreck of a movie.
Cast as the hero of the actual film itself, Thourlby ‒ a former model, Marlboro Man, and future fashion adviser to President Richard M. Nixon ‒ would become the hero of The Creeping Terror in real life, as well. Finagled into investing a large sum of dough, most of which would instead go to fund Nelson's various private lives, Mr. Thourlby (who died in 2009) was forced to step in after Nelson mysteriously (but not surprisingly) disappeared, rescuing what there was of the cinematic atrocity and doing his damndest to turn it into something at least resembled an actual motion picture. The largest obstacle was the lack of a soundtrack, as since Nelson shot the entire film without the luxury of sound.
By pure accident, Thourlby created what would go on to become one of The Creeping Terror's most infamous facets. Since there was no soundtrack, Thourlby looped the audio for only a few lines of dialogue, hiring radio/voice actor Larry Burrell (who later appeared in the newer footage of yet another infamous late night underground cult classic, the hideously hilarious They Saved Hitler's Brain) to narrate the remainder of the feature. This inadvertently lead to one of the film's most beloved traits: the faceless commentator who does his best to tell us what the heck is going on. It's almost as good as the movie's repetitive score, as written by a local high school teacher and performed by his students.
A special mention goes out to model/actor Bill LeVasseur for contributing a damn fine supporting role as William Thourlby in the reenactment portions of The Creep Behind the Camera. Of course, all of the people involved in Schuermann's film deserve a special mention, as does just about everyone who somehow made whatever The Creeping Terror is possible, right down to the soulless bastard who made it happen. Make no bones about it, Nelson was scum, but the one movie he is known for (he had actually made an earlier picture called Street-Fighter, released to little or no reception in 1959) has since become a leading contender for the illustrious Worst Movie Ever Made award.
Making its long-awaited home video debut, Pete Schuermann's The Creep Behind the Camera finally gets a chance to be seen thanks to the great minds at Synapse Films. Presented in a 1.78:1 aspect ratio, Schuermann's film arrives on Blu-ray in beautiful 1080p with a heap of special features to crawl over. Wait, what's that you say? You have never even seen the movie they're paying tribute to, so why would you watch a docudrama about the making-of it? Fear not, folks. In addition to ensuring the years Pete Schuermann spent making his film were years well spent, the folks at Synapse have gone the extra mile by including a brand-new 2K scan of The Creeping Terror itself as an exclusive bonus.
Yes, that's right, kids: you can finally see The Creeping Terror in HD (with subtitles, even!), thus making Synapse's Blu-ray Special Edition release of The Creep Behind the Camera all the more tantalizing. Presented in its proper 1.33:1 aspect ratio (like Art Nelson even knew what matting was!), Synapse's transfer of Nelson's poor attempt at a film (starring Vic Savage himself!) has been preserved from the only known elements for this release. Anyone who may have seen the film before will be pleasantly surprised here, as this is a huge improvement over previous home video versions, which were all sourced from a beat up 16mm print. Granted, the original print was beat up, too, but it's still a major upgrade.
In fact, for the first time, I was able to actually distinguish patterns on clothing, such as an anonymous bikini-clad beauty towards the beginning of the film who has a hard time fitting into one of the phallic monster's vaginal mouth. Who knew her outfit had stripes before? No one! But we know now. Also, did you note how I said "one of the phallic monster's vaginal mouth" just then? That's because creature designer Jon Lackey stole the original beastie when Nelson didn't pay him, to wit Nelson himself oversaw construction of a second critter. Naturally, his was worse, but now, thanks to Synapse's new 1080p scan, you'll actually be able to see all (well, most) of the differences. You lucky devils, you.
The remainder of The Creep Behind the Camera's special features pertain to Schuermann's flick, beginning with an audio commentary by the aforementioned writer/director, who is joined by his producing partner Nancy Theken (another pillar in the construction of the docudrama) and the title's two stars, Josh Phillips and Jodi Lynn Thomas. Several behind-the-scenes featurettes ‒ from the creation of the film, to the recreation of the monster, and the glorious moment in the film where Art Nelson finally dies ‒ are also included. Next up is a brief sit-down with Schuermann, who challenges classic bad movie lovers to find his hidden homages to other films from the creature feature era.
Outtakes? You bet! First up is some snipped interview footage of actor Byrd Holland (seen briefly in The Creeping Terror as Nelson/Savage's sheriff uncle) and Allan Silliphant. Next are a handful of deleted scenes, which are followed by a slightly different alternate ending. A Q&A from the premiere of Schuermann's film features an unexpected bonus of its own, that of Mystery Science Theater 3000 legend Frank Conniff, who presented the film with former MST3K co-star Trace Beaulieu at Screamfest. (MST3K featured The Creeping Terror on the popular show back in 1994, which only added to its cult status.) Lastly, there's a trailer for the main feature and a re-release promo for the original.
All in all, there's a lot of love on display here, be it from Pete Schuermann and Company for his increasingly popular docudrama, to the magnificent restoration of the original movie from Synapse Films. Considering how loveless the creature who made The Creeping Terror was, that's saying an awful lot. Naturally, as a lifelong lover of crappy monster movies from the era, I heartily recommend this release ‒ though I would suggest you check out The Creeping Terror first before diving into The Creep Behind the Camera, as the many shadowy revelations of Art J. Nelson revealed within may diminish your ability to fully enjoy how wonderfully inept it is.
Highly Recommended.