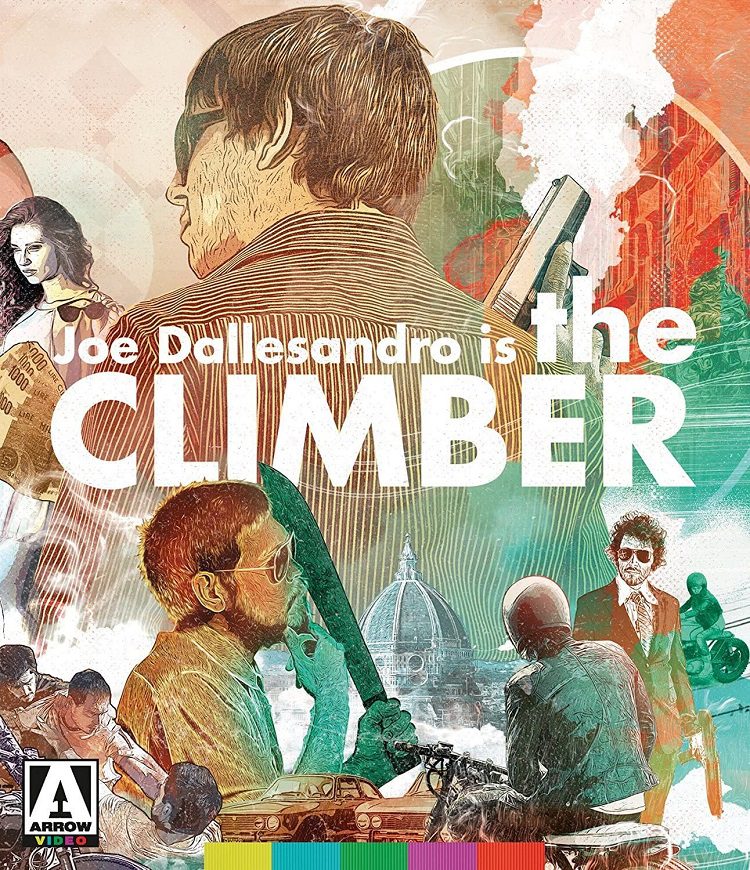 Fresh from appearing in several collaborations for Paul Morrissey and the legendary Andy Warhol ‒ a union which culminated with two of the most notorious horror-comedies ever made, Flesh for Frankenstein and Blood for Dracula ‒ model-turned-actor Joe Dallesandro found himself alone in Europe. Much to his surprise, his underground popularity as a Warhol factory superstar in the US was synonymous with that of "famous" abroad. And it wasn't long before he was being asked (or conned) into making a handful of motion pictures in the continent. One such film was Pasquale (I Am the Law) Squitieri's L'ambizioso, aka The Climber.
Initially feeling like a series of related vignettes sewn together into a whole film, Squitieri's contribution to the Italian poliziotteschi genre of urban crime dramas, The Climber finds young hunky Joe as a small-potatoes hood who distributes stolen cigarettes for a local mobster in Naples. But Aldo has higher aspirations than just running contraband cancer sticks around all day ‒ he wants to be a real gangster! Inflating the costs of the stolen goods just to make an extra buck, Scarface Babyface Dallesandro finds himself up to his gorgeous wavy locks in trouble when the big bad boss man (Raymond Pellegrin) catches wind of his doings.
Given an offer he can't refuse ‒ his life, in exchange for leaving town for good ‒ a beaten, battered, and bloodied vows to exact revenge on his former employer. Of course, just like anyone who has ever sued their boss knows, these things take a degree of time, patience, and ‒ most importantly ‒ brains. Alas, poor Joe doesn't have much of a monopoly on either of the three, so, after hooking up with a cute redheaded grocery store clerk (Stefania Casini, Blood for Dracula, Suspiria), he promptly starts to recruit a ragtag team of bloodthirsty (and very destructive) delinquents on motorbikes to help him climb his way up the career gangster ladder.
Possibly paving the way for Brian De Palma's celebrated 1983 cult classic Scarface, The Climber is that rare sort of filmic oddity which ‒ much like most of Joe Dallensandro's filmography ‒ you will either love or hate. It's a film that is just as rough around the edges as its subject matter, yet it will undoubtedly succeed in capturing the attention and captivating the right kind of soul. I periodically found myself wondering how far up The Climber would ascend early in the film, but was nothing short of delighted once Squitieri's sordid little tale of machismo and homoeroticism kicked things into high gear as it reached its violent finale.
Featuring a rousing score by Franco Campanino which includes an awesome theme song performed by "Jessy" (which has found its way onto several poliziotteschi soundtrack compilations), The Climber's supporting cast includes Benito Artesi, Ferdinando Murolo, and many familiar faces from the multitude of genre films Italy cranked out during the last half of the previous century. But the best guest star by and far has to be actor Lorenzo Piani (the Italian Richard Jordan), who plays one of Joe's hired hitmen. He never utters a single word, but his deadeye aim and unique care for his trusty (and big) firearm makes him the Boba Fett of this universe in my opinion.
The Climber clambers up into the hearts of Italian exploitation movie lovers everywhere via a new Blu-ray/DVD combo from Arrow Video. While it may be a low-budget offering from one of Italy's lesser-known directors (sadly, Signori Pasquale passed away in early 2017), cinematographer Eugenio Bentivoglio delivers a handful of atmospheric shots throughout, all of which look quite nice in the above-average 4k widescreen transfer this all-but-forgotten Italian treat has received here. Audio options include uncompressed English and Italian PCM Mono tracks, and one set of removable English (SDH) subtitles for both selections.
By the time The Climber worked its way into the post-production recording booth, its filmmakers/producers did not bother to ask Joe Dallesandro to dub his own voice, so you won't hear his unmistakable Brooklyn accent in the main feature. But you will get to hear from Mr. Dallesandro in the attached featurette, Little Joe's Adventures in Europe, where the actor (who is now on the verge of becoming a septuagenarian, as hard as that is to believe) not only speaks in his own voice, but also in his own words as he talks about his time working in European films. It's a wonderful little bonus feature, produced and recorded exclusively for this release.
No trailer is included with this release, but initial pressings of the title include a collectible booklet featuring an essay on the flick from Italian Crime Filmography, 1968-1980 author Roberto Curti, and the proverbial reversible artwork sleeve Arrow Video is so well-known for. It may not seem like a whole heck of a lot, but then again, neither does The Climber at first. Fortunately, the film's awesome ability to overcome its own shortcomings with copious amounts of skin (male and female alike) and violence (quite often set to the rockin' Italian Northern soul theme song) more than make up for there not being any other special features of note included.
Highly Recommended. (To those of you who like this sort of thing, that is.)