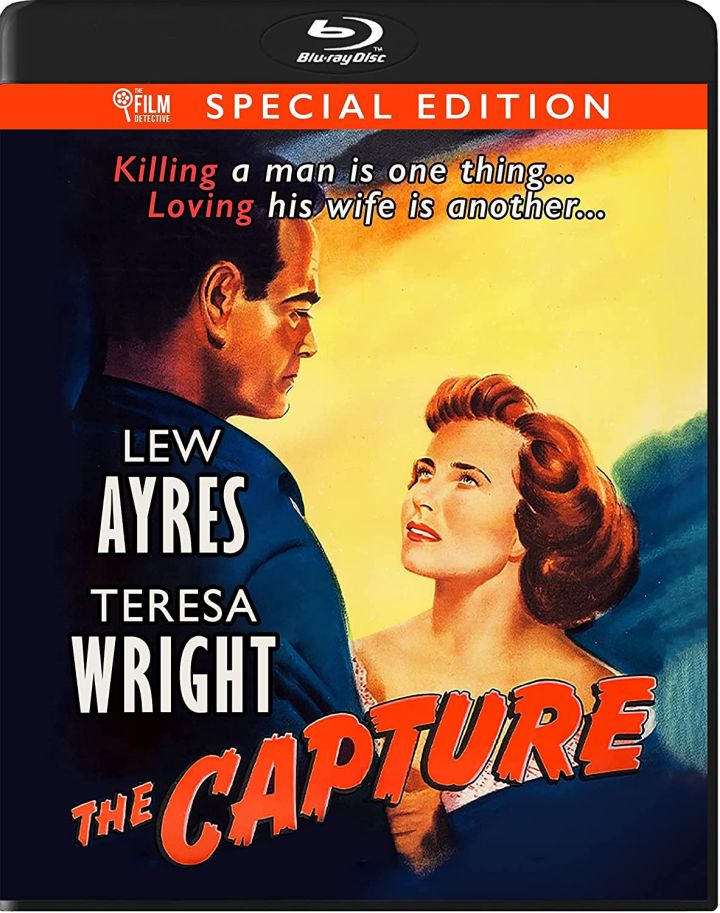 Lin Vanner (Lew Ayres), the protagonist of The Capture (1950), accidentally shoots an unarmed man. He believes the man is a criminal, that he stole the payroll for his workers for the month at an oil field. When Lin told him to put his hands up, he didn't. So he shot at him, and winged him, then helped him back to civilization.
In a day's time, the man he shot is dead, and Lin is a hero. Sure, the payroll isn't recovered, but they're sure he got the right man, all on his own, and so the case is closed. It doesn't sit well with Lin, so he quits his job and takes the next train out of town – coincidentally, travelling with the coffin filled with the man he killed.
He's in a hurry to get away from the coffin until he sees the widow who comes to claim it. She's played by Teresa Wright, so it's no wonder she stays in his mind. He finds another job, but eventually comes to the woman's ranch to work. He finds her alone with a large ranch, a herd of cattle, and a son who has no-one to raise him. Lin's all ready to move in to the makeshift family… only the wife, Ellen, early on discovers that he's the man who killed her husband. She sets him to a punishing routine of labor to chase him away from their failing farm.
It's a complex and intriguing story set up, and the tagline melodramatically sets up the conflict: "Killing a man is one thing… Loving his wife is another." And it's one of these scenarios these mid-century Hollywood movies were so good at making intriguing. A women who didn't love her husband. A killer (maybe murderer) who moves into his place. It's an interesting film that moves from crime to romance and back again. Lin Vanner has an uneasy conscience about what happened to the man he killed, even after it's clear his wife was happy to be rid of him.
John Sturges directed this film in his early period, before the major successes of his career in the late '50s and early '60s: Gunfight at the O.K. Corral, The Magnificent Seven, and The Great Escape. The Capture doesn't have anywhere near the scope of those films. What it does have is a sense of time and place away from the normal world.
It's set in near contemporary times (contemporary for 1951, when it was made) but takes place in Mexico. This lets it look and feel like a Western, with only the occasional car or telephone breaking up the atmosphere. There's a train robbery, a posse forms, and when the hero goes after the villain, he does so on horseback. The first ten minutes (since most of the film is in flashback) are about the hero escaping his own brush with the law and has nothing non-Western about it.
Some critiques call it a Western Noir, but to my estimation nothing about this film actually meets the criteria for a film noir. The definition of that genre can't be so broad that it means any story where a protagonist regrets something from the past. It's a romantic Western set in contemporary times where a man seeks to earn the love of his bride by correcting a mistake. It is also a psychological movie. Lin's guilt over shooting a man who he later discovers could not shoot back causes him to have a similar physical disability. The '50s were a time when films were ripe for psychological realism. The Capture, which is an entertaining romance and Western crime film, also has an overt psychological basis for its story.
It's also, by and large, entertaining, well-paced and well told. It's a story of a man who, finding he has everything he ever wanted, determines he has to go back over his life to earn it. The action of the last act is a little hyperbolic. Some of the protagonist's action are, frankly, dumb and a little contrived to make the story work. But overall, The Capture is an enjoyable (perhaps not essential) early '50s programmer. It has good performances and fun locations, even if none of it was actually shot south of the border.
The Capture has been released by The Film Detective on Blu-ray. Extras include an audio commentary by C. Courtney Joyner. Video extras include a pair of featurettes: "Teresa Wright: The Actress Next Door" and " John Sturges: Man of Action". There's also an essay included in the booklet about Teresa Wright's marriage, "Not Quite Picture Perfect", by Don Stradley.