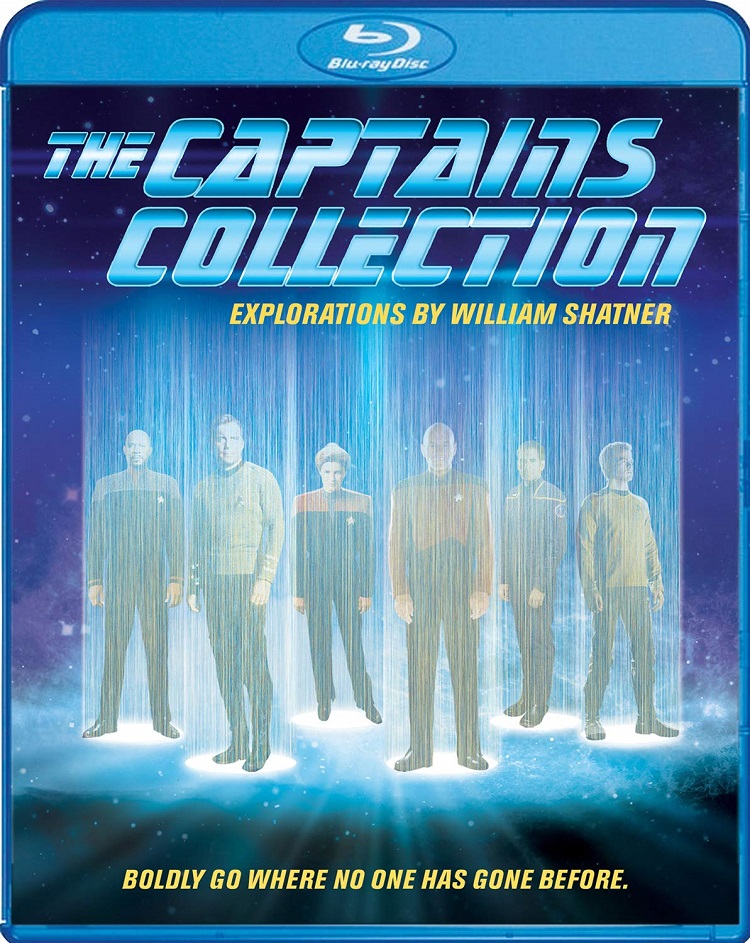 The Captains Collection is a four-disc set from Shout Factory! that presents four Star Trek-related documentaries written and directed by William Shatner for the EPIX cable channel. These films take viewers behind the scenes and also puts them in the spotlight as the original Captain Kirk examines the cultural phenomenon.
The Captains (2011) finds Shatner interviewing actors who followed in his footsteps portraying starship captains in the Star Trek franchise: Patrick Stewart (Jean-Luc Picard, The Next Generation), Avery Brooks (Benjamin Sisko, Deep Space Nine), Kate Mulgrew (Catherine Janeway, Voyager), Scott Bakula (Jonathan Archer, Enterprise), and Chris Pine (James Kirk, Star Trek films). In casual, one-on-one conversations, Shatner sits with his subjects individually as they talk about the actors' origins, how they got cast, and how the job affected them and their lives. Viewers get to hear poignant revelations about the people behind the characters. Other cast members briefly share thoughts as does Christopher Plummer, who played a Klingon general in Star Trek VI. Their relationship goes back to 1956 when Shatner understudied him in Henry V. Helping to link the material is footage of Shatner on the loose at a Star Trek convention, which is very funny. Extras include The Making of The Captains (11 min) and a trailer.
From 2013, The Captains Close-Up is a five-part miniseries. Using material from The Captains interview sessions, it focuses on Shatner, Stewart, Brooks, Mulgrew, and Bakula and goes deeper into their lives. Extras include Still Kicking (47 min), an extended interview of Plummer; Shatner the Firefighter (1 min), a memory about a fire on the Star Trek III set; When the Wall Came Down (2 min), a memory about Paramount buying DesiLu studios; "Ponder the Mystery" music video (4 min), and trailers for The Captains Close-Up and Still Kicking.
From 2014, Chaos on the Bridge is an hour-long documentary with Shatner taking viewers behind the scenes of The Next Generation's first three years. Told by those who were there, Chaos reveals how TNG struggled to find its footing while some struggled for power to control the series. No extras on this disc.
"Get a life!" is a legendary line Shatner uttered in a hysterical Saturday Night Live sketch about Star Trek fans and his relationship to them. He used that for a book title in 1999 and then in 2012 for a documentary where Shatner explores Trek fandom and takes viewers behind the scenes of Star Trek's 45th anniversary convention in Las Vegas put on by Creation Entertainment. Extras include deleted scenes: Shatner & the Fans (3 min) as he signs autographs, The Jue Family (5 min), Conversation with Robert Walter (6 min), FanAddicts Sizzle (5 min), Peter and Charlotte (2 min), Dr. Scott Richards (3 min), and a trailer.
As a fan of Star Trek, the documentaries in The Captains Collection are entertaining and informative due in part to Shatner earnestly wanting to learn more about the subjects and being open to their questions of him. One doesn't need to be a Trek fan to appreciate these, just an interest in the creative process.
The ShoutFactory.com EXCLUSIVE SPECIAL EDITION includes a fifth Blu-ray disc containing the following:
Feature-Length Documentary – William Shatner's Gonzo Ballet (2009)
The Captains Extended Interviews Featuring Walter Koenig (Chekov), Grace Lee Whitney (Yeoman Rand), Gary Lockwood (Gary Mitchell, "Where No Man Has Gone Before"), Sally Kellerman (Elizabeth Dehner, "Where No Man Has Gone Before")