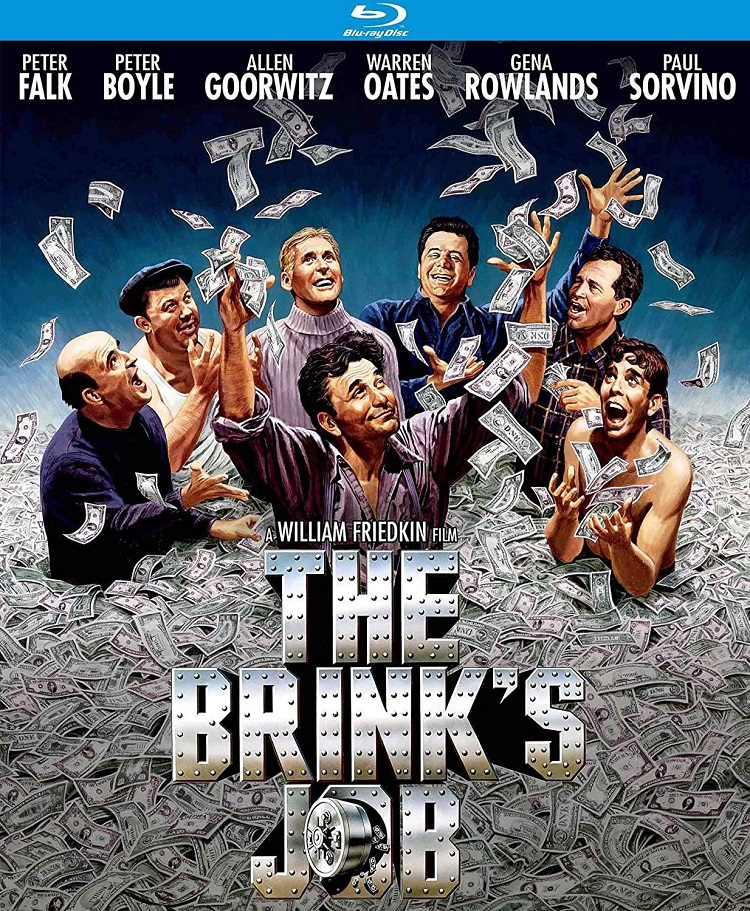 Directed by William Friedkin, The Brink's Job (1978) depicts fictionalized events surrounding one of the "crime(s) of the century." From its planning, success, and the consequences of the robbery that no one thought could be pulled off.
Safe cracker Tony Pino (Peter Falk) and his bumbling brother-in-law Vinny (Allen Garfield/Goorwitz) come up with the idea to rob Brinks trucks after seeing how neglectful the guards and drivers seem to be. After a few successful truck jobs with his usual crew of Stanley and Sandy (Kevin O'Connor and Gerard Murphy), Tony decides to go big and take the big safe with all the loot. To do that, he'll need a bigger crew. So he assembles one consisting of Jazz, the bookie (Paul Sorvino); McGinnis (Peter Boyle) the fence; and Specs, (Warren Oates), the unstable WWII vet who can handle heavy artillery. On January 17, 1950 in Boston, Massachusetts, this Bowery Boy-esque crew of small-time crooks pulled off one of the greatest heists ever. On that day the Brink's company lost nearly $3 million, most of which would never be recovered, not even with the help of J. Edgar Hoover's FBI.
Falk turns in a solid effort as working-man hero Tony. Paul Sorvino is as good as ever and in his element. But it's Warren Oates that stands above the rest, especially in the last half of the picture. His heavy-hearted, somber performance presents a side of him rarely seen. Not a kook or flunky but a broken man, feeling abandoned, cornered and concerned for his ailing sister.
Friedkin, known for his more serious films The French Connection and the horror classic The Exorcist, gets a bit of a break with The Brink's Job. Not as heavy or involving as his previous films, The Brink's Job is a little more lighthearted and we know how it ends, so it's not really a suspense thriller nor a true caper comedy either as it's a bit light on the comedy though there are some genuinely funny moments throughout. I also wouldn't call The Brink's Job a crime drama as it lacks the intensity of say Casino or Goodfellas. All that aside, it's an enjoyable period piece that's entertaining for its full 104 minutes.
The scenery and sets are great. Wonderfully recreating Boston in the late 1930 to the mid 1950s. A true highlight of the movie. Even bringing to life Nighthawks, the painting by Edward Hopper.
Kino Lorber Special Features include Audio Commentary by Film Historians Howard S. Berger, Steve Mitchell, and Nathaniel Thompson. Insightful and well researched, these men do a fine job of breaking out all kinds of fun facts involving The Brink's Job. Fact: in August 1978, 15 reels of film were stolen at gunpoint in Boston and ransomed. The reels were mostly outtakes and dailies thus easily replaced; No ransom paid. Fact: the book Big Stick Up at Brink's was written to coincide with the movie, not what it was actually based on.
The remaining special features are a bunch of other trailers from around the same time period for heist/crime/intrigue and suspense type movies. The most interesting, besides The Brink's Job, being The Midnight Man starring Burt Lancaster, Loophole with Martin Sheen, and The Silent Partner because of Elliot Gould.
Peter Falk and crew under William Friedkin's direction do a good job in pulling off The Brink's Job and make it an entertaining light comedy/heist drama well worth watching.