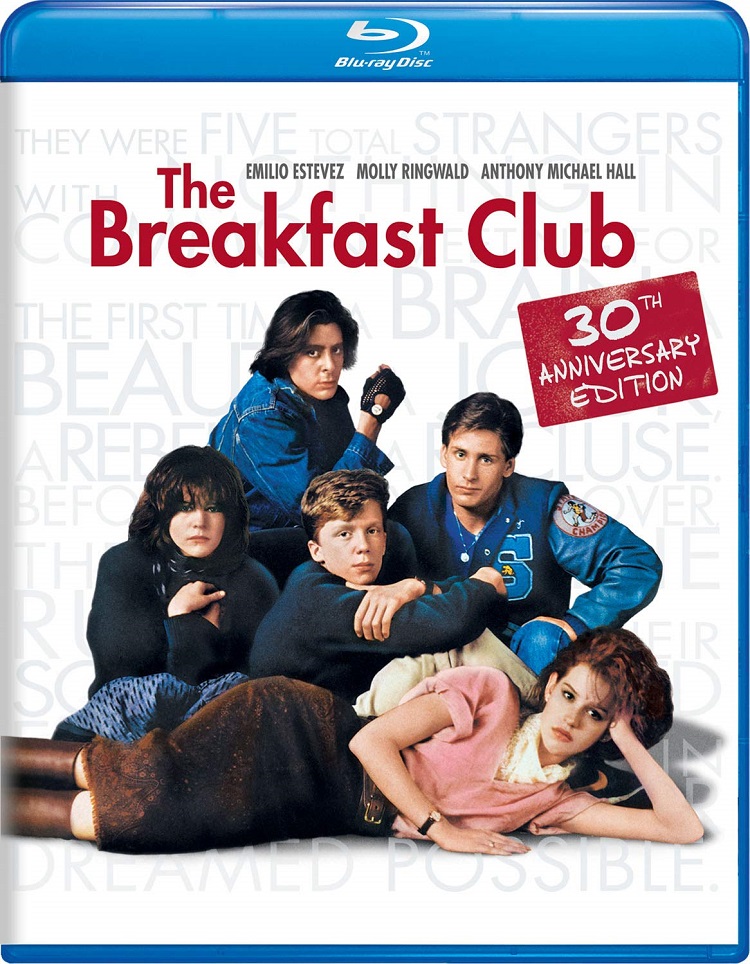 One of the few filmmakers who made movies about teenagers while actually having an understanding about the awkward, spotty-faced years of adolescence itself, John Hughes' second film as writer and director (and his first as a producer) is one that has successfully managed to withstand the test of time. Indeed, it is probably the quintessential American motion picture to center on high school students (from the '80s or otherwise) who are coming to grips with themselves, peer groups, and the pressures allotted to and from both. With a minimal budget, single location setting, and nothing but character development to offer, 1985's The Breakfast Club probably would have succeeded even without Hughes behind the camera.
But we're oh so glad he was. His story here focuses on five high school students serving a simple Saturday detention: the popular prom queen type, Claire (Molly Ringwald); the mindless athletic jock, Andy (Emilio Estevez); big-talking dopehead rebel, Bender (Judd Nelson); nerdy brainy kid Brian (Anthony Michael Hall); and the largely inclassable outcast Allison (Ally Sheedy). For all outward appearances, these kids from five completely different walks of life have absolutely nothing in common. As the day drags on, however, each of the children learn to open up to one another; divulging their innermost fears about their ever-changing world, while discovering that, essentially, they're all in the same deep water as one another.
Hmm, "Nothing in Common"? "Same Deep Water As You"? Yes, I'm trying to segway into The Breakfast Club's soundtrack! Sure, neither the Thompson Twins or The Cure are included on it (nor was a group that actually called themselves The Breakfast Club), but the '80s had a slew of memorable tunes from established musicians and one hit wonders alike to offer. Here, Hughes' utilizes Simple Minds' number one hit Don't You (Forget About Me) to full effect. Interestingly, the song – written by The Breakfast Club's composer Keith Forsey and guitarist Steve Schiff – was passed up Billy Idol, Bryan Ferry, The Fixx's Cy Curnin and even Simple Minds themselves before A&M (who co-produced the movie) finally talked the latter into doing it, which they promptly forgot about after recording.
One of my first experiences with The Breakfast Club was when the film was first broadcast on television in the mid '80s, complete with a few scenes cut out of the theatrical version and God knows how many edits of its own – especially for all of the foul or at least suggestive language. In fact, it made the movie even funnier in some scenes. The earliest home video release also replaced some of the film's music with different compositions, which weren't fully restored until the film hit DVD. A 2008 re-release sported a number of special features tacked on for good measure, including new interviews and recollections by assorted cast and crew (and the like) as well as an audio commentary with Judd Nelson and Anthony Michael Hall.
In 2010, the exact same bonus items found their way to a 25th Anniversary Edition Blu-ray, which enabled High-Definition snobs to upgrade their old 480p discs. Well, here we are, three decades after the release of The Breakfast Club in 1985, and with a new 30th Anniversary Edition upon us. Sadly, there is very little here that we haven't already seen in one of the three other digital releases of the film: the audio commentary is here again, as are the (SD) featurettes that inexplicably do not interview Molly Ringwald or Emilio Estevez. Worse still, that hilariously PC alternate TV audio track from my childhood has still yet to surface (I bet'cha I still have it on VHS from a recording off of TV somewhere, though.
What The Breakfast Club: 30th Anniversary Edition does offer up for 2015 and beyond (well, until 2020 at the very most, wherein we'll surely get a 35th Anniversary Edition that might remember to pay its respects to John Hughes, who died in 2009), though, is a new trivia track and additional language options for the feature film itself. Yes, that's right: you can now read production note pop-ups or listen to Paul Gleason's evil principal dubbed into Japanese, German, or Italian. Annoyingly, the trivia track is attached to a "standalone" version of the movie, which only has the default English DTS-HD MA 5.1 soundtrack to provide. You cannot select any of the fifteen subtitle or eight audio options with it.
For those of you who are truly interested, the new audio options consist of English in the aforementioned DTS-HD MA 5.1 and European French, German, Castilian Spanish, L.A. Spanish, Italian, and Japanese in DTS-HD 2.0 Mono. Subtitles include English (SDH), French European, French Canadian, Italian, German, Castilian Spanish, L.A. Spanish, Japanese, Swedish, Danish, Finnish, Dutch, Norwegian, Portuguese, Arabic, Hindi, and Icelandic. In terms of the video presentation, this new re-release boasts a "digitally remastered and fully restored version of the film". I only saw the previous 2010 Blu-ray once, several years ago, and what I recall it looking like didn't vary too terribly much (if at all) from this new 2015 release. And that's really all I can say on the matter.
In all honesty, this is just another re-release. And it's not the only one, either. The Breakfast Club: 30th Anniversary Edition (which comes with Digital HD and UltraViolet copies, too) hits shelves the same day as Universal's Blu-ray release of The John Hughes Yearbook Collection, which features this edition of The Breakfast Club along with Weird Science and Sixteen Candles in one pack.