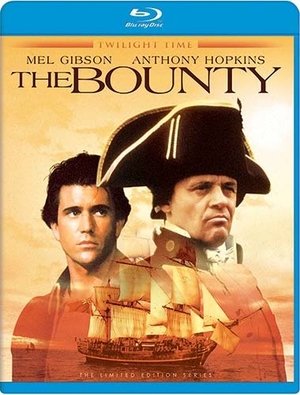 Everyone has that proverbial journey in their lifetime that can only later be described as a bad trip. My second and final visit to the allegedly magical theme park of Disneyland – committed when I was but a mere '90s adolescent, and probably against my will – resulted in a four-hour search for a corndog across the vast, bastard-riddled arena for people who probably should have been sterilized at birth, along with their spoiled rotten offspring. And you might think that a corndog would be an easily obtainable article of "confectionery with added meat of dubious origin" at a place filled with food carts everywhere. Alas, it wasn't: there was only one place that served such an item. Naturally, they burned it and charged me full price for it just the same, the rotten mouse tail-licking bastards.
But I digress. There are people in the world who have endured much less-pleasurable adventures. And two such instances represent the purpose of this article, as Twilight Time has sought to put forth two epic examples of people experiencing really bad trips. We begin with a famous moment from recorded history concerning a large sailing vessel known as The Bounty. While the tale of Captain Bligh and Fletcher Christian had been told several times on-screen before – most notably in the 1935 film, Mutiny on the Bounty – this 1984 adaptation of historian Richard Hough's publication Captain Bligh and Mr. Christian was one of the first to actually inject a bit of truth to the whole sordid matter. Not a lot, mind you, but just enough to make it different.
Sadly, the majority of audiences and critics didn't appreciate the effort, regarding the whole voyage as a bad one. However, after watching the decline of Hollywood over the last 30 years, even the most jaded critic from 1984 would have to appreciate the hard work put into this Dino De Laurentiis production today, especially when viewed side-by-side with, say, some overly pretentious tripe like Birdman of (The Unexpected Virtue of Ignorance). Here, Anthony Hopkins – one of the few actors to still get cast in American films despite making the occasional turkey – plays the mostly passive William Bligh, whose one and only wish is to circumnavigate his vessel, the HMS Bounty, around the globe, pick up some breadfruit plants in Tahiti to take to the Caribbean so he can make some money and retire.
It's not a bad plan, really, other than Bligh's obsession with freedom leads to madness in the wake of any deviation. And between bad weather, an unruly crew, and a young man named Fletcher Christian (Mel Gibson, back when he still had his youth, looks, adopted accent, and appeal), this final expedition of the HMS Bounty is heading for big trouble. By distancing the two lead characters from the standard good guy/bad guy cliche, director Roger Donaldson and screenwriter Robert Bolt create a captivating 132-minute journey into madness and moody synthy Vangelis music. Plus, it features supporting roles by stalwart up-and-comers Daniel Day-Lewis, Bernard Hill, Liam Neeson, and Neil Morrissey, as well as bit parts by Laurence Olivier and Edward Fox – all of whom make it extremely difficult for this film to truly sink.
Twilight Time launches The Bounty in a beautiful new 1080p/MPEG-4 AVC transfer from MGM that presents the overlooked classic in its original scope ratio. This film is chock full of beautiful cinematography (particularly when we get to Tahiti and there are topless women galore – woohoo!) and the whole presentation is breathtaking. A DTS-HD MA 5.1 soundtrack brings this bad trip to life, with English (SDH) subtitles accompanying. Extras include an isolated Vangelis score in DTS-HD MA 2.0, two audio commentaries (one with director Roger Donaldson, producer Bernard Williams, and Production Designer John Graysmark; the other with historical consultant Stephen Walters), the original trailer, and liner notes by Twilight Time's Julie Kirgo.
Circumnavigating the globe a bit, we find ourselves beaching The Bounty and driving into the hot, deadly sands of the Arizona desert, where Mel Gibson's Fletcher Christian's claims of being in Hell would have even more bearing than they would at sea. It is here, boys and girls, in this land of scorching heat, that one man who already be trippin' bad is about to discover there is always room for improvement. Especially when you're in Hell. In fact, Oliver Stone's 1997 neo-noir U Turn practically served as a parable for the controversial filmmaker's career, which pulled a volte-face two years before when Nixon (starring Anthony Hopkins!) proved to be his last movie to earn any recognition from those snobs at the Academy who thought Birdman of (The Unexpected Virtue of Ignorance) was Oscar-winning material.
Fortunately, his experimenting with mutli-faceted freaks in Natural Born Killers prepared him for this unsettling, unforgiving feature about undeniably unlikeable people. And while I'm not the biggest "Stoner" ("Heh-heh, he said 'Stoner!'") on Earth, I have to admit that U Turn is a particularly enjoyable bad trip. (The fact that it's the only film to have captured actual J-Lo nudity has nothing to do with it, I assure you.) Here, Hollywood bad boy Sean ("Who gave this son-of-a-bitch his greed card?") Penn stars as a sleazy drifter determined to get $13,000 to a rough Russian gangster in California before the cut off any more of his fingers; him having already unwillingly donated two digits to the bloodthirsty loan shark's rather excessive interest rate (you should have read the fine print, Sean!).
But, as anyone who has ever even purchased anything with the word "Arizona" printed on it (i.e. hideous drinks or ugly clothes) knows, everything "Arizona" sucks. More in the tiny barren wasteland of Superior, Arizona, where Sean's car promptly blows a radiator hose. And that's not the only thing that blows that day, thanks to the many two-face charms of a shady mechanic (Billy Bob Thornton, as Billy Bob Thornton), a seedy town mistress (Jennifer Lopez) with a slimy real estate agent (read: real estate agent) of a husband (slimy Nick Nolte), and a seamy slew of hicks, pricks, and messed-up chicks. Powers Boothe, Jon Voight (in the less-hammy of two really unbelievable performances as an ethnic character, having also appeared with the Jennifer Lopez in the dreadful Anaconda that same year), Joaquin Phoenix, and Claire Danes co-star.
U Turn was left out in the desert to die a slow horrible death when it was first released, earning only Razzie noms before making a swift bad trip to home video. Luckily, the bloody and sordid tale has gone on to delight Millennials and those of us who now realize Natural Born Killers may have gone a tad overboard. Though it has absolutely no socially redeeming values whatsoever (well, there isthat J-Lo nudity…), it was fun to revisit, and the 1080p/MPEG-4 AVC transfer of the film – shot entirely on Reversal stock to give it that discordant feel – is as gorgeous and enthralling as its female lead's famous, er, "background." The DTS-HD 5.1 audio is equally delightful, and optional English (SDH) subtitles are on-hand should you need to make sure you heard that insane dialogue correctly.
Special features for U Turn include an isolated track of the sometimes Euro western, sometimes comical, but always brilliant score by Ennio Morricone, as presented in DTS-HD MA 2.0; an introduction and audio commentary by that wacky Mr. Stone himself; a second commentary with production executive Mike Medavoy (moderated by Twilight Time's Nick Redman); the film's original theatrical trailer (which probably played in more theaters than the actual film itself); and – as always – liner notes by Ms. Julie Kirgo. Both of these releases from Twilight Time are limited to 3,000 copies each – and, despite their vast differences and heavy contrasts, are two very bad trips I heartily recommend you take before they're all booked up.
They sure beat looking for a corndog at Disneyland, that's for damn sure.