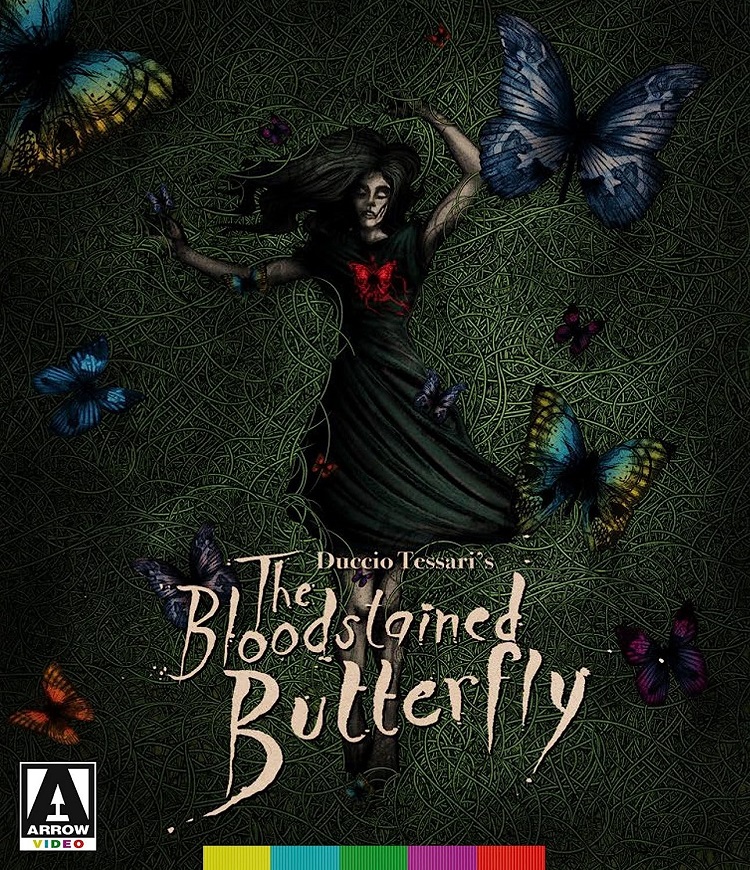 It hasn't even been a year-and-a-half since the UK-based Arrow Video label first expanded into the U.S. market, but in that short amount of time, they have managed to conquer many a blackened heart, releasing a number of significant cult classics from all over the world very few folks ever thought they would even see on DVD, let alone Blu-ray. With a venerable selection of trippy Italian thrillers already under their belt, Arrow continues to broaden the horizons of giallo lovers who, up to this point, though that they had seen everything when it comes to movies centering on anonymous murderers stalking nubile (but hardly innocent), barely-clothed young women; exceptionally lurid and elaborate death scenes; and funky music scores.
And then, just to prove to you that you really haven't seen it all, Arrow Video slashes open the crimson cocoon containing 1971's The Bloodstained Butterfly and lets it fly out into the world. Like many of his contemporaries in the field, the late Duccio Tessari started out contributing to Italy's peplum and spaghetti western genre before finding himself briefly dabbling in the giallo craze which ruled European cinemas for the better part of several decades. But Signori Tessari apparently had something else in mind when he sat down to co-write this thriller with Gianfranco Clerici (the credited scriber of many controversial Italian horror/slasher flicks, including Cannibal Holocaust and House on the Edge of the Park). And that something was legalities.
Not in the a traditional "What kind of outrageous shit can we get away with?" sense; this is a motion picture made in the early '70s from the same country that made its own unofficial bastard sequels to Dawn of the Dead, Alien, The Terminator, and Troll after all! No, instead, Tessari ‒ apparently drawing inspiration from the works of Edgar Wallace ‒ gives us a giallo that is mainly set in a courtroom. Beginning with a funky transition from Tchaikovsky to swingin' jazz, The Bloodstained Butterfly fixes itself on the plights of several people after a young teenaged woman they were all connected with in one way or another takes a roll down a hill in the park; her body devoid of life due to multiple punctures from a switchblade knife, which is found nearby.
The man arrested for the crime is Alessandro Marchi (Giancarlo Sbragia), a less-than-average middle-aged Italian man who is a popular sports commentator on television (and, seeing how it's Italy and all, I can only guess all he ever talks about is soccer). With both his unhappy (hot) wife Maria (Ida Galli, aka Evelyn Stewart) and his estranged (hot) daughter Wendy (Wendy D'Olive) uncertain he was not the perpetrator of the heinous act, Alessandro maintains he is innocent, which his shady lawyer (Günther Stoll) doing his best to ensure his client walks. Even as new bodies begin to appear ‒ all dispatched from existence in a similar fashion to that of the initial victim ‒ evidence begins to mount against Alessandro's less-than-airtight alibi and defense.
At the center of the whole ordeal is a lonely moody pianist of a nobler heritage named Giorgio, as played by lonely moody German actor Helmut Berger. Whilst wooing Wendy, Giorgio's emotional disconnection to just about everything under the sun seems quite fitting with his top-billing status, even though he truly doesn't become an actual character in the story until about thirty-minutes in (marquee star status?). Meanwhile, Alessandro's sleazy lawyer starts bedding Maria (and tries to get in her daughter's pants, too, the cad!) while investigating Inspector Berardi (Silvano Tranquilli) and his assistant (Peter Shepherd) try to figure out just what the heck is going on here: something our boys in blue do right along with the equally-perplexed audience.
Evidently, The Bloodstained Butterfly was made to appeal to West German moviegoers as well as Italian audiences. Not only is there another German-born actor in the cast (the great Wolfgang Preiss plays the prosecutor), but the story is also akin to another subgenre of movie mysteries: the krimi series. Generally made in Germany from the late '50s until roughly the same point in time, these thrillers were usually based off of the works of Edgar Wallace. The connection betwixt the two styles is apparent here, with The Bloodstained Butterfly veering off the map even further as it spills its goods well into the realm of Italian poliziotteschi flicks. It's an odd one, to say the least, but ultimately, that's probably what makes it so interesting.
The lovely young Carole André co-stars as our tale's first and foremost victim, whose beauty (and body) can be seen and appreciated via the movie's many flashback segments. The entire picture flows in and out of contemporary storytelling consciousness; it's not a good picture to watch if you're really high, let's put it that way! Cinematographer Carlo Carlini and composer Gianni Ferrio (Death Walks at Midnight) add the finishing touches ‒ the latter's wildly eclectic music score is a real highlight. Scanned in 4k from an original negative, The Bloodstained Butterfly has been given a chance to soar once again thanks to Arrow Video, who give us the option of viewing the flick with its original Italian or English-language opening and end credits.
The beautiful video transfer is accompanied by another dual-language selection in the audio department, with the feature presentation sporting Italian and English soundtracks. Both are presented in DTS-HD MA Mono, and have also been sourced from original materials. English (SDH) subtitles are available for both language options. Special features for this giallo oddity include an awkward introduction by Helmut Berger (complete with a very… dramatic… unnecessary… pause); Troy Howarth's spoilerific (but nevertheless great) visual essay Murder in B Flat Minor; individual interviews with Ida Galli, Lorella De Luca (Duccio Tessari's late widow, who also stars in the film), and the aforementioned Herr Berger himself.
A very informative audio commentary by Alan Jones and Kim Newman (who is just along for the ride), a domestic and international trailer (both of which are identical, save for the language), and a gallery wrap up this giallo/poliziotteschi/krimi hybrid, which is available in a Blu-ray/DVD Combo with an included booklet about the film and its transfer.