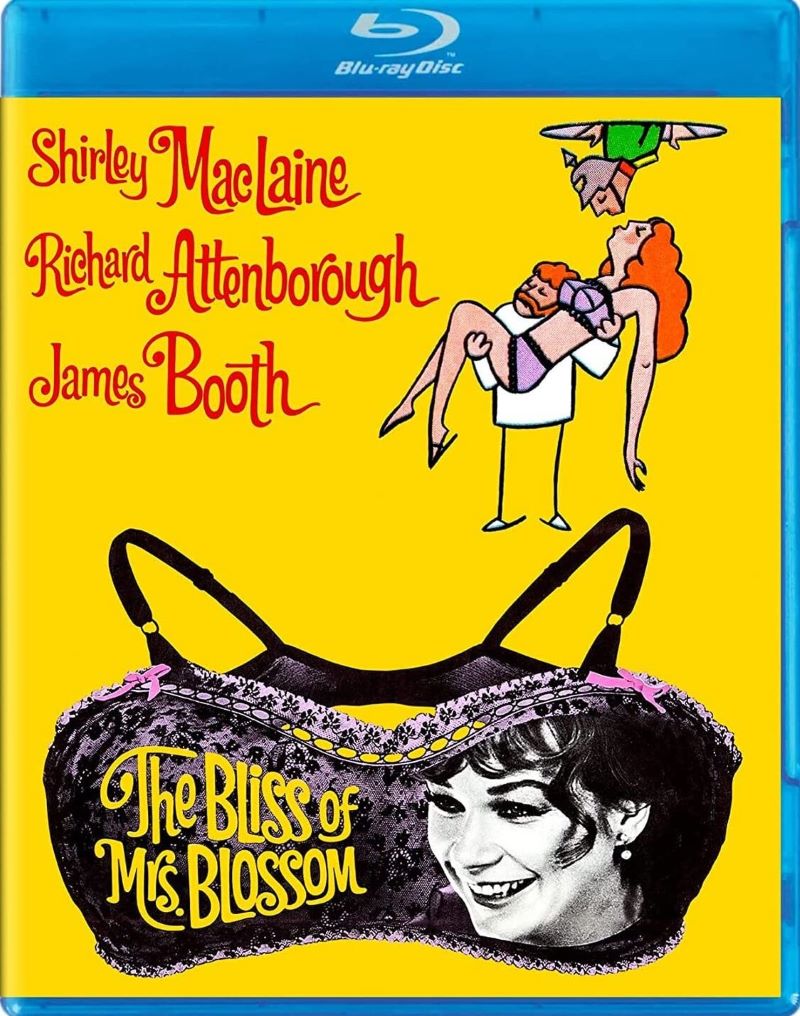 London, 1968. It's the height and epicenter of the Swinging Sixties, and hip housewife Mrs. Blossom (Shirley MacLaine) is content but bored with married life to conventional businessman Mr. Blossom (Richard Attenborough). When he dispatches a whimsical employee named Ambrose Tuttle (James Booth) to fix her sewing machine, he unknowingly sets in motion a sea change in all of their lives.
The movie is based on a play and feels like it, with lots of dialogue and only one principal setting, the home of the Blossoms. Thankfully, that home is expansive thanks to Mr. Blossom's standing as a successful business owner of a bra factory, so big that he forgets all about an unused and difficult to reach attic space. When Mrs. Blossom and Tuttle immediately (and unbelievably) fall in love, Tuttle moves himself into the attic, setting up long-term residence there as an interloper while the Blossoms continue their married life below. When Mr. Blossom departs for work each morning, Tuttle reports for duty, entertaining Mrs. Blossom throughout the day with whatever madness comes to mind in the moment, including fantasy enactments of historical events.
There's much about the film that bends credibility, making it important to keep its swinging era in mind. The story raises more questions than it answers, such as the origins of the Blossoms' relationship, the past life of Booth that he's so able to entirely ditch to live in an attic, and Mrs. Blossom's ongoing attraction to both fairly unimpressive men. It's best to set logic aside and just let the insanity take over, maximizing enjoyment of the unbeatable style over the lacking substance.
MacLaine and Attenborough are perfectly cast and nail the traits of their characters, although it's unbelievable that they ever would have ended up together. Booth is such an enigma that it's hard to get a read on him, leading me to wistfully imagine Peter Sellers in the role instead, especially when Tuttle starts assuming other personas to conceal his identity from others. Director Joseph McGrath is similarly flighty, dropping in odd sight gags and losing the plot thread as he detours into whatever flight of fancy catches his attention at any particular moment. There's also a blink-and-you'll-miss-it cameo from a young pre-Monty Python John Cleese as an exasperated postal clerk.
This release has been remastered in HD by Paramount from a 4K scan of the 35mm original camera negative. That makes for perfectly clean image and sound, and stability shows no sign of judder. Colors are rich and contrast levels are high, fully revealing the dizzying inventiveness at work in the fanciful dream sequences. Special features are a commentary track by a film historian, along with a healthy assortment of trailers for other Blu-ray releases.
The Bliss of Mrs. Blossom is available on Blu-ray on February 28th. The film is a fun time capsule of the actual Swinging Sixties, not an Austin Powers approximation, giving it some merit for setting alone. The actors are game, the story is wacky if a bit underdeveloped, and while the direction is all over the place, there's enough ingenuity at play here to make it a worthwhile film.