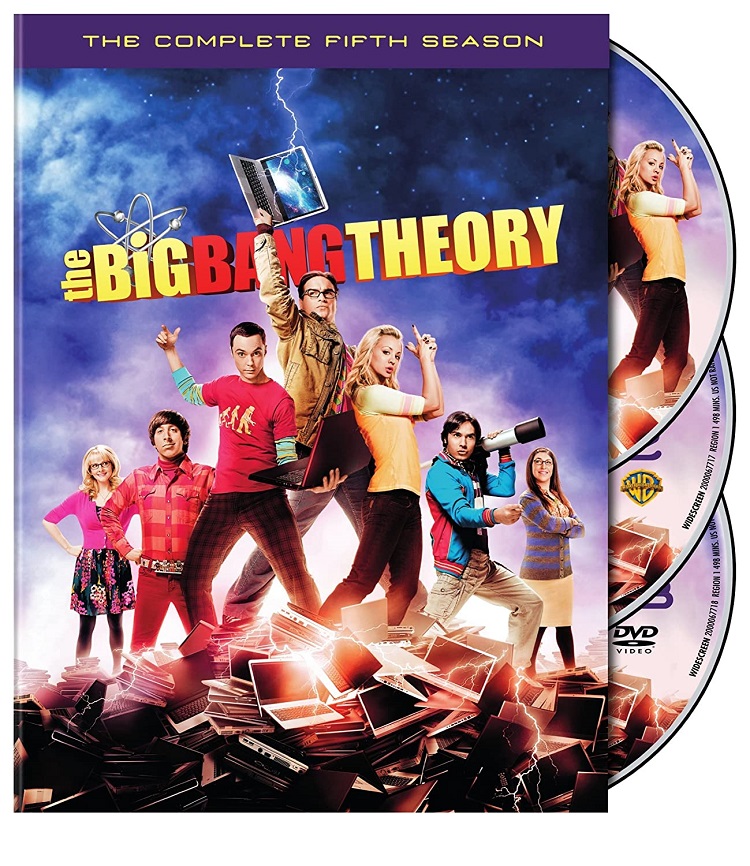 Although The Big Bang Theory got off to a rough start early on, the ratings have improved dramatically over time. When the show went into syndication last year, the popularity of the repeats surprised everyone. For those of us who discovered this program a little late, the reruns have served to cement the reputation of it being one of the funniest on TV.
The Big Bang Theory is a very smart sitcom, with the central focus being the on-and-off relationship between Leonard Hofstadter (Johnny Galecki), and his neighbor Penny (Kaley Cuoco). Leonard's roommate Sheldon Cooper (Jim Parsons), plus friends Howard Wolowitz (Simon Helberg) and Rajish Koothrappali (Kunal Nayyar) are also featured in each episode.
The decision by CBS to move the series from what was once an excellent lead in, following Two and a Half Men on Monday nights, to anchoring their Thursday night schedule was a smart one. The highly publicized meltdown of Charlie Sheen, and his subsequent firing from Two and a Half Men was a nearly fatal blow to that program. It is telling that Men has now been moved to Thursdays, with The Big Bang Theory providing its lead in.
Season five of The Big Bang Theory has just been released on DVD, and is the show's strongest season yet. It happens all too rarely, but once in a while the powers that be allow a series the time and space to find its audience, and its voice. Having watched the earlier episodes via my local rerun channel, I believe that this is a program that has improved every year.
The basic premise has not really changed much over the course of the series. Leonard and Sheldon are roommates who work as physicists at the California Technical Institute (Caltech). Their friends Howard and Raj also work there. A lot of the humor comes from their nerdish obsessions. Star Trek and comic books are very popular in their world. The guys are in their twenties, and while they are all extremely intelligent, women baffle them.
During the fifth season, Leonard and Penny have decided to try (again) to make a go of a relationship. One of the funniest additions to the cast is Mayim Bialik as Amy Farrah Fowler, who is Sheldon's girlfriend. When she became a regular in season four, Sheldon was careful to point out that Amy was a "friend who just happens to be a girl." This season she has decided that she wants more of a commitment, and in "The Flaming Spittoon Acquisition" Sheldon agrees, and drafts a 31-page "Relationship Agreement" spelling out their obligations as boyfriend/girlfriend. Although "coitus" (as they both call it) is off the table, Amy has "urges" which put Sheldon in a number of uncomfortable situations.
At Caltech, Howard is an engineer who has worked on projects for NASA. In season five, he is invited to actually go into space to do some work. Despite being the most obnoxious member of the group, Howard has met and proposed to a woman, Bernadette Rostenkowski (Melissa Rauch). Both Bernadette and Howard's mother (who he lives with) are opposed to his plans, but eventually relent when they realize how important it is to him.
Besides Howard's preparations for space flight, the whole gang is gearing up for his wedding. With the addition of girlfriends for Howard and Sheldon in Bernadette and Amy, the show has really opened up. Now instead of just focusing on the four nerdy guys, there is also the trio of Penny, Amy, and Bernadette who have their own (often hilarious) dynamic.
Casting Bialik as Amy was a marvelous choice. Amy is a Ph.D., who specializes in microbiology, and is almost as anal as Sheldon. Her near obsession with Penny is very funny. Like the other characters, she was something of a social outcast in school. Now, as friends with a pretty, popular girl, she finally feels "cool," and expresses her feelings in the most inappropriate ways. For example, she is continually wondering when their "menses will synch up."
Season five saw a huge milestone for the program, with the production of their 100th episode, "The Recombination Hypothesis." This is one of the best of the season, as we see Leonard and Sheldon come home, and Leonard catches a glimpse of Penny. Although we do not realize it at the time, the whole scenario that plays out with him asking her out and going on a date is just a quick daydream, and ends badly. He decides to ignore his own instincts though, and asks her out anyway. This leads to the two "beta testing" another stab at a relationship.
Over the years, The Big Bang Theory has hosted a number of guest stars from the worlds of science fiction and science. In season five, we are blessed with cameos from Star Trek heroes Wil Wheaton, Brent Spiner and even the mighty voice of Leonard Nimoy. As for scientists, the show could not ask for much more than getting an on-camera appearance from Stephen Hawking.
Special features in the package include "The Big Bang Theory @ 100," in which the cast and producers celebrate the 100th episode. "The Big Bang Theory's Laws of Reflection" finds the cast reminiscing about their favorite moments during the season. "Professors of Production" is a behind-the-scenes look at how the program is put together each week, and there is also a gag reel.
Besides these bonus features, The Big Bang Theory: The Complete Fifth Season contains all 24 episodes in a three-DVD set. This is definitely one of the funniest shows on television right now, and with season six set to begin in a couple of weeks, it is a great way to catch up with the gang.