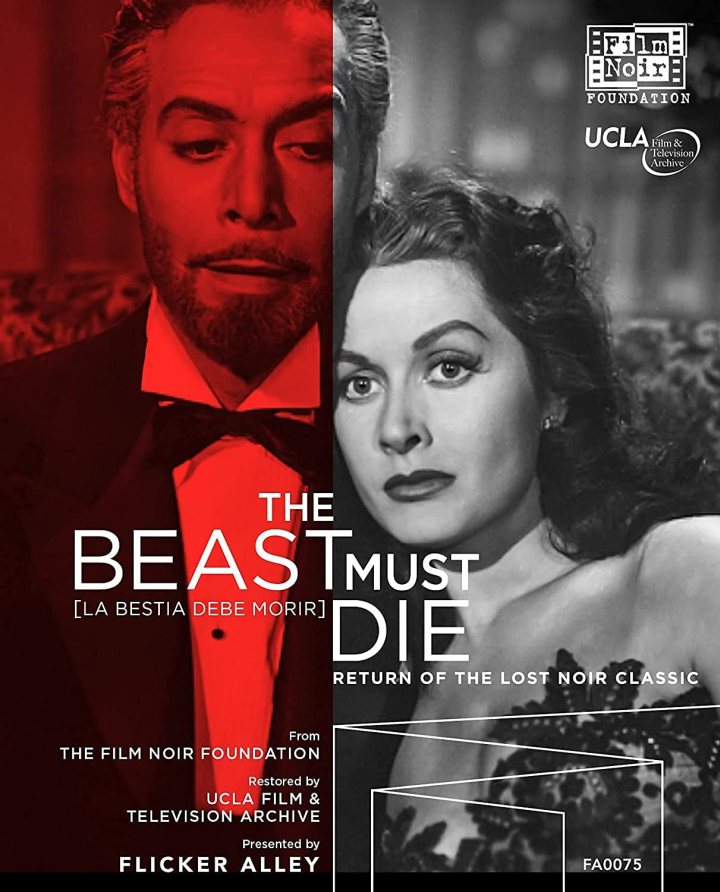 Film noir is definitely an influential genre of cinema, one steeped with seedy characters, grim atmosphere (with often incredible cinematography), risk around every corner, and beautiful (but dangerous) femme fatales. However, there are some hidden gems in this genre that seem to have been forgotten over time. The Beast Must Die (La Bestia Debe Morir) (1952), directed by late Uruguayan-Argentine filmmaker Roman Vinoly Barreto, is truly one of those standouts.
Based on the novel by Cecil Day-Lewis (father of Daniel-Day) and written by Nicholas Blake (his alias), the film stars Spanish film icon Narciso Ibáñez Menta as Felix Lane, a widowed writer of murder mysteries, who suffers an even harsher blow, as his young son is killed by a hit-and-run driver. Feeling that he has really nothing to live for any longer, he adopts a new identity and new name, and seeks revenge against the culprit. Along the way, he meets beautiful actress Linda Lawson (Laura Hidalgo), who turns out to be the sister-of-law of the absolutely cruel and brutish Jorge Rattery (Guillermo Battaglia), who verbally and physically abuses her sister and nephew. He also happens to be driver who killed his son. So, Felix uses her to get to Jorge and kill him. As with these types of plans, there are complications, especially after Jorge finds out who Felix really is, and threatens to murder him. After Jorge dies of poisoning, Linda's nephew comes forward to confess, in order to protect Felix. But to save him from a fate that took the life of his son, Felix writes that he poisoned Rattery in his diary. Linda and her nephew run out to catch Felix but fail to save him as he sails out to sea and deliberately crashes the boat and dies.
As I watched this film, I felt moved by it. I thought that it was a somber film noir with emphasis on revenge, guilt, grief, domestic abuse, and eventual redemption. Menta is excellent in his role as Felix. You see the pain and sorrow in his eyes, and you want him to get his revenge, even if he loses himself and his humanity to do so. It's a wonderful portrayal of a compelling and complex character. Hidalgo is also great, and Battaglia is deliciously awful as Rattery. Never had I ever hated a character more than I did with him. Rattery is such a bastard, and you couldn't wait until his received his well-deserved comeuppance. So Battaglia really succeeded in his portrayal, and made Rattery one of the best villains in film noir.
I love Flicker Alley and their efforts with the UCLA Film & Television Archive and Film Noir Foundation in bringing new life to hidden and overlooked films, as well as films that were almost lost forever. The restoration for this deluxe Blu-ray/DVD is amazing, and there are some great special features, such as a new introduction with the great Eddie Muller (host of TCM's Noir Alley); new conversation with Argentine film archivist and historian Fernando Martin Pena and Barreto's son Daniel; profile of Menta by Pena; and audio commentary by author and film historian Guido Segal. There's also a collector's souvenir booklet with original photos, posters, lobby cards, and advertisements, along with a new essay by Muller.
The Beast Must Die is a good reason why I love film noirs. It has everything you could ever want in one. It's a film that is destined to be a classic film noir, and thanks to Flicker Alley, it is.