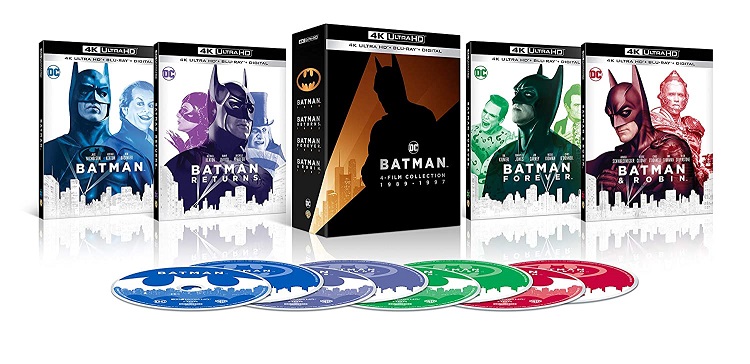 It seems impossible now, but 30 years ago there was only one blockbuster cinematic superhero: Batman. In celebration of the 80th anniversary of the DC Comics superhero, and in recognition of today's upgraded home video capabilities, Warner Bros. has released the first four Batman films as standalone 4K UHD/Blu-ray combo packs and digital purchases. While a box set of the four films will arrive in mid-September, for now consumers can pick and choose their favorite films for immediate individual purchase.
Before Burton's Batman in 1989, the only real superhero presence at the U.S. box office was the Superman series of films, which significantly tapered off in quality over their decade-long run ending with the feeble Superman IV: The Quest for Peace. Looking back now, it's interesting that the Batman films also crashed in quality over the course of their near-decade run ending with the laughable Batman & Robin. Tellingly, the final entries of both original series currently share the exact same basement critical and audience scores on Rotten Tomatoes.
Burton's take on Batman introduced theater audiences to the dark, gritty approach to superheroes that had found favor in comic books of the era. Over the course of his two well-regarded films, he emphasized the dark in Dark Knight with gloomy, nearly monochromatic night shots and a deadly serious Bruce Wayne as played by Michael Keaton. While Jack Nicholson's Joker added some color and flamboyance in the first film, his villain replacements Penguin and Catwoman were so dark and moody in Batman Returns that they bring to mind only one color: black, just like Batman.
Sensing a need to add some color and light, Warner Bros. brought in Joel Schumacher for the next two entries, and he responded by building on Burton's dark Gotham with vibrantly colorful and over-the-top baddies in the form of Two Face and Riddler in Batman Forever, and Mr. Freeze and Poison Ivy in Batman & Robin. While his first try was fairly well received, mostly because he straddled the line between Burton's seriousness and his own penchant for campy Batman, his sensibilities unfortunately won out for the final entry, a lurid, overstuffed mess that is mostly remembered now for the infamous Bat nipples on Batman and Robin's costumes. Surprisingly though, all that excess actually works to its favor in the 4K UHD world. It can't make the poorly scripted movie any better, but it sheds new light on the artistry that went into the vivid costumes and sets. Uma Thurman's Poison Ivy costume shines with its glittery green details set against her flaming red hair, while Arnold Schwarzenegger's Mr. Freeze outfit gleams with his textured icy face makeup and blue lighting effects.
Just for fun, I compared Batman & Robin Blu-ray footage to the new UHD and was surprised by the results. I expected that the colors would show much greater saturation in UHD, while the grain would be fairly comparable. Instead, the overall picture clarity is where the difference was most notable, with so much graininess on the newly remastered Blu-ray that it looked like a DVD, while the 4K was vastly clearer and more defined. The colors were slightly more pronounced in UHD, but could have been even more saturated, while the UHD's deep blacks were definitely superior to the muddy dark gray on Blu-ray. The UHD deep blacks work especially well for Burton's dark films as well, adding a new level of color precision that enhance his intended vision.
The new releases also offer audio upgrades for the first time, with full Dolby Atmos-True HD soundtracks for all four films, available on both the 4K and Blu-ray discs. These films all offer big, vast soundscapes with tons of bone-crushing sound effects and enveloping orchestral scores, and the new Dolby Atmos tracks take full advantage of the enhanced source material to deliver amazing audio fidelity.
There are over 17 hours of bonus features spread across the four films, including full-length commentaries by the directors on all films, but surprisingly, none of the features are new. Still, fans of the films are likely mostly here for the technical upgrade, so it's just a nice bonus to get all of the previous features tucked in for the ride. The films also include 4K UHD digital copies of the film that port to Movies Anywhere, so once you redeem your codes you'll always have the films at your fingertips via your favorite digital retailers. Sadly, the bonus features don't seem to have made the jump to any digital platforms as of the day after release, so if you're intent on bonus access you'll need to hold on to those discs.
Thirty years after Tim Burton's Batman kickstarted the cinematic superhero craze that continues today, it's great to have access to such high-quality releases of the first four Batman films. While fans can quibble about the individual merits of each film for decades to come, there is simply no better way to experience them at home than in these stunning new 4K UHD releases.