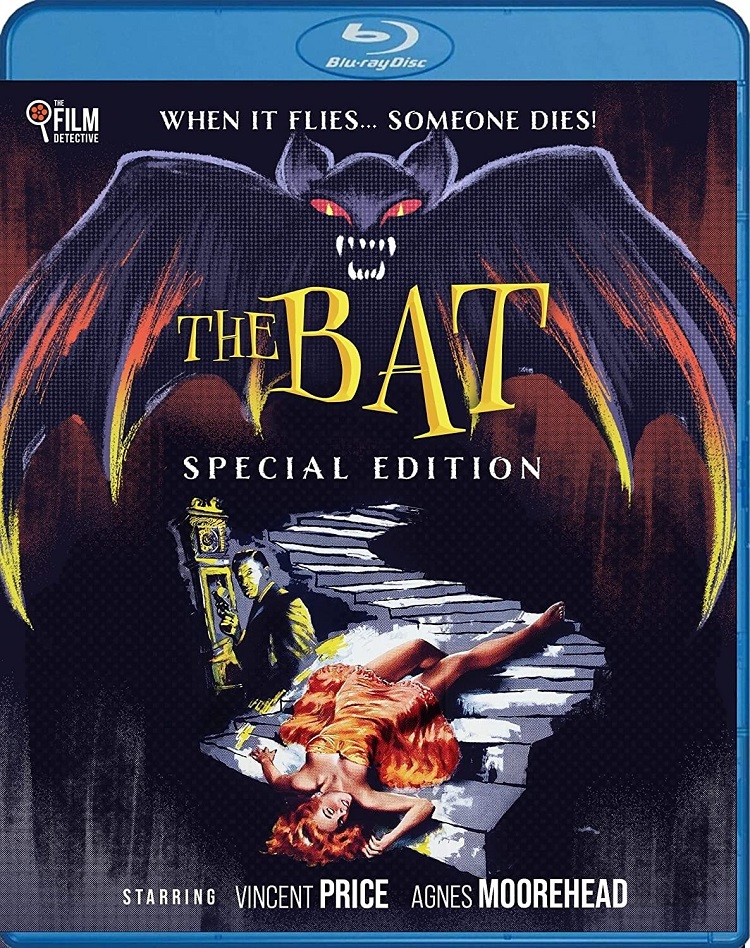 I do like good murder mysteries, but only if they're done well. They have to have solid scripts, well-written characters (and good actors to play them), genuine suspense and thrills, and of course, memorable villains. However, I can't say 1959's The Bat, directed by Crane Wilbur, is one of them. Despite starring Vincent Price and Agnes Moorehead, this flick plays more like a pilot for a TV series than a full-length feature.
Moorehead (who definitely chews so much scenery, perhaps unintentionally so) plays Cordelia Van Gorder, a mystery writer who rents a country house known as "The Oaks", which was the scene of previous gruesome murders by a sinister and deadly killer known as "The Bat", a mysterious figure who murders people with a clawed left hand.
While this is going on, the house's owner, a bank president, has stolen a million dollars and has hidden it somewhere in the house. However, he is killed before he can get to it. Thus begins a series of weird and odd events surrounding the killer and his pursuit of the loot, but only Cordelia has the gumption to do her own investigation and find the killer before anyone else loses their cool…. and their life.
Notice that I didn't exactly mention Price, who plays Dr. Wells in only a few scenes. He is sadly wasted here. Most of the movie is Cordelia and her faithful maid Lizzie (Lenita Lane) snooping and nearly getting killed themselves (and cracking some rather distracting wisecracks).
But, in terms of hokeyness, William Castle gimmicks, both Moorehead and Lane at their most animated, as well as supporting roles from Gavin Gordon and Darla Hood (of Our Gang fame) in her last film role, The Bat does have a certain campy charm that is ripe for midnight movie viewing.
I wanted to like it, but didn't completely buy into it. However, if you like simple B-movies, then you're bound to get something out of this.
The special features of Blu-ray from The Film Detective include a commentary by professor and film scholar Jason A. Ney; The Case for Crane Wilbur, a featurette on the film's writer/director; and nine exclusive radio plays featuring Price. There's also a booklet with essay by Ney.