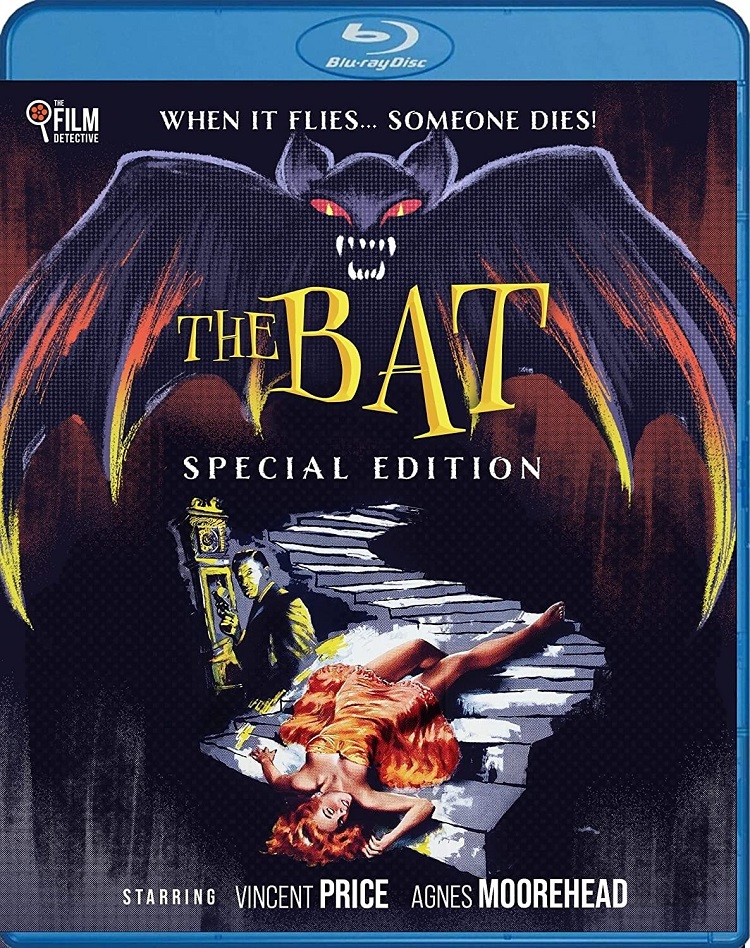 Hailing from an era where it was never uncommon to see fly-by-night video distribution labels pop up with a couple of public domain titles, it is somewhat unsurprising to still see DVDs hit the shelves that have seen the light of day a good dozen times before. When it comes to the still forming world of Blu-ray, however, public domain issues are highly unusual ‒ especially since anyone could copy the data and release the same damn thing under their own label. Providing, that is, that said material was spectacular enough to warrant copying in the first place. When a new video label calling themselves The Film Detective appeared on the home video horizon in late October, debuting with two cult classic from the '50s, I had to take a look-see.
Both titles ‒ each of which hail from the same year, 1959 ‒ fall under a special categorization of nostalgia for me, as they were both titles I owned on VHS during the heyday of their various analog releases. The first, a murder mystery that was a starring vehicle for the one and only Vincent Price, pulled from a story that had already been done to death even back in a time where filmmakers were still coming up with new ideas. Originating as the novel The Circular Staircase by Mary Roberts Rinehart in 1908, and later adapted into a stage play by Rinehart and Avery Hopwood in 1920, 1959's version of the story ‒ now known as The Bat ‒ was adapted for the screen and directed by playwright Crane Wilbur, who seemed quite adamant about keeping the staged element in full force.
Though it is entirely possible The Bat is meant to be taken not-at-all seriously in the slightest, Wilbur's film is even more formulaic and lackluster than I remember it being back in the '90s. And cheaper, too. The story finds hero Agnes Moorehead (yes, Bewitched's Endora herself) as a mystery writer staying at a remote country mansion with her comic relief assistant, Lenita Lane, only to be stalked by a mysterious local killer known only as The Bat. With a story that switches gears, main characters, and drops more red herrings than certain weird coastal weather patterns, star Vincent Price is given little more to do than make suspicious eyes at one of the film's other main suspects, Gavin Gordon. Price also gets to commit a murder at the beginning of the tale, which is later completely forgotten about.
But it's those weird (hardly little) inconsistencies that just go to make up The Bat's perennial allure, even after fifty years. Former Our Gang starlet Darla Hood ‒ all growed up and looking mighty darn nice, to boot ‒ stands out as a minor character who suddenly appears out of nowhere, only to be one of The Bat's few on-screen victims. John Sutton, a distinguished performer who also shared the screen with Mr. Price that same year in Return of the Fly, also pops up for a few scenes here. Presented in a widescreen 1.85:1 aspect ratio, The Bat looks startlingly good considering its sordid history as a victim of the Public Domain. In fact, this could be the best-looking widescreen print I have ever seen of the film, though it is a pity that The Film Detective opted to issue the title to disc in a BD-R format with no special features other than optional yellow English subtitles.
Whereas there was very little originality present in The Bat, quite the opposite can be said of The Film Detective's other debut release, A Bucket of Blood. One of the many cult classics produced and directed by the legendary Roger Corman himself, A Bucket of Blood is one of the first movies of its kind: the tongue-in-cheek black comedy horror film. With a short schedule and only $50,000 allotted by American International Pictures to work with, Corman and screenwriter Charles B. Griffith ‒ who would later re-team for two more comical horror outings, The Little Shop of Horrors and Creature from the Haunted Sea ‒ set out to try something that was not only new and inventive, but which they could poke a bit of fun at towards the current subculture movement: the beatnik generation.
Here, that guy Dick Miller cements his name into B movie cinema as a meager, none-too-bright coffeeshop busboy named Walter Paisley (a name Miller would continue to use in several other movies he appeared in over the course of time). Though he idolizes the beatnik artistes who make The Yellow Door the popular night spot it is, poor Walter has no talent himself, other than an obsessive-compulsive memory for certain worded performances by resident bearded beat poet Maxwell (Julian Burton). But when the ever-mocking, cold cruel hand of fate intervenes in Walter's failed attempt at making a clay sculpture one evening, his poor landlady's pet feline unwittingly becomes the first of several grisly "statues" (aptly christened "Dead Cat") our hapless nitwit of a protagonist begins to create in order to finally become someone "important" in the highfalutin world of art.
The lovely Barboura Morris co-stars as the object of Miller's unhealthy affection, while the great Antony Carbone steals many a scene as the coffee shop's pretentious owner. Corman regulars Bruno Ve Sota and Ed Nelson are featured as an art buyer and undercover narcotics officer (respectively), the latter of whom shares a profession in the film with the late Bert Convy, who gets to become Walter's second masterpiece, "Murdered Man." Fred Katz delivers the memorable sax-heavy score that was later used in at least eight other Corman productions, and Jacques R. Marquette provides the gritty black-and-white cinematography that only adds to the atmosphere. Corman produced a Showtime TV remake in 1995, (released to VHS as The Death Artist), starring Anthony Michael Hall and Justine Bateman, which featured cameos by then-unknown comedians Will Ferrell and David Cross.
Like their release of The Bat, The Film Detective's presentation of A Bucket of Blood looks quite nice overall, though there was some noticeable ghosting present in some scenes and the matted widescreen may have trimmed a bit too much off of the top and bottom of the screen. Apart from some weird framing at the finale of the flick, this is once again, perhaps the best widescreen version of the film out there (it could also be the only widescreen cut going around, so…). While A Bucket of Blood's theatrical trailer has been floating around preview compilation tapes since even before its first legitimate videocassette release in the '90s (by MGM, who technically own the rights to the film, yet it's still under the Public Domain), said trailer is nowhere to be found on this BD-R, which is barebones other than the inclusion of removable (yellow) English subtitles.
While the lack of trailers (honestly, they're all over the Internet) or the BD-R format (as opposed to traditionally "pressed" releases) may dissuade some potential buyers from picking these PD offerings up, the fact each title has been taken from original 35mm archival film elements is certainly worth noting here. Indeed, these titles are quite nice to behold, and with MSRPs of less than $15 per title, these are two private investigations from The Film Detective that are worth getting wrapped up in.