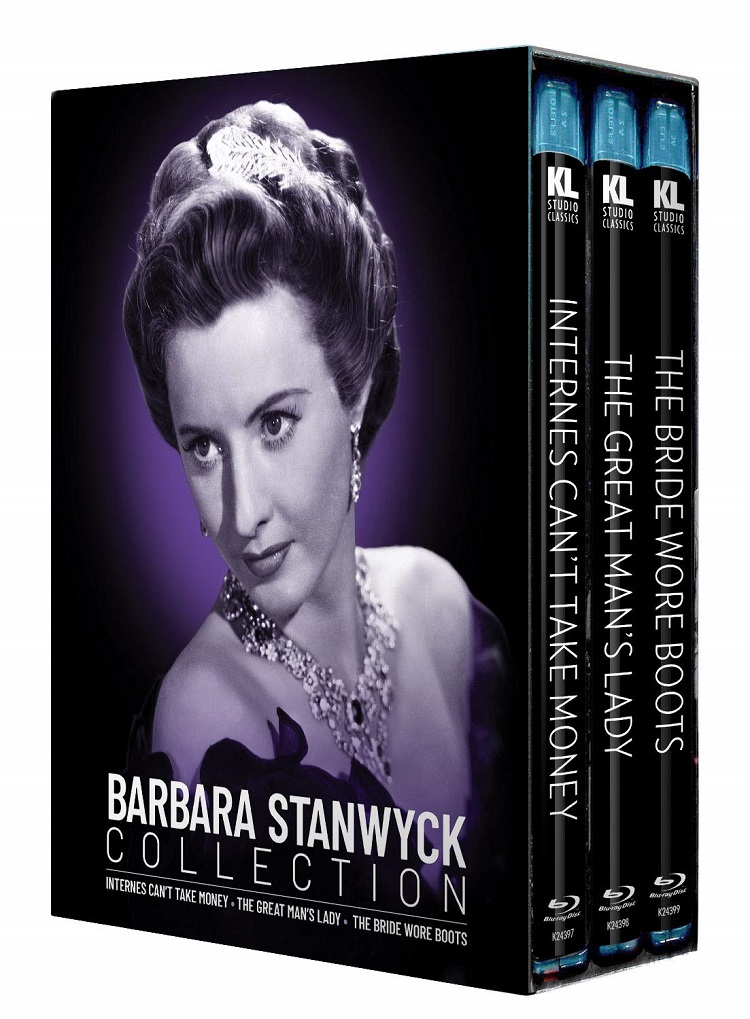 Double Indemnity is one of my favorite film noirs which makes it one of my favorite movies of all time. Barbara Stanwyck is the classic femme fatale in it. She is perfect. She's great in The Strange Love of Martha Ivers too, another noir. And Sorry Wrong Number with Burt Lancaster though my memory of that film is vague. Letterboxed says I've seen The Lady Eve and I thought that was true, but looking at the synopsis of it brings back no memories what so ever. I love Stanwyck though. There's no denying her greatness.
Which is why when Kino Lorber announced they were releasing three films starring the actress in their Barbara Stanwyck Collection, I signed right up. What I was surprised to discover while looking at her career is that not only had I not seen the three films in this collection (Internes Can't Take Money, The Great Man's Lady and The Bride Wore Boots) but that I'd hardly seen any of her films at all. Once again looking at Letterboxed, I've apparently only seen five of her films (four, if I actually haven't seen The Lady Eve, and considering my lack of any memory of watching, it that is likely the case). That's astounding to me. I've loved her in everything I've seen. She beloved by fans across the globe. How is that possible? Even more astounding is that she made some 85 films in her 40 years of working in the movies. I consider myself a film buff, a classic movie fan, and yet somehow I've seen hardly anything by one of Hollywood's greatest stars. This collection will nearly double my viewings of her filmography.
That's the thing though. If you make multiple films every year, not every film you make is gonna be a classic. The more you make the more likely you will have a few clunkers. And if those films are many decades old, they aren't likely to be remembered. This collection will both bear that out and help those who care discover films by a screen legend. None of these three films are great, and at least one of them is pretty bad. But Stanwyck makes them worth seeing, and taken as a trio they truly show off her range. She goes from a teary-eyed mom who'd do anything to get her daughter back in Internes Can't Take Money to a bickering wife in the romantic comedy The Bride Wore Boots to a tough old broad who props up her man to greatness in The Great Man's Lady. She's terrific in all of them even if the films themselves let her down.
Internes Can't Take Money (1937) is the best of the three and I watched it first, which was maybe a mistake. It is the first-ever Dr. Kildare movie. If you are like me and vaguely know the name but don't know anything about the Dr. Kildare's character, let me sum up. He first appeared in a series of short stories by Max Brand. The first one, also titled Internes Can't Take Money, was published in 1936. MGM bought the rights to the character in 1938 and produced over a dozen films based on the character. Next came a radio series, then two television series, comics, and more. Initially, Kildare was an aspiring surgeon who moved from a small town to a big city hospital where his work keeps running into various underground criminals. This basic idea changed quite a lot as the stories jumped from medium to medium, but it stuck to its roots in this film.
Joel McCrea plays Kildare who is a surgery intern at a big city hospital making $10 per month and who isn't allowed to take any other money for his services (something that not only gives the film its title, but will significantly affect the plot, as we shall soon see). One night while in a nearby tavern, the local crime boss, Hanlon (Lloyd Nolan), busts in with a knife in his gut. He refuses to be taken to the hospital so Kildare works on him in a back room. After saving his life, Hanlon offers Kildare $10,000, which is turned down due to those hospital restrictions. This earns Kildare not only the respect of the gangster but an eternal debt (see, I told you that plot point would turn up shortly).
Stanwyck is Janet Haley. She was married to a bank robber before the film began, but when she learned how he earned his dough, she dropped him, causing him to steal her daughter. When he showed up dead in her flat, she got put in prison for being an accessory. Now she's out but the dead ex-husband failed to tell her where he hid the daughter before he died. If you don't realize by now that Kildaire is going to find that kid with the help of Hanlon, then you really ought to watch more movies.
The stuff with the gangsters and Kildare works a lot better than the lost-daughter plot, but that does give Stanwyck plenty of opportunities to get tears in her eyes and those eyes were made for tears. McCrea and Nolan are great. Director Alfred Santell and cinematographer give it a great noir look with lots of deep shadows and interesting images. The set design is magnificent. The hospital has this crazy modern style that's full of glass and odd shapes. The tavern is a character unto itself.
The plot is a little too simple, and there is a little too much reliance on Kildaire saving the day with his surgeon skills, but overall, it is a cozy little drama with some good performances and excellent style
The Bride Wore Boots (1946) has intentions of being a hilarious screwball romantic comedy but it sorely falls short. Stanwyck plays Sally Warren, a rich Southern heiress with a love for horses. Her husband, Jeff (Robert Cummings), hates the beast but has a love for history. He's also got a large following of old ladies (who form groups with names like the Mason-Dixon Dames). They send him all sorts of historical artifacts that clutter the house and irritate Sally. One day, the Dames show up at his house to present him with a giant stuffed horse and one of the dames isn't so old, but rather young and beautiful. She's called Mary Lou (Diana Lynn) and she's got an eye for more than historical artifacts. She kisses him under the mistletoe and then again when she says goodbye. When she gives him another kiss, Sally has had enough and divorces him.
Thus begins the battle of the sexes with lots of verbal sparring and more than enough physical comedy. Stanwyck and Cummings do their best with the material but their dialogue doesn't snap and the sight gags are lame. There's enough there to satisfy fans of both actors, but it left me wanting to watch His Girl Friday or Bringing Up Baby.
I watched The Great Man's Lady last and boy, did it not let this collection go out with a bang. It begins with a narrator extolling the virtues Hannah Hoyt (Stanwyck) and that behind every great man (and even just average man) is a good woman who encourages, extols, and lifts up her man because a woman is only worth what she can give to her man. I might have made that last part up but that's pretty much the gist. The rest of the film tries to prove the point over the next 90 minutes.
The story is told in flashbacks with Hannah being questioned by reporters on the day that Ethan Hoyt (Joel McCrae again) gets a statue dedicated to him in the city he founded. It seems old Ethan was a great man, and a family man, but found himself dead in Hannah's bedroom. Did she know him? Was she his lover? Can she help the reporters with the scandal they so desperately want to report?
She kicks them all out except for a young woman (K.T. Stevens) who plans to write a biography of Ethan. She sheds a few tears and Hannah gives her the scoop. We then flashback to when Hannah and Ethan met (he looks at her through her window furtively from the street, shyly flirts with her while in a business meeting with her father, then steals her away in the middle of the night). We follow them to the wilderness where he wants to start a town, but he gambles away all of their money. He digs for gold without success for years but comes home one day with silver on his boots, unknowingly having walked right through a bonanza. He makes one boneheaded decision after another while she rescues him, uplifts him, and basically gives away her life so he can become the great man who gets a statue in his honor after he dies.
I almost think it was meant to be a satire, poking fun at the notion that women have no better calling than to make their men look good, but it's played so seriously I can't quite believe that. Stanwyck once again lifts up the material more than it deserves. She's such a natural performer that you can't help but be moved by her plight. In less skilled hands, this would be an unbearable melodrama, but she gives it a grace the script does not deserve.
Kino Lorber presents the Barbara Stanwyck Collection in an attractive cardboard box that holds all three films in their individual cases. Extras include trailers for the films and other Kino Lorber releases, plus audio commentaries for Internes Can't Take Money and The Great Man's Lady.
None of these films are what anyone would call classics. But Barbara Stanwyck shines in all three. I'm always appreciative when lesser-known films by great stars get released and this is no exception. If you are a fan, then I can definitely recommend this.