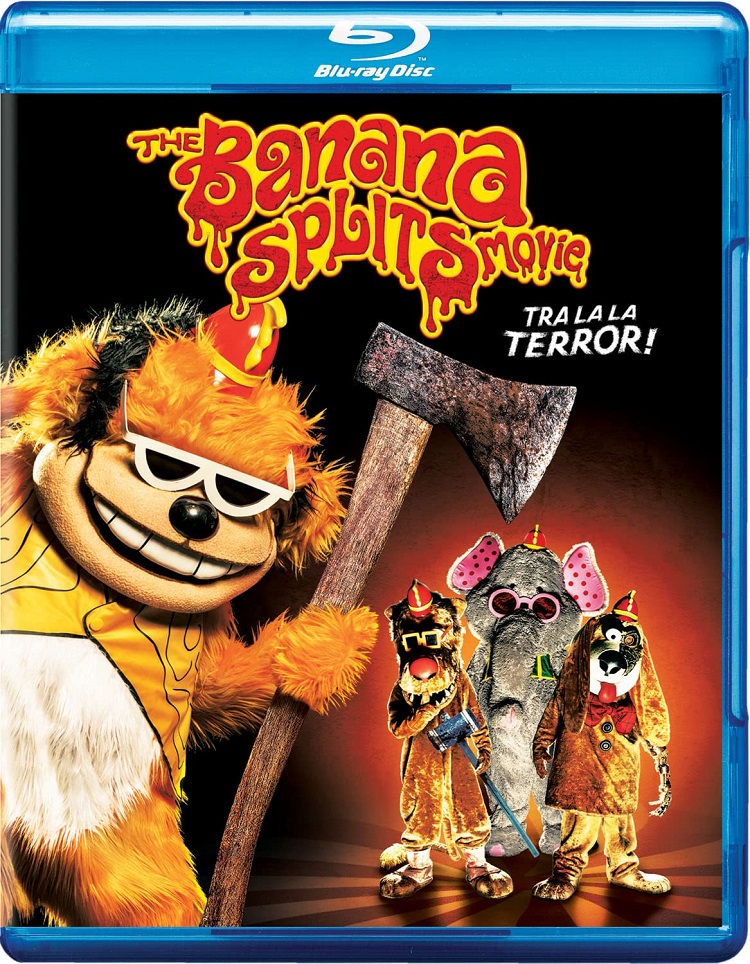 Warner Bros. Home Entertainment provided the writer with a free copy of the Blu-ray reviewed in this Blog Post. The opinions shared are his own.
The Banana Splits Adventure Hour premiered on NBC as part of their Saturday morning line-up in September of 1968 and featured the fictional rock group The Banana Splits. The group was comprised of four costumed characters: Fleegle, a dog; Bingo, an ape; Drooper, a lion; and Snorky, an elephant. Not a banana in the bunch. They had a clubhouse where they held meetings and rocked out, while introducing animated segments such as The Arabian Knights and The Three Musketeers, as well as a live-action series Danger Island featuring Jan-Michael Vincent. The Adventure Hour was produced by William Hanna and Joseph Barbera who hired Sid and Marty Krofft to design the costumes and sets. The concept of the show was loosely based on Rowan and Martin's Laugh-In and The Monkees. There were 31 episodes made that ran from September 7, 1968 to September 5, 1970, and in syndication from 1971 to 1982.
Would a 31-episode kids show from the '70s featuring a rock band comprised of four life-sized stuffed animals be worth revisiting? What if you consider that the target audience of that show went on to grow up with such motion pictures as Halloween and Friday the 13th? What if 50 years later writers Jed Elinoff and Scott Thomas decided to combine these two genres for 72 minutes of bloody fun? Not only did Elinoff and Thomas write such a story, they got Warner Brothers to green light this R-rated production, directed by Danishka Esterhazym, which became available on Blu-ray and DVD on August 27th.
I'm old enough to remember just how much fun The Banana Splits Adventure Hour was. The antics, energy, and humor of the four characters was infectious, and the cartoons, which featured the vocal talents of such legends as Don Messick, Shari Lewis, Jay North, Jonathan Harris, and more, were excellent. The live-action series Danger Island always ended in a cliffhanger and had humor as well. Since I am also a fan of slasher movies and the creative killings found in the Saw and Final Destination films, The Banana Splits Movie should be perfect for me! Sadly, it has little appeal. You knew that was coming!
In this new film, The Banana Splits Adventure Hour is still in production after all these years and still has a following that includes young Harley (Finlay Wojtak-Hissong), who is excited to go see a filming of his favorite show for his birthday. Joined by his mom (Dani Kind), brother (Romeo Carere), and step-father (Steve Lund), they head off to the studio to see The Banana Splits. As it is now 2019, our actors in Banana Splits costumes have been replaced with robots. During a preshow software update, Drooper overhears that the show has been cancelled and this will be the last day of filming. With no other alternative, Drooper rallies his bandmates and the bananas "Dole" out some death. You're welcome.
The Splits hatch a plan to kill all the parents and hold the kids hostage so that they can continue to be the audience for future shows. There is plenty of blood as our furry friends rip apart their victims, but the special effects are weak, and the killings are not as creative as one would hope.
The ultimate problem here is pacing. The writers have taken extremely animated characters and turned them into slow-plodding monsters that anyone could run away from. Esterhazym offers no help with the direction as the story drags from scene to scene and the actors provide one-dimensional performances in primarily stereotypical roles. The bonus material contains several behind-the-scenes interviews where the creativity of the murders is touted. Unfortunately, this doesn't hold up. Much like the movie, the murders take too long and are ultimately disappointing. Lots of blood but little substance.
Recommendation: The Banana Splits Adventure Hour was high-energy fun. The Banana Splits Movie is not. I'm all in for a monster movie full of blood and brain candy, but this film moves slower than an injured teenager running through the woods trying to get away from Jason Voorhees.
The Banana Splits Movie is scheduled to run on SYFY later this year, so save your money and watch all 72 minutes when it does. It'll seem much longer.