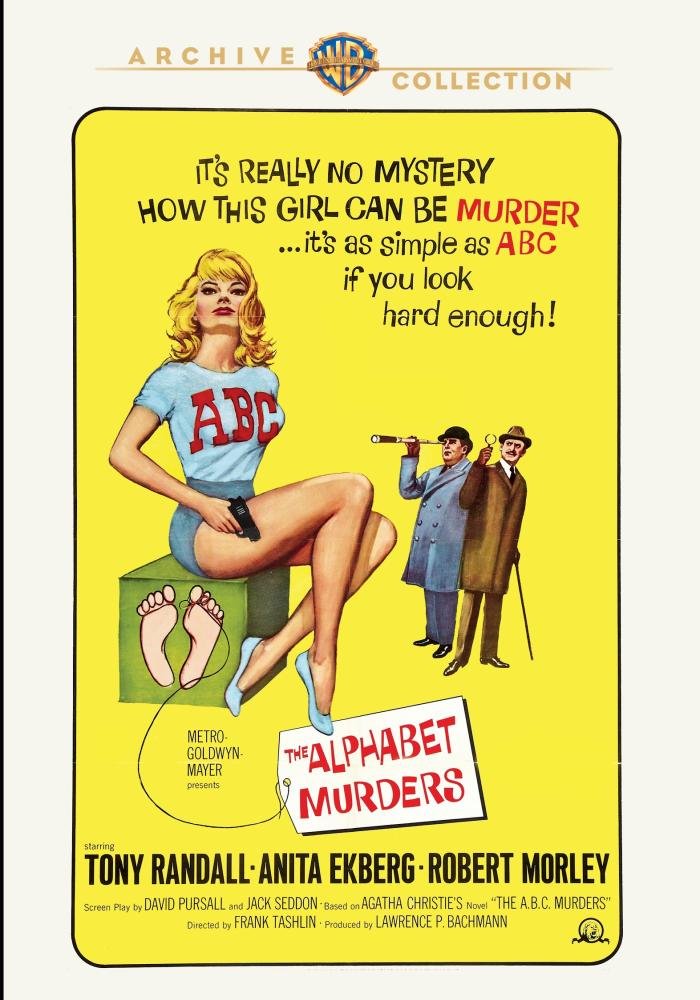 Along with the various adventures of Sherlock Holmes, the most celebrated – as well as imitated – fictional sleuth of the male gender in nearly every possible form of media is that of Agatha Christie's Belgian detective Hercule Poirot. Brought to life time and time again by the famous face (and sometimes figure) of celebrated actors such as Peter Ustinov, Ian Holm, Orson Welles, Albert Finney, Alfred Molina, and – perhaps most famously – David Suchet, the unforgettable caricature of Poirot has been copied and infused into other fictional detectives, as well. Tony Shalhoub's obsessive-compulsive detective Monk was an excellent example, sharing some of more stand-out (and sometimes bizarre) attributes of Ms. Christie's famous creation.
Poirot even received a royal lampooning in Neil Simon's epic Murder by Death, wherein James Coco played a bumbling, bloated buffoon of a Belgian brain, whose ultimate priority – above all else – is food. Strangely enough, this strange stereotype would practically be carried over into the several cinematic outings starring Peter Ustinov that would follow the popular 1976 American comedy a couple of years down the road. And anyone who loves the Agatha Christie character knows full well that, while a screenwriter/playwright and actor may agree to interpret the character via their own fashion, fans will argue over who made for the best and worst incarnations of Hercule Poirot until Doomsday.
But if there's one thing nearly all of said fans can agree on, it's that the Poirot found at the center of the 1965 UK comedy The Alphabet Murders is most assuredly not Poirot. In fact, were one to look for a reason to blame Neil Simon for his parody character, they could sufficiently stop and focus right in on one of the least-likely actors to have ever really (not) brought the detective to life. And that in itself is rather weird, given that the actor in question is Tony Randall, who had become the quintessential romantic comedy supporting actor in the annals of film history a few years before, appearing in a trio of now-legendary Rock Hudson/Doris Day blockbusters.
In fact, his natural onscreen elan for delivering comedy earned the late Mr. Randall two Golden Globe nominations for his wonderful antics in several of the Hudson/Day films. Thus, he was given the chance to do some of his own projects. Sadly, for every classic like 7 Faces of Dr. Lao, an actor must pay the moving picture piper by making a film like The Alphabet Murders soon after. This led to numerous television appearances, including the '70s sitcom version of Neil Simon's The Odd Couple, and a hopefully very lucrative venture appearing in TV commercials for Easy-Off in the 1980s, which, I'm somewhat ashamed to say, I remember him best for – right after Orson Welles and his epic Paul Masson ads.
The Alphabet Murders opens with Tony Randall emerging from an MGM studio – as himself – and addressing the audience that he is indeed Tony Randall. He then promptly turns into and re-introduces himself as (his then-contemporary take on) Hercule Poirot, complete with surprisingly convincing makeup appliances such as a mustache, balding head, and beaked nose. After that, he gets upset with the camera for following him around – in character – with an accent that is only marginally better than Donald Sutherland's "Irish" brogue in the 1999 sci-fi/horror disaster, Virus, of which I remember nothing else except for Mr. Sutherland's already-unconvincing accent becoming genuinely worse and more intermittent.
And as if breaking the fourth wall wasn't enough, it gets worse. Much worse. Here, Randall's comical variant of the sleuth, though intelligent, is presented as too much of a nitwit to be credible. Further salt is tossed – quite liberally – onto the freshly slashed wound once Robert Morley shows up as Captain Hastings, and immediately becomes the great big dumb sidekick whom Poirot keeps ditching and/or leaving in precarious situations as he attempts to find his second-billed co-star, Anita Ekberg. You see, Ms. Ekberg is just one of many uninteresting suspects in an equally uninteresting (and really rather bad) murder mystery comedy, wherein all the suspense had been rewritten over, while its male leads were encouraged to ad-lib like mad.
Sadly, Ms. Ekberg's limited screentime does not so much as raise the very crane her character will later take a plunge off of (oh, sorry, was that a spoiler alert?). Maurice Denham plays an ever-dumber-than-usual Captain Japp of Scotland Yard, Guy Rolfe and Sheila Allen are more suspects/potential victims, and a young Julian Glover can already be seen being first typecast as a bad guy here. The only true highlight of the dismal feature, wherein Margaret Rutherford and her real-life hubby Stringer Davis show up briefly as their famous onscreen personifications of the time – Miss Marple and Mr. Stringer – is a let down (though it is rather reminiscent of Danny Glover's amusing cameo in Mel Gibson's Maverick nearly 30 years later).
Ironically, the original script – which was initially to feature Zero Mostel as the lead – was rejected by Dame Agatha Christie herself. One only wonders what she must have thought about the version that would up escaping into cinemas. It's fairly easy to assume why The Alphabet Murders never hit DVD around the same time as the now out-of-print collection of Margaret Rutherford/Miss Marple films. Hell, they could have included The Alphabet Murders in the set as a bonus title just so that they would have been able to make it look like it was a seller because of the movies it was packaged with, and they still didn't. But it was probably for the best that they didn't in the long run.
And so, aside from a brief stint on videocassette in the 1990s, The Alphabet Murders has sat on the shelves of the MGM vaults, right next to those cans of alphabet soup that nobody wanted to eat, for fear of appearing puerile. Nevertheless, there is a time and a place for everything – and thanks to the diligent efforts of the Warner Archive Collections, the 1965 turkey can now be seen in its entirety for both Agatha Christie purists and cinemasochists alike. The manufactured-on-demand DVD presents the black-and-white movie in a jolly decent anamorphic widescreen presentation with monaural audio. An open matte trailer (complete with partially whimsy narration) is included as the disc's sole extra.
Frankly, a trailer is more than this movie deserves. Nevertheless, any fan of Hercule Poirot should check out The Alphabet Murders posthaste (or should I say "tout de suite"?) just so we can all finally agree on one sure thing together, as a whole. Namely, that this is most assuredly not the way you should adapt an Hercule Poirot story. And so, I recommend The Alphabet Murders for no other reason if just to make people stop contrasting and complaining about Peter Ustinov and David Suchet for a spell.