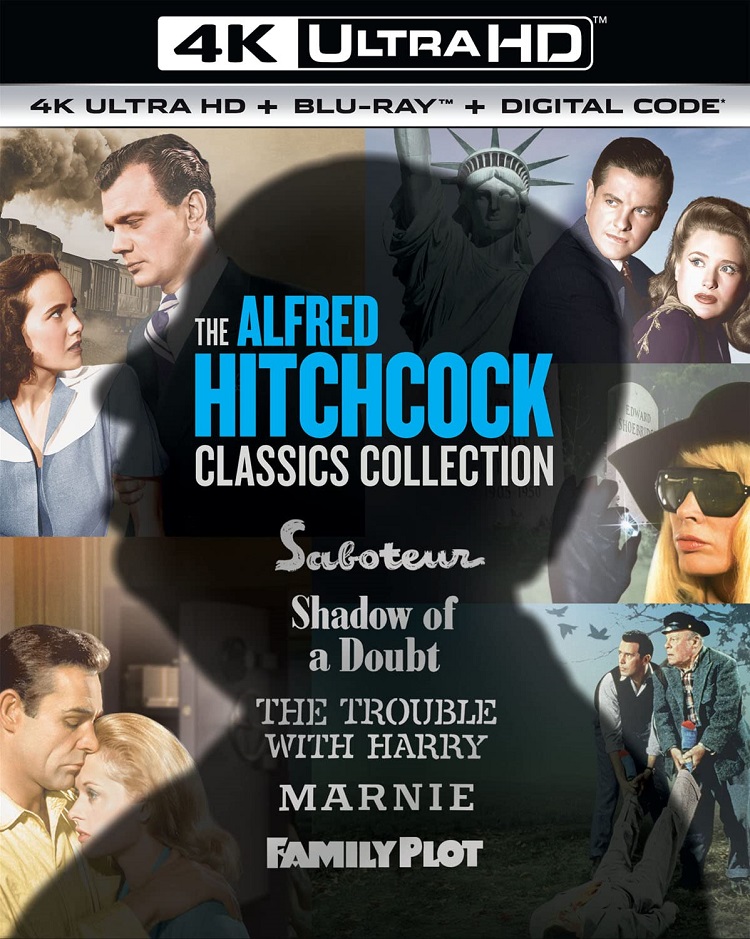 As everyone knows and has always said, Hitchcock is the ultimate "Master of Suspense". When it comes to their own process of making movies, every modern filmmaker continues to wonder what would Hitchcock do? and every film buff (myself included) still wonders how did Hitchcock do that?
Every film he made, even the lesser ones, have something to them, such as innovative techniques, memorable set pieces, iconic actors and characters, and hidden details and meanings that we still study and analyze to this day. The lesser ones (except for one) are included in the new second volume of his classics collection, also making their 4K debuts.
The best one in the collection is Hitchcock's own favorite film Shadow of a Doubt (1943). It stars Teresa Wright fearing for her life and her family as she discovers that her beloved uncle (Joseph Cotten) may be a brutal killer. Saboteur (1942) has Robert Cummings accused of sabotage and going on the run to prove his innocence. The Trouble with Harry (1955) has people in a small town trying to figure what to do with Harry Worp, a dead man whose corpse is discovered in a meadow, and darkly comedic results ensue. Marnie (1964) stars Tippi Hedren as a disturbed kleptomaniac pursued by her handsome new boss (Sean Connery) who tries to save her and figure out the truth of her dark habits. And Hitch's final film Family Plot (1976) stars Barbara Harris as a phony psychic and Bruce Dern as a con man who are hired by a wealthy woman to find her missing heir. They encounter a jewel merchant (William Devane) and his girlfriend (Karen Black) who have a talent for kidnapping and are also after the woman's money.
There aren't any commentaries, but each film has their own special features like documentaries, storyboards, production photographs, trailers, and more. Despite some of the low-tier films included, they are still entertaining, and this set should or could be a must-have for your collection, assuming you have a 4K player and/or you don't already own previous releases. They are also available separately, if you happen to love a film more than another.
Other titles:
Mr. Klein (Criterion): Alain Delon stars in Joseph Losey's thriller as an art dealer, whose life is turned upside down when the authorities suspect him of being Jewish.
Miklos Jancso Collection (Kino): A set featuring six politically charged classics from the late, great Hungarian filmmaker who successfully examined oppressive authority and its misuse of power.
The Beta Test: Jim Cummings directs, writes, and stars in this dark comedy thriller as a married Hollywood agent who finds himself lost in a sinister world of lies, infidelity, and weird digital data after he receives a mysterious letter detailing a sexual encounter.
Cursed (Scream Factory): A new two-disc collector's edition of Wes Craven's maligned horror thriller about siblings (Christina Ricci and Jesse Eisenberg) who find themselves blessed with newfound abilities after a horrific encounter with a werewolf.