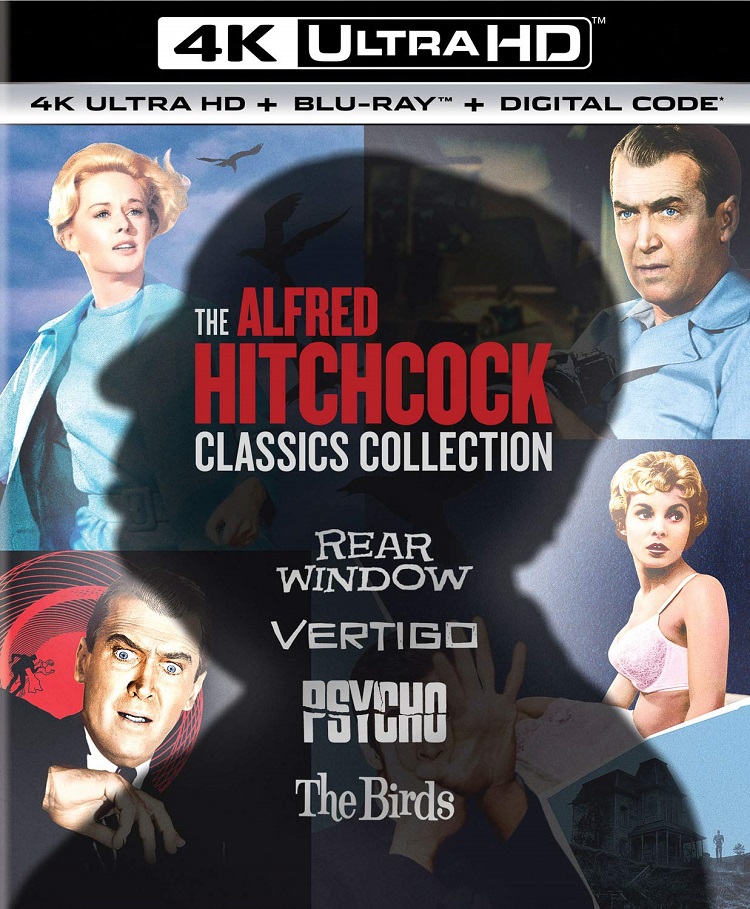 Alfred Hitchcock is known as the master of suspense, but that's too limited a title for him. Where his talents primarily lie as a storyteller is in the manipulation of audiences. He liked to say, "I enjoy playing the audience like a piano" and he does so with masterful skill, using subtle tricks to shift the audience's sympathies, sometimes from scene to scene from one character to the next. In this way his films, while always intended as popular entertainments and always aimed for box office success (and usually achieving it), have layers of complexity that one rarely finds in contemporary commercial cinema.
The Alfred Hitchcock Classics Collection presents four examples of the master's art in 4K Ultra HD: Rear Window, Vertigo, Psycho, and The Birds. Why these four films? They are some of Hitchcock's most famous and successful films, though this collection also omits several movies that have just as much claim to the title "Classic." Previous box set releases for Hitchcock from Universal on Blu-ray include 15 films, some of which are as iconic as the four included here. With no information on the box or in the discs themselves about the selection, one can only speculate. Maybe Universal is just dipping their toe into the 4K waters for their back catalog to see if there's still a market for physical releases that justifies the cost of production. Whatever the reason, the main attraction here are the films.
Rear Window is the most fun film of this collection. Based on a short story by Cornell Woolrich, Rear Window stars Jimmy Stewart as Jeff, a recently injured photographer who has nothing better to do while waiting for his broken hip to heal than look out his apartment window at his neighbors. He's a (relatively) benign peeping tom, using his high-power camera lenses to check out what the locals are up to in the hot New York summer. In these pre air-conditioning times, everyone is living with their windows and blinds open, so he has ample opportunities for entertainment. There's "Miss Torso", the ballerina who wears as little as possible to facilitate her dance practice. Miss Lonelyheart on the first floor practices going on dates she never goes on. The top floor studio apartment is occupied by a songwriter played by Ross Bagdasarian, whose later claim to fame was in novelty singles, including "The Witch Doctor" and, most prominently, the creation of Alvin & the Chipmunks.
Then there's Thorwald and his wife. She's an invalid, he (played by burly, gray-haired Raymond Burr) is the henpecked husband constantly in arguments with her. Until one night, when the blinds are drawn, despite the heat. And he goes out with a suitcase. And returns. And goes out with a suitcase. And returns. And goes out one more time, throughout the night. Jeff is convinced that he's witnessed a murder, while his friends and girlfriend, played by the incomparably beautiful Grace Kelly, think he's just bored.
But the evidence, and Jeff's obsession build up, until he's got his nurse, his cop friend, and his girlfriend all sticking their necks out to persecute a guy who might be completely innocent, just based on something he kind of saw. It's an example of Hitchcock's superb skills at manipulation, where he skillfully places the audience's point of view completely in one character, while subtly insinuating that the hero might well be the villain of the piece, if we just had a different perspective.
This manipulation of sympathy is equally prevalent in what many would call Hitchcock's masterpiece, Vertigo. Again starring James Stewart, and again with a disability, though this one is mental, not physical: John "Scotty" Ferguson, San Francisco detective, has acrophobia. An extreme fear of heights. He discovers this during a daring rooftop chase of a criminal. Scotty misses a jump for a rooftop, holds on by the gutter, and becomes paralyzed by terror. This paralyzation leads to the falling death of another officer and Scotty's leaving the force. Luckily, shortly after he loses his job, he gets some private work from an old college friend: he believes his wife is being possessed by the spirit of a dead ancestor, and will lead her to suicide. Scotty, a practical man, doesn't believe a word of it, but takes the job and begins following the woman, Madeline Elster (Kim Novak), around town, where she traces the footsteps of this ancestor – going to her grave, seeking out her portrait, sitting in a room in the house she one owned. Eventually, he follows her to the bay, where in an apparent catalytic fog she plunges into the water. Scotty rescues her, takes her homes, dries out her clothes and tries to figure out how much she knew about what she was doing. She claims not much, and runs away when Scotty's distracted by a phone call, but she doesn't stay away for long.
Vertigo has the most sumptuous and often less realistic use of color of the films in this collection – indeed, although Hitchcock is usually careful to source the light in the scene (the sickly green lights in scenes near the end come from the improbably colored sign streaming into a hotel window), they are used as effectively garishly as any Italian Giallo. Dark and strange, Vertigo is as beautifully shot as its plot is fiendishly circuitous. Whatever the merits of the story (it's one of my favorite movies, but objections to the implausibility of the plot and the deliberate pace are not unfounded), it's an astoundingly beautiful film, taking advantage both of the natural beauty of the California landscape and Hitchcock's meticulously decorated and constructed sound stages.
His masterpiece of manipulation and the most successful and controversial film of his career, Psycho, can never be as shocking to a modern audience as it must have been to a contemporary one. It has been so influential that it changed conceptions of what could be done in a popular entertainment, pulling the rug permanently out from under audience expectations. Which means everyone has taken from it, so it can't have the same impact. The overt psychosexual creepiness of Psycho's story is something one can get on the most middling prime time cop show, which will also have more gore. But what's left when the power of shock and surprise are gone is a tight, suspenseful and gripping thriller that more than any of Hitchcock's films plays with audience sympathies.
It's a basic crime tale: Marion Crane (Janet Leigh) is entrusted to put $40,000 into a safety deposit box by her boss. Instead, she skips town, hoping to run away with her out-of-town boyfriend and away from all of her troubles and loneliness. She has some adventures along the way: she has to sleep by the side of the road, she's dogged by a suspicious highway patrolman, switches car to throw him off the trail (unfortunately he's watching the whole time,) then stops at a motel when the rain is so heavy she can't see the road anymore.
That motel is the Bates Motel, and what happens next everybody knows – and if you don't, for the love of God, don't find out, just watch the movie. What's so masterful about Psycho is how it shifts protagonists. For the last half of the movie, the character that the audience feels the most sympathy for is Norman Bates.
Psycho is the one film of this set that has something exclusive to this release. At some point in the film's life, it was edited to be shown on television, which required the removal of 15 seconds of material. This 4K Ultra HD release is the first time this footage has been seen in nearly 60 years. While it doesn't amount to too much (an extra shot or two in the shower scene, a little more flesh when Leigh is undressing, some more blood), it's great to have the full film finally available.
The Birds is the strangest film in this collection, and one of the oddest of Hitchcock's career. His films tend to by psychological, and their conflicts are almost always man versus man. The Birds pits his characters against nature, where none of their psychological hang-ups, obsessions, or games means a damn. Tippi Hedren stars as Melanie Daniels, a socialite who wants to get back at lawyer Mitch Brenner for being a smug jerk, and does so by buying a pair of love birds for his little sister and delivering them to Bodega Bay. It's a little joke, and for the first 25 minutes The Birds is more a comedy of manners than anything…until a seagull attacks Melanie while she's on a boat in the bay. It's a strange encounter, and just seems to be an odd incident, but more odd incidents began to occur. And then full-blown attacks by birds, swarming remorselessly and with no reason.
"Remorseless" is the word for this film. There's the famous sequence of the birds attacking running school children, pecking at their faces and knocking them to the ground. There's an infamous scene where Tippi Hedren was pelted with live birds that nipped at her hands and face. All of Hitchcock's films have a grim aspect to them, but The Birds might be his darkest, grimmest vision.
All four films are presented for the first time in 4K Ultra HD, and the results for the most part are stunning. Rear Window has a deliberately stylized look and the color pallete looks a little warm, but the level of detail is astounding, and in a film whose point is noticing small details from far away, it enhances the overall film experience. Vertigo, Hitchcock's most beautiful film, looks amazing. It's a film filled with deep colors, and they come through on this release like never before. Psycho is in black and white, and the clarity of the imagery is often truly beautiful. The Birds has never looked lovely on home video, and while this presentation is probably the best it's ever been, it doesn't have the vivid colors of Vertigo. Still, for any Hitchcock fan the films on this set look better than they ever have at home.
What might disappoint for the ardent collector of Hitchcock is the lack of anything like new extras. Universal did yeoman's work producing fine extras for the initial DVD releases of Hitchcock's work in the late 90s and early 00s, and most subsequent releases have included these, but they have not gone further. Barring the new uncut edition of Psycho, everything included on this 4K release in terms of extras has already been available on previous releases. The documentaries for Rear Window, Psycho and The Birds are top notch extras directed by Laurent Bouzereau, and they're superb. They're also almost 20 years old. Famously, Hitchcock's films have had a rocky road to preservation: this is documented in the archival extras provided on these discs. I would love to know how these new 4K transfers were achieved, but there's nothing to learn about that here. The packaging is similar to the Masterpiece collection, which is a book format with the discs in individual sleeves. I was incapable of removing the disc without getting fingerprints on it, which interrupted playback.
More films would have been also welcome, of course, since Hitchcock's is such a rich and full library. Four films from a single decade of his body of work (1954-1963) doesn't capture the full breadth of his talent, but that said, there's no impeaching these films. They are beautiful, layered, and entertaining. There are some missed opportunities with The Alfred Hitchcock Classics Collection, but the films are still great, and they've never looked so good at home.
The Alfred Hitchcock Classics Collection has been released on 4K Ultra HD + Blu-ray + Digital Code by Universal. Extras included on discs are as follows:
Rear Window: Audio commentary by John Fawell, "Rear Window Ethics: Remembering and Restoring a Hitchcock Classic" documentary (56 min), "Conversation with Screenwriter John Michael Hayes" (14 min), Pure Cinema: Through the Eyes of the Master (25 min), "Breaking Barriers: The Sound of Hitchcock" (24 min), " Hitchcock /Truffaut interview excerpts (16 min), "Masters of Cinema" (34 min).
Vertigo: Commentary by William Friedkin, "Obsessed with Vertigo: New Life for Alfred Hitchcock's Masterpiece" (29 min), "Partners in Crime: Hitchcock's Collaborators (55 min), Hitchcock / Truffaut Interview Excerpts (14 min), "Foreign Censorship Ending (2 min), "100 Years of Universal Lew Wasserman Era" (9 min).
Psycho: Audio Commentary by Stephen Rebello, "The Making of Psycho" (95 min), "Psycho Sound" (10 min), "In The Master's Shadow: Hitchcock's Legacy" (26 min), Hitchcock/Truffaut interview excerpts (15 min), "Newsreel Footage: The Release of Psycho" (8 min), "The Shower Scene: with and without Music" (3 min), "The Shower Sequence: Storyboards by Saul Bass" (4 min), "The Psycho Archives" (8 min).
The Birds: Deleted Scene (4 min), Original Ending (4 min), "The Birds: Hitchcock's Monster Movie" (14 min), "All About The Birds" (80 min), Storyboards (24 min), "Tippi Hedren's Screen Test" (10 min), Hitchcock-Truffaut Interview Excerpts, (14 min), "100 Years of Universal: Restoring the Classics" (10 min), "100 Years of Universal: The Lot (10 min). Each film also has trailers and image galleries.
**It has been discovered that the Psycho 4K UHD disc has a pressing error – the omission of the original mono track from the disc. If you have the mis-pressed disc and want to get it replace, you can go to https://www.uphe.com/en/contact-support or email Universal Home Entertainment support at [email protected]