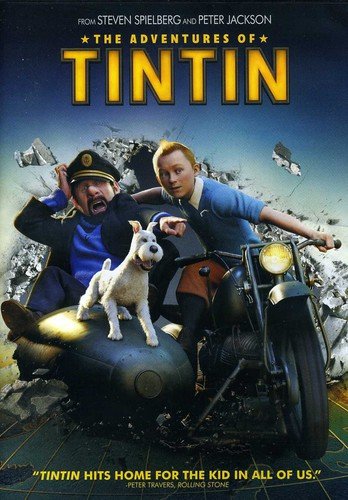 My wife is a nerdy Francophile – she adores everything French especially its arts. I didn't know it before we got married but both France and Belgium have a long and storied history of creating comics and graphic novels. Over there, they actually come in these really lovely hardback books that are both more durable and larger than their American counterparts. But that's neither here nor there. What is there and now here is Tintin, perhaps the French-speaking world's greatest gift to the comic-book world.
Created by Belgian artist Hergé in 1929, the series is one of the most popular comics of the 20th century, having sold over 200 million copies and has been translated into over 50 languages. Steven Spielberg brought the comic to theatres in a 3D motion capture experience in 2011 and it is now my pick of the week. The film got mostly favorable reviews, and it looks quite marvelous and I'm excited to watch it with my wife (who really is a much bigger fan than me) and my daughter.
The Blu-ray comes in a multi-pack featuring the 3D and 2D versions, plus a regular DVD copy and a digital copy. It comes with a bunch of featurettes about the various aspects of bringing the comic to life on the big screen.
Also out this week that looks interesting.
The Last Temptation of Christ (Criterion Blu-ray): Martin Scorsese's alternative take on what could have been Jesus' life had he not been crucified is as beautiful as it was controversial. Lambasted by various religious groups before they had even seen a frame, the film disappeared from movie screens pretty quickly but is now available in high definition from Criterion. Extras include audio commentary from director Martin Scorsese, actor Willem Dafoe, and screenwriters Paul Schrader and Jay Cocks (this is the same commentary that was included in the Criterion DVD release), an interview with composer Peter Gabriel, a couple of featurettes, and an essay by film critic David Ehrenstein.
The Descendants: Starring George Clooney and directed by Alexander Payne, this Oscar-nominated film looks most excellent.
Wallace & Gromit: World of Invention: The always adorable claymation inventor Wallace and his faithful sidekick Gromit star in this six-part series where the two showcase some real life contraptions, inventions, and doohickeys. I love their normal adventures and this sounds like it could be a fun way to learn some interesting things.
My Week with Marilyn: I don't really know much about this film, but it was nominated for some awards and got some critical buzz and I find Marilyn Monroe fairly fascinating so this will gone on my list of things to watch eventually.
Melancholia: Lars Von Trier is one of those controversial directors that people seem to love or hate in equal measure. I keep meaning to watch one of his films to form my own impression. I can't say it will definitely be this one that gets me to sit down, but with Kirsten Dunst as the lead it just might.
Young Adult: Another film that I don't know anything about, but probably should. Starring Charlize Theron, directed by Jason Reitman, and written by Diablo Cody, the description says this one's about a middle-aged prom queen who goes to her high school reunion hoping to relive her glory days but finds it harder than she imagined. I like Theron and Reitman a good deal, but I found the Cody-written Juno to be a little too quirky for its own good. I'll toss this one into the eventually pile.
The Killing: Season One: I have this odd habit of watching television shows about half way through and then getting distracted by something else only to return to the first show months and even years later. This is exactly what happened to The Killing. I watched half a dozen episodes, liked it, and then got busy with something else and have yet to return. Hearing pretty mixed reviews of its second half did nothing to make me want to return, but it did get picked up for a second season and I do want to find out who actually killed Rosie Larsen so I'm sure I'll get back to this sometime over the summer break.