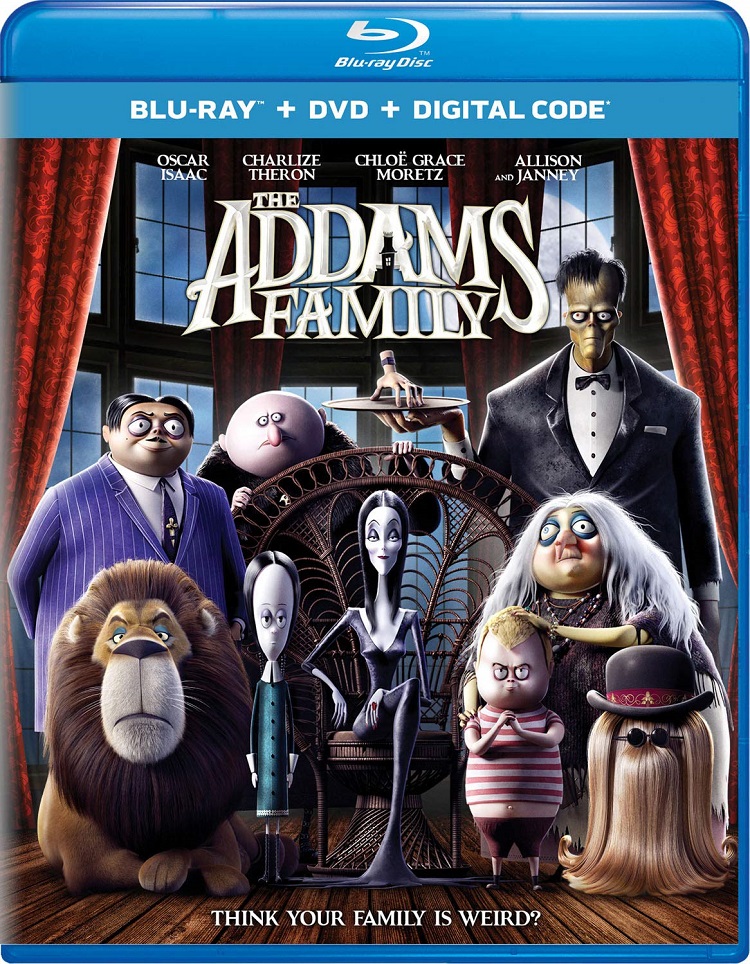 The Addams Family is the very definition of Hollywood product, a project so completely lacking any creative spark or reason for existence that it feels like everyone involved had to be convinced to participate. The character designs are so over-exaggerated and super-deformed one can almost sense the pixels threatening to revolt in protest, while the story is so obvious it could have written itself. And yet, in spite of its many shortcomings, it isn't an altogether unpleasant family film, especially because it largely sidesteps the rude humor one typically expects from lower-tier animated fare.
For this iteration of the famous family, Oscar Isaac and Charlize Theron head the cast as parents Gomez and Morticia, with the younger generation ably represented by Chloe Grace Moretz and Finn Wolfhard as Wednesday and Pugsley. When the clan moves to a new town, they quickly run afoul of the local cookie-cutter suburbanites led by Margaux Needler (Allison Janney). The locals don't want anything to do with the weird Addams clan, but also don't want them anywhere near their neighborhood, leading to an inevitable showdown where it's revealed that the prim and proper Needler is a far bigger monster than any creature in the Addams mansion.
While the character designs leave a lot to be desired, the characterizations are fairly spot-on, making this a decent enough introduction to the clan for kids who've never encountered them. There's nothing particularly scary presented in the film, and the filmmakers go so far out of their way to show that the eccentric characters have deep love and admiration for each other that they're basically cuddly plush toys. However, perhaps someone should have pointed out to the studio that the latest generation already has their own creepy animated family in the form of the Hotel Transylvania film and TV franchise, further invalidating the necessity of this film.
The Blu-ray contains brief deleted and extended scenes in various stages of completion ranging from the most basic of storyboard sequences to fully completed animation. Another scene serves as the basis of an animation primer showing how an idea moves from storyboards to fully lit animation. There's also a brief behind-the-scenes feature with cast and crew discussing the film and its characters. The biggest oddball feature is a short game of charades with Thing acting out clues for viewers to guess. Finally, the features are rounded out with a couple of lyric videos for songs featured in the film.