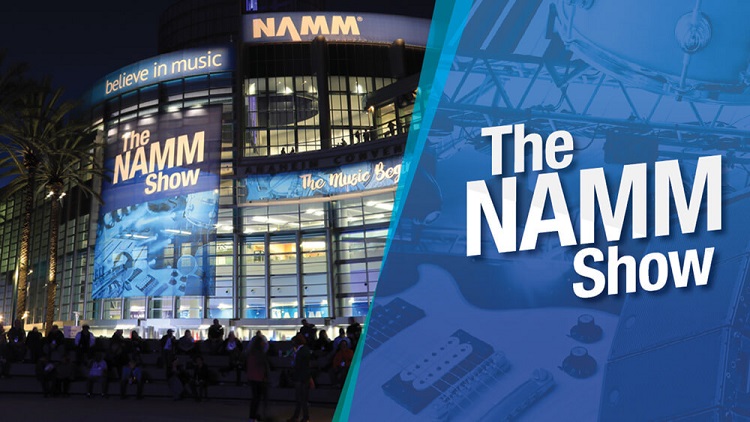 The NAMM (National Association of Music Merchants) Show traces its roots back to the NAPDA (National Association of Piano Dealers of America), which formed in 1901 and had its first trade show in 1902. It was first held in Anaheim, California in 1976 and has returned many times since. Attendance is open to NAMM members, "pro audio professionals and buyers representing non-member companies, venues and houses of worship, as well as music educators and music majors," and members of the media.
This was my first time attending, and while I have visited numerous trade shows over the years, including San Diego Comic Con, CinemaCon, and Specialty Equipment Market Association (SEMA), the NAMM Show impressed with its size and scope. In part, because not being in the music business, I hadn't considered all that goes into it.
Walking around the multiple show floors, companies were selling obvious items needed in the music business and other products that might not immediately come to mind but made sense when realizing all the music business encompasses. They included microphones and stands, speakers and stands, headphones, ear pieces. Connectors, amplifiers, and pre-amp devices. Cables for products that aren't wireless and wireless products like mic belts. Patch bays, recording and mixing software, studio wall insulation. Sheet music and stands, guitar straps, chairs, stools, foot switch controllers, and hands-free page-turner pedals. Stagehand unions, stage flooring and drapes, work gloves, gaffers tape, equipment cases and covers, Stage effects like fireworks, lights, foam, confetti, and bubbles with and without smoke inside them. Reeds, batons, music magazines, store fixtures, digital marketing tools, stickers, vocal warm-up app, instrument repair tools and cleaning supplies.
Meloquest is a videogame that teaches kids how to play. There was a rental service for schools/students, Allegro Bank was on hand to offer credit, and an entertainment law firm for other needs. There were products specific to home theaters and fitness professionals. I was surprised the Marines had a booth, but they do have a band or could at least serve as a back up if a music career doesn't work out.
Although NAMM is a national group, the Show is an international affair, most noticeably with the instruments. There was a collection of German vendors together, and Chinese vendors spread out. This musical U.N included an Italian violin maker, Benchworld from Canada, and Korean Saxophones.
The instrument section of the show floor was loud as products were demoed by the companies and tried out by passersby. It was especially raucous in the drum section, so I am glad a friend suggested I bring earplugs. The electronic instruments were on hand as well such as keyboards, a talk box, and a mellotron.
Mix with the Masters held Q&As and Mixing Sessions on a SSL as they promoted music production seminars held in the South of France and videos available on their website. The masters included notable producers and engineers Tony Maserati, Eddie Kramer, Jacquire King, and Bob Clearmountain & Tchad Blake.
Christian Hand of The Session On Air hosted "Stories Behind The Sessions" at the HARMAN Pro Booth throughout the event. On Thursday, he began with Toby Scott, who served as engineer on "Born in the U.S.A." (1984), for a breakdown of the song. Using Pro Tools software, Hand played individual and multiple elements of the song, gushing over the skills of the musicians and the sounds Scott captured. In turn, Scott offered anecdotes about the song's recording along with technical information that was more intensive than Hand usually offers in his presentations, which makes sense with the audience likely more gear savvy at the NAMM show. Unfortunately, it was tough to hear at times because over at one booth drums were being played, at another bass guitars, and a general hubbub of people walking around and talking.
Later, Hand was joined by producer "Evil" Joe Barresi to breakdown Avenged Sevenfold's "The Stage" (2016) and producer Robert Margouleff to breakdown Stevie Wonder's "Superstition" (1972), which was mixed live and he and his partner Malcolm Cecil contributed to the synthesizer programming. Margouleff had very strong opinions about the current state of music today, how it was being played and produced. He is also working in Immersive Audio, which in response to headphones and ear buds, allows the listener to experience the music around them 360 degrees.
On Friday, Hand conducted an interview with bassist Bootsy Collins which was followed by a free meet and greet. Producer and Canadian Garth Richardson then joined Hand for a commemoration of the recently deceased Neil Peart, drummer/lyricist of Rush. It was the biggest audience I had seen at the HARMAN booth up to that point, and the fellows wanted to push the volume limit as they broke down four songs: "YYZ," "Tom Sawyer," "Subdivisions," and "Limelight."
Bands and singers of various genres played throughout the day. All around the show floor, there are performances, some to highlight the acts, others to highlight the instruments/equipment being played. Outside the convention center and in hotel ballroom, they played into the night. In Santa Ana, the Observatory was held Dimebash, an annual all-star concert that pays tribute to the late Dimebag Darrell of Pantera with proceeds benefiting music education and animal rescues.
Down the street from the convention center, Gibson Live at The Grove was being held. After a few amusing opening comments by host John Stamos, Gibson President and CEO James "JC" Curleigh offered a state of the union for not only the Gibson brand but Epiphone and Kramer as well. As with most businesses finding new consumers can be tough so they have the Gibson Generation Group, or G3, a two-year mentoring program for new generations of guitar players, like a musical version of Little League. Some of the kids taking part in the program got to play on stage with some well-known musicians this evening. Led by band leader Jimmy Vivino (guitar), the house band of Kenny Aronoff (drums), Darryl Jones (bass), Jeff Young (keyboards) and featuring guest Mark Flanigan on keyboards (ZZ Top) supported an impressive array of talent featuring guitarists such as Slash, Billy Gibbons, and Rick Neilsen playing their own songs and classic covers to the delight of the crowd.
The NAMM Show is an impressive endeavor with so many interesting things going on. There are numerous education panels and the Show also serves as a de facto four-day music festival with all the musicians playing on the grounds. I would highly recommend attending even though there's more going on than a person can take in, but it certainly offers a fascinating look at the multiple facets of the music business.