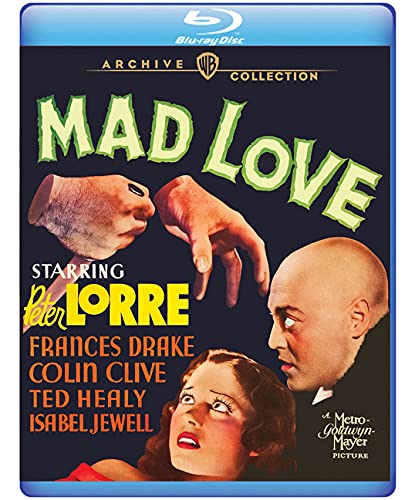 The last day started with my first 9 am block viewing.  While I was tempted to sleep in, I couldn't pass up seeing Bill Hader introducing Mad Love (1935).  Not only did Hader make it worthwhile but so did the film's crazy story about a surgeon (Peter Lorre) who is so obsessed with an actress (Frances Drake) that he replaces her pianist husband's hands with those of a knife-throwing murderer.  Lorre is at his creepy best here and totally enthralling.  It is also visually impressive and said to have inspired Citizen Kane. 
Yours, Mine and Ours (1968) was the only movie I viewed at the festival that I had already seen.  It is a longtime sentimental favorite and it was a huge treat to finally see it on the big screen.  Helen (Lucille Ball) and Frank (Henry Fonda) are both widows with eight and ten children respectively.  When they realize this after their first date, it seems clear that continuing a romance would be a terrible idea but they are drawn back together anyway.  What I still love about it is how all of the kids resist each other, their new parent, and the combining of these large families, but eventually learn that they didn't know what they were missing or what they would be gaining.  Kevin Burchett, Tracy Nelson, and Mitch Vogel played three of the younger children and came out afterwards to discuss it with Leonard Maltin.  Nelson was only five at the time and considered herself a prop.
Last but not least was Cold Turkey (1971). I had never heard of this Norman Lear comedy starring Dick Van Dyke as a minister trying to convince his small town to quit smoking for a month in order to win the $25 million prize. Bob Newhart is a hoot as the tobacco executive who derived the idea only to then realize he must try to save his job by tricking the town into falling off the wagon. There are some thought-provoking themes but its sluggish pace drags it down. Lear was supposed to be in attendance and it might have helped to have heard some of his thoughts. One cool item of note is that this was the first film score by Randy Newman.
Each year. I seem to enjoy the TCM Film Festival more and more.  Perhaps it is my growing appreciation for classic films or improvements by the programing staff.  I know have complete confidence that they are picking from the best of the best.  TCM has found a great balance of unknown gems to well-known successes.  Of the 14 films that I watched over the festival, there were none that I regretted seeing or that I didn't enjoy on some level.  Kind Hearts and Coronets and Winchester '73 are the two that I would watch again and strongly encourage others seek out.  I keep thinking that at some they will run out of hidden gems but with all of the films that were screened this year as premiere restorations, I have hope that there will always be wonderful films to discover.