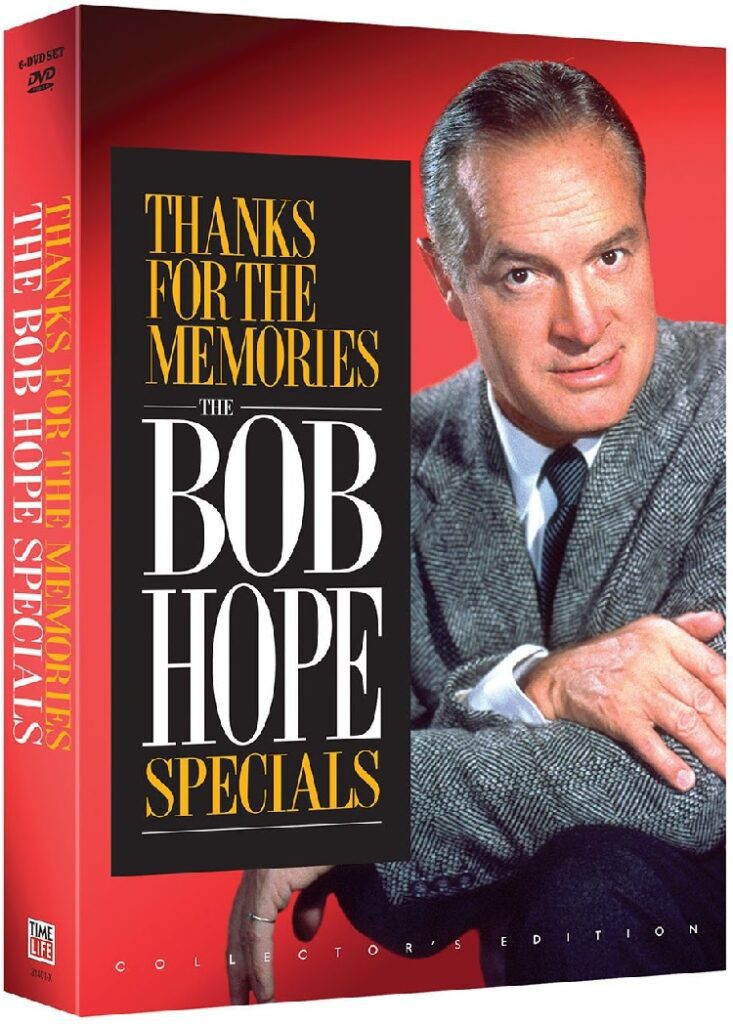 Time Life, in association with Bob Hope Enterprises, have released Thanks for the Memories: The Bob Hope Specials, an impressive six-disc set featuring 13 TV specials from five different decades with a galaxy's worth of stars. Eight of the specials are complete shows while the other five are compilations, resulting in some repeated material. The jokes and sketches can be a bit stale and unfunny at times. Hope's monologues especially suffer from this regardless of how much canned laughter is added. His material is also very topical so young viewers might not get the references to people like Hubert Humphrey and Joe Namath Yet there are plenty of moments when the writers and performers get the humor to work, and the roster of celebrities is impressive.
Disc 1 opens with Highlights of a Quarter Century of Bob Hope on Television from October 24, 1975. The guest stars on this clip show alone are amazing. There are some funny sketches like John Wayne as a Western Archie Bunker, Hope and Jackie Gleason in drag as undercover cops, and Redd Foxx as Santa Claus. Of course, there are the expected-for-the-times, racially awkward sketches, such as Hope and Robert Goulet as Chinese rickshaw drivers, and Hope and Steve McQueen as Japanese soldiers.
The Bob Hope Christmas Special, which oddly aired on January 18, 1968 over three weeks after the holiday, presents Hope's USO shows performed around the world to servicemen in 1967. Hope's jokes about the antiwar folks make his stance on the matter clear. The soldiers appreciate the comedy, but seem more appreciative of the beautiful women Hope brought, and who can blame them when Raquel Welch is dancing. The lone Bonus Feature in the set is Shanks for the Memory from 1994 (38 min) with the focus on Hope's passion for golf, which is shared by and result in the appearances of a few U.S. Presidents as well as his club buddies.
Disc 2 opens with Bob Hope…Laughing with the Presidents. The most recent special in the set it aired on November 23, 1996. Because of Hope's age at the time, Tony Danza serves as the host . This clip show goes all the way back to radio broadcasts from the 1940s where he joked about FDR and moves forward covering all the Presidents up to Clinton. The Hilarious Unrehearsed Antics of the Stars aired September 28, 1984 and is mainly a bloopers show, and the flubs are frequently funnier than the planned material. A highlight of this special is when Hope, Bing Crosby, and John Wayne walk onto The Tonight Show on a night Don Rickles guest-hosted. A Bob Hope Comedy Special from December 15, 1965 is Hope's first special in color. Bing Crosby and Jack Benny are guests, and not surprisingly, they have the best rapport with Hope. With Christmas around the corner, Crosby lip-synchs "Do You Hear What I Hear."
Disc 3 opens with Bob Hope's World of Comedy from October 29, 1976. It's another highlight show from the previous 27 years of specials, with the comedy grouped together by various subjects like working with animals, insults, and dancing. He also does scripted interviews with Norman Lear, Don Rickles, and Neil Simon. The Bob Hope Chevy Show from October 21, 1956 is the oldest of the specials included. The highlight is an I Love Lucy sketch with the cast except Hope plays Ricky Ricardo, Desi Arnaz plays Fred Mertz, and William Frawley plays a neighbor.
Disc 4 contains two specials from the 1970s. Joys (A Comedy Whodunit) from March 5, 1976 features a who's who of celebrities and TV detectives as they work to solve the nonsensical mystery about who is killing the guests at a party held at Bob Hope's home. A highlight is seeing Groucho Marx in one of his last appearances interact with George Burns. Texaco Presents The Bob Hope All-Star Christmas Comedy Special from December 19, 1977 was a wonderful present for children and kids-at-heart with appearances by The Muppets and Mark Hamill. Naturally, the latter's appearance means there's a Star Wars parody with Perry Como as Luke Sleepwalker and Bob Hope as Barf Vader.
Disc 5 contains three specials from the 1960s all named Chrysler Presents A Bob Hope Comedy Special. The first is from October 19, 1966 is and after the monologue, it becomes "Murder at NBC," a funny spy spoof starring a number of comics including Don Adams as his iconic character Maxwell Smart. Hope's Professor Leopold Von Smirch appears on The Tonight Show with Johnny Carson. The second special from September 27, 1963 is in black and white and is more musical in nature with Dean Martin singing "Via Veneto," Barbra Streisand singing "Any Place I Hang My Home," and a sketch that spoofs Hootenanny. The last special on the disc is from February 15, 1967 with more of the same, including banter with actress Shirley Eaton and music numbers by Carol Lawrence and two by Tony Bennett.
The set concludes with Disc 6's offering, Bob Hope: The First 90 Years, a special put together by NBC to celebrate his birthday with many guests singing the man's praises in between clips from his career, in radio, movies, and TV. The program includes a sweet reunion with Dorothy Lamour, one of the few TV appearances by Johnny Carson since his retirement from The Tonight Show, and a very brief appearance of Whoopi Goldberg as Moms Mabley, which was clearly cut for time, but with what little is presented, it makes no sense why the producers bothered to include.
Even with the jokes that bomb, and the quality of the video showing its age, Bob Hope fans will be thankful for Thanks for the Memories since these specials not only don't air anywhere currently. I gotta tell ya, with over 13 hours of programming from a bygone era with many of the biggest stars of the Twentieth Century, it's a real treat that this set has been released.