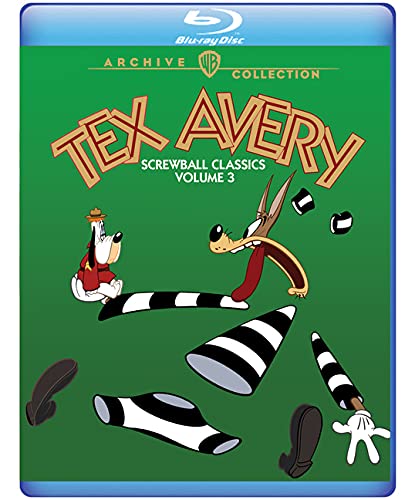 The Warner Archive Collection has released the third volume of their Tex Avery Screwball Classics line, bringing the total number of cartoons Avery directed during his time at MGM up to 60. The shorts are presented in chronological order and not divided by character like the previous volume had. Over the years, designs and voices of characters change but not Avery's trademark style of rapid-fire gags, some violent, some surreal. The epitome of his work is King-Size Canary where a bottle of Jumbo Gro leads to all kinds of shenanigans as animals, including a mouse that mentions having already seen the cartoon, drink it to increase their size and chase after each other.
The volume opens with Blitz Wolf, a variation of of The Three Little Pigs with the Wolf looking like Hitler. Avery revisits the fable in One Ham's Family. The House of Bricks Pig has a bratty little kid who is curious about Santa Claus. The Wolf poses as St. Nick to enter the house, a decision he will soon regret.
The Wolf is usually seen howling and pursuing human female Red. In this collection, he does so in two Droopy cartoons, the Klondike-set The Shooting of Dan McGoo and western-themed Wild and Woolfy. The tables are turned in Swing Shift Cinderella where he is pursued by Red's Fairy Godmother. The Wolf tangles with Droopy two more times, trying to escape from him in Northwest Hounded Police and competing against him as dueling bullfighters in Señor Droopy.
The dumb predator chasing after the smarter prey is a common story template in cartoons. The Early Bird Dood It finds the titular bird hunting a worm. During the In Jerky Turkey, a Pilgrim looks to shoot turkey. In Happy Go Nutty, dimwitted Meathead once again chases Screwy Squirrel through a medium-bending short.
Romance is in the air in a couple cartoons. Homer the flea leaves his dog to chase after a young lady flea in What Price Fleadom. In Little 'Tinker, the air is filled with more than romance as a skunk searches for love. While the gags remain funny, I wondered as I watched if modern audiences would get the references to Frank Sinatra, which is a major part of the story, or other pop culture nods from the '40s and '50s.
Avery and his team repeat some ideas in their later years. Spike has to keep things quiet for a bear who wants to sleep in Rock-a-Bye Bear while another dog who wants the job keeps trying to make noise. Deputy Droopy does the same to two bandits who want to steal a gold shipment without alerting the sheriff. Little Johnny Jet features an old B-29 bomber trying to find his place in the jet-set world with the help of his son, who happens to be a jet. This is reminiscent of One Cab's Family from Volume 2. The Southern Wolf, who oddly repeats himself when he speaks here, finds Billy Boy, a baby goat, on his doorstep. Billy eats everything is his path, like the sheep herder by Drag-a-Long Droopy, also from Volume 2.
The last cartoon included is also the last cartoon Avery directed for MGM. Cellbound finds Spike escaping prison after 20 years. He unknowingly hides in a TV set that ends up in the warden's office and has to act out TV programs. It's all right but not as funny as earlier Spike cartoons, like Cock-a-Doodle Dog where he fights with a rooster doing his morning job.
The video is presented in 1080p/MPEG-4 AVC displayed in an aspect ratio of 1.37:1. As Blitz Wolf begins, the image is a tad soft, but it improves in terms of color and clarity. As explained by animation historian Jerry Beck at his Cartoon Research website, "the master [color reversal internegative] material pulled from the MGM vault uses a dupe element for that first minute and fifty-two seconds not up to WAC standards." The remainder of the cartoon and the disc appear with strong hues, inky blacks, and a sharp focus in the drawings. It also looks free from dirt and defect.
The audio is available in DTS-HD Master Audio 2.0. The dialogue is clear. Composer Scott Bradley's scores are robust and match the mood of the scenes. The effects perfectly punctuate the moments. The elements are balanced well together in the mix.
There is one special feature and it is a treat. The Crackpot Quail is a Merrie Melodies short directed by Avery that features its original 1941 soundtrack with the Quail blowing "raspberries" instead of whistling. Jerry Beck discusses how that came to be at his aforementioned website.
As with the previous two volumes, Volume 3 is a must-own for fans of Avery and animation. Although there are moments of racial insensitivity, which were common for the era, Avery and his team demonstrate a creative and boundless imagination and a great talent for bringing their comedic ideas to the screen. The artwork shines in high definition.