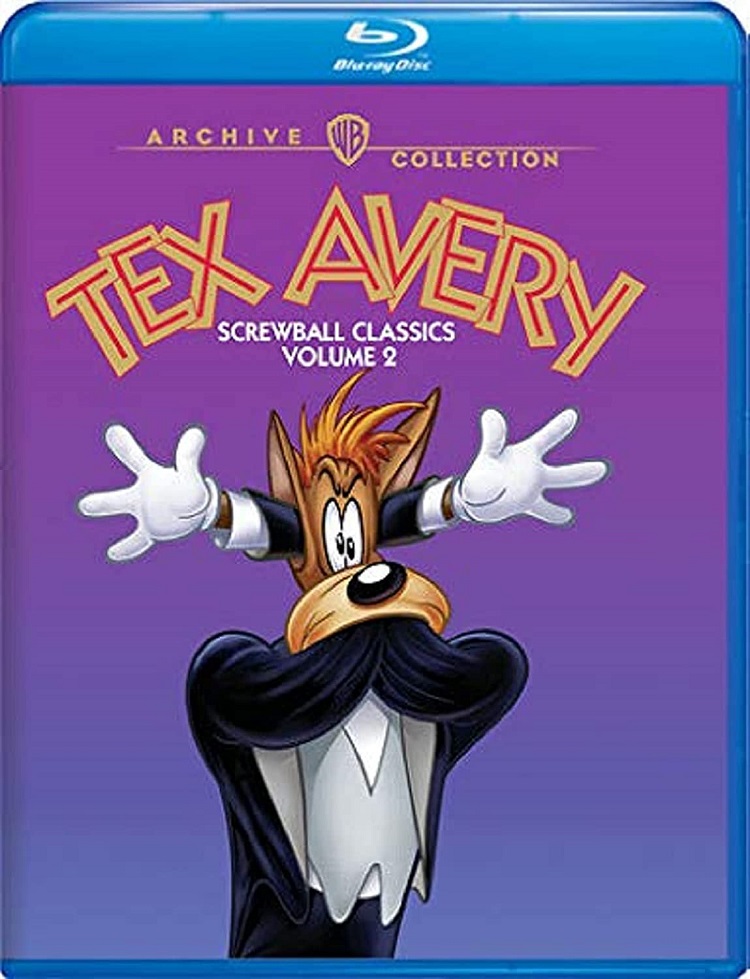 The Warner Archive Collection has released the second volume of their Tex Avery Screwball Classics line, bringing the total number of cartoons in this series up to 40 out of the 67 Avery directed during his time at MGM As mentioned in my review of Volume 1, "Avery first made a significant impact on the [animation] medium during his time at Warner Brothers" before he "signed on at MGM in 1941."
After a disclaimer about the ethnic and racial depictions contained within that were unfortunately common for the era, the 21 cartoons, are divided into four categories. It begins with a random assortment of nine "Screwball Classics". Avery repeats himself with Little Rural Riding Hood, which is similar to Red Hot Riding Hood from six years earlier, but here a dimwitted, country wolf, like Lenny from Of Mice and Men, gets a telegram from his city cousin, a sophisticated Ronald Colman type, to come visit and go take in a nightclub show. The country wolf has trouble containing himself.
Cuckoo Clock opens with a cat whose complaints are made visual, like in Symphony in Slang, such as his being down in the dumps. The cat fights the cuckoo of a clock, Tom & Jerry style, a frequent motif in Avery's work. Magical Maestro finds Spike/Butch as Poochini the opera singer, who is harassed by a magician. There's a great fourth wall gag of dealing with a hair that gets caught at the bottom of the frame.
One Cab's Family is a precursor to Pixar's Cars that tells a familiar story of a son not wanting to go into the family business. Here, the son prefers being a race car rather than a taxi like his father. The conflict between them resolves in touching manner, a rare story turn for an Avery cartoon. The Cat that Hated People, who sounds like Jimmy Durante, complains about how humans mistreat him. He heads to the moon but finds the surreal inhabitants even worse in a cartoon reminiscent of Bob Clampett's Porky in Wackyland (1938).
Rounding out the chapter are Doggone Tired where a rabbit keeps a dog up all night with ridiculous antics so he'll be to tired to hunt in the morning; the romantic tale of Francois the clown saving The Flea Circus after the troupe and his beloved FiFi the ballet dancer run off with a dog; "Field and Scream" featuring a lot of jokes based around recreational fishing; and narrated by Tex Ritter, the story of The First Bad Man is set in Dallas during caveman days and is filled with prehistoric jokes.
Droopy gets his own chapter. There are six of his cartoons, though he is not always the star. In Out-Foxed, Droopy is one of many dogs trying to earn a steak by capturing a fox. Reginald Fox outsmarts them all. Droopy's Double Trouble refers to his twin brother Drippy, a boxer, who comes to help Droopy with his butler duties. Droopy's "pal" Spike comes looking for a handout but Drippy follows the "no strangers" rule and punishes Spike. Repeatedly.
Three Little Pups is an update of "Three Little Pigs" where Droopy and his silent brothers Snoopy and Loopy try to stay ahead of the city dog catcher. Next up are a couple of Western-themed shorts. Drag-a-long Droopy is a sheep herder and possible bachelor. Homesteader Droopy sets up a home with his wife and son. While he battles against antagonists, he's not necessarily a hero because his selfish actions lead to the conflict, from overgrazing in the former to fencing off waterways in the latter. In Dixieland Droopy, he plays John Irving Pettybone, a dog whose love of Dixieland music gets him in trouble. Things get even crazier when he encounters a jazz-playing band of fleas.
Although he appears in cartoons in the previous two chapters, "Spike" gets his own chapter containing two cartoons but he's not the star, which the titles, The Counterfeit Cat and Ventriloquist Cat, indicate. It would be like suggesting Elmer Fudd was the star of a cartoon where Bugs Bunny one-ups him. But that doesn't diminish the laughs from all the silliness on display.
The Volume wraps up with "Cartoons of Tomorrow," four shorts filled with gags that show what a house, car, T.V., and farm will be like in the future. In House…, mother-in-law jokes are aplenty. Paul Frees, known for his work with Walt Disney and other animated projects, narrates T.V…. and The Farm….
The video has been given a 1080p/MPEG-4 AVC encoded transfer displayed at an aspect ratio of 1.37:1 and does a great job presenting the animators' work. Colors on characters and objects that move appear in strong hues while backgrounds have a softer look. Blacks are inky and whites are bright, contributing to a solid image contrast.There some flaws in Little Rural…. A hair can be seen at bottom of frame while at the club. Gray splotches seen in whites of Red's eye and dress. Film grain looks cleaned up throughout the volume.
The audio is available in DTS-HD Master Audio 2.0. The dialogue is always clear. The soundtracks have a wide dynamic range, which helps deliver both the quiet and loud ends of the music and effects. The track didn't appear to suffer from age or defect.
This Volume comes with a Special Feature: Tex Avery: The King of Cartoons (SD, 52 min) is a 1988 documentary that offers a biography about the legendary director.
As it is with Volume 1, Tex Avery Screwball Classics Volume 2 is a must-own for animation fans and the quality of the high-def presentation makes it worth of double dip for those who already own these cartoons in a lesser format.