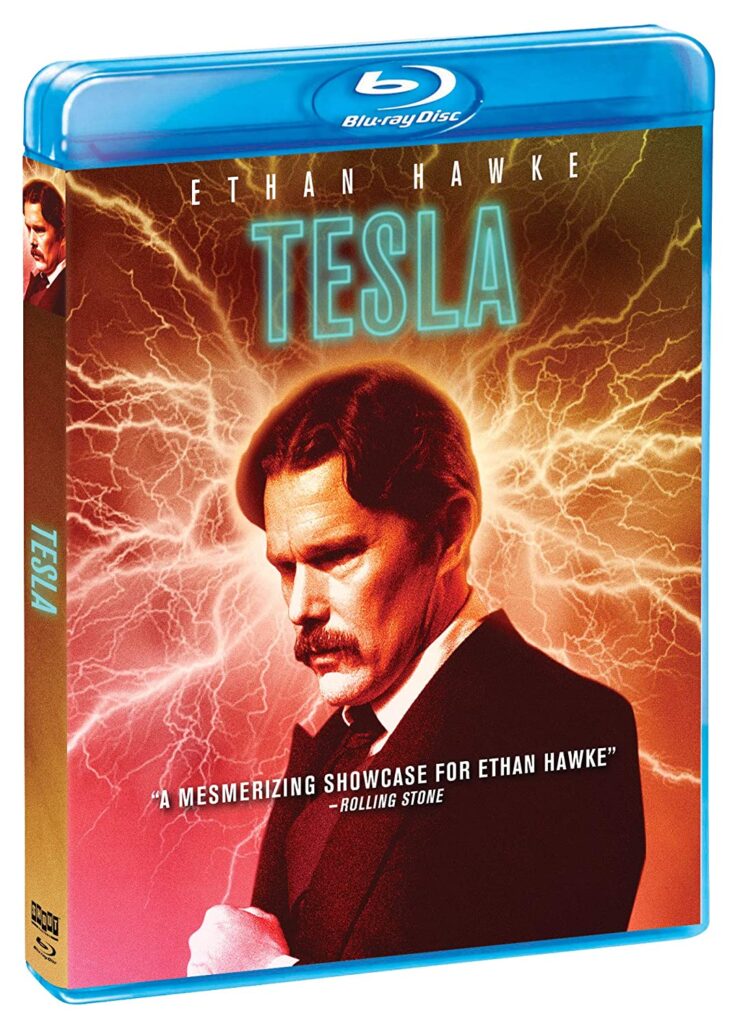 To call Michael Almereyda's Tesla an unconventional biopic would be an understatement. It's an oddball and brazen approach to the genre that doesn't tell the electric innovator's life story in a straightforward fashion – nor does it tell the story accurately. The funny thing is, Almereyda is aware that his film is taking some serious creative licensing and he runs with it.
It's first noticeable when Anne Morgan (Eve Hewson), the daughter of J.P. Morgan (Donnie Keshawarz), serves as the narrator and breaks the fourth wall on more than one occasion. Anne talks about how, if the modern human being were to Google "Thomas Edison," they would get way more search results than those if they were to do the same for "Nikola Tesla."
Yes, a Nikola Tesla film that mentions Google. Odd, isn't it? But, as many devotees to Tesla (portrayed wonderfully here by Ethan Hawke) and historians have said, he was the one that foresaw a lot of modern technologies. Almereyda takes that fact and cleverly incorporates it into his unique biopic.
Notable for having never married, Tesla was a man that put his work before everything else. That included shutting himself out from having any type of romantic relationship. Anne explains how she admired Tesla, and the viewer witnesses how there are some sparks between the two. But Tesla prevents anything serious to ignite, as he continuously fights to have his invention come to life and then continue to battle to make other ideas a reality.
But Tesla also shows that the intelligent inventor wasn't the best at any kind of platonic relationship either. His interactions with Thomas Edison (an excellent Kyle MacLachlan) show that Tesla sees himself on top of the world. Edison also has that mentality, but he also is aware of his public image and wants to appeal to everyone, no matter what it takes. The war of wits between the two is fun to watch here.
There are some moments in which the movie shows the viewer a certain event that supposedly happened in Tesla's life that involves Edison, and then Anne chimes in and says it actually didn't. It's that kind of approach that can either work if done right or can come across as insufferable in thinking the audience is stupid and will initially believe anything put in front of them. Here, it works and doesn't treat its audience like imbeciles. The fourth wall-breaking approach can only work up until a point when it becomes tedious, but Almereyda keeps introducing new things that break the biopic formula to keep the viewer intrigued.
I mean, the fact that Jim Gaffigan (yes, the comedian) appears as George Westinghouse is a strange choice, but he's surprisingly perfect in the role. And then Edison sits down at a bar and pulls out a smart phone. Should I also mention that Tesla sings karaoke?
Those looking for something straightforward like the recent, disappointing The Current War may be turned off by Almereyda's version of the Tesla story. Even hardcore devotees to Tesla may be upset by Almereyda not exploring all aspects of the inventor's life, and some of the anachronistic choices can seem off-putting. But the fact that this offbeat and daring biopic exists is something worth celebrating. I kind of love it for it wanting to go beyond what the viewer expects.
Tesla is being released on Blu-ray from the folks at Shout Factory. The picture is presented in widescreen format with a 1.85:1 aspect ratio, and the sound is presented with a 5.1 DTS-HD master track. The only features on the disc are a trailer for the film and an 18-minute making-of documentary that showcases interview with the cast and crew.
Tesla releases to Blu-ray on February 2.