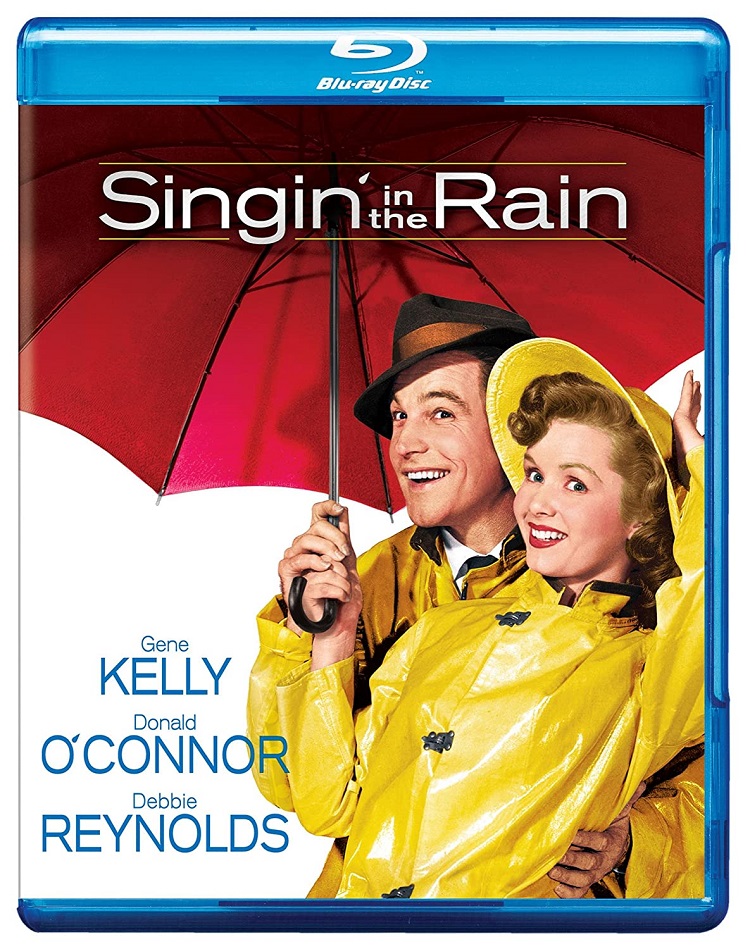 On December 28 of last year, at the age of 84 actress Debbie Reynolds died, just one day after her daughter Carrie Fisher passed. In honor of Ms. Reynolds, TCM in conjunction with Fathom Events has brought one of the world's great musicals, Singing' in the Rain, back to the big screen. My wife and I were able to go to a screening on Sunday and it was as wonderful as expected.
In the early '50s, MGM assigned producer Arthur Freed and writers Betty Comdon and Adolph Green to make a film featuring a bunch of songs the studio already owned and had previously been performed in their films. They started with "Singin' in the Rain" and moved outward from there grabbing a dozen or so songs from other films. Only one song in the entire movie was written just for it ("Moses Supposes"). After realizing most of the songs chosen were from the time when movies went from silent pictures to talkies, they decided to write a script about that transitional period in Hollywood.
Gene Kelly stars as Don Lockwood, a silent-film actor, who along with Lina Lamont (Jean Hagen) have become the biggest stars at Monumental Pictures. After The Jazz Singer, the first-ever talking picture, becomes a huge hit, head of the studio R.F. Simpson (Millard Mitchell) decided to transform Lockwood and Lamont's latest film, The Dueling Cavalier, into a talkie.
Trouble is Lina has a voice like fingernails on a chalkboard and previews for the film bombs. Trying to save his career, Don along with his old-time pal and pianist Cosmo (Donald O'Connor) and new love interest Kathy (Debbie Reynolds) decide to turn The Dueling Cavalier into The Dancing Cavalier by adding a bunch of song-and-dance numbers to it. They get Kathy to dub over Lina's voice and the film becomes a huge hit.
There's a bit more to it than that, of course, and there's lots of conflict with Lina, who wants to keep her star shining and who believes all the gossip rags when they write that she's in love with Don, but the sheer joy of the film comes from the dance numbers.
Gene Kelly and Donald O'Connor were old song-and-dance men, but Debbie Reynolds was not formally trained. It took her all day to learn her moves for "Good Morning" and she's said by the time it was over her feet were bleeding. It had to be worth it for it's a fabulous number. Nearly all the songs and dances are. But the stand-outs are "Make 'Em Laugh" in which O'Connor dances with a dummy, flips over walls, and tosses himself about like a rag doll, and the magnificent "Singing' in the Rain" with Gene Kelly dancing with an umbrella and joyfully splashing in puddles.
If there is a complaint to be had, it's that "Broadway Ballet," though really a rather beautiful collection of dances in its own right, really stops the momentum of the film just as it should be coming to its climax. Where so many of the other numbers explode with manic energy, "Broadway Ballet" is much more formal and seems strange in this film.
Ah, but the rest of the film is so delightful it's hard to complain about the one song that doesn't work. I say this every time I see a classic film through these Fathom Events, but it really is such a joy to watch them on the big screen. Singin' in the Rain is an absolute treasure and seeing it filling up such a huge space in a large theatre was magnificent.