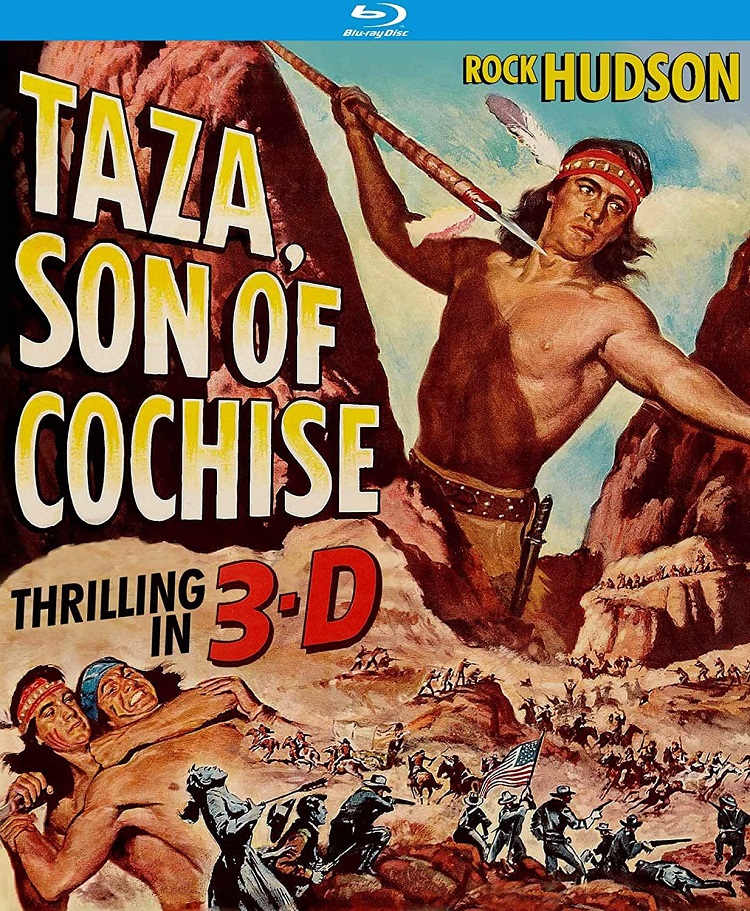 Taza, Son of Cochise (1954) is the highly fictionalized story of the Apache chief who takes over after his father's death…and it's actually better than I thought.
Cochise (Jeff Chandler, who reprises his role from Broken Arrow and The Battle of Apache Pass, in a brief cameo) has died and left the responsibility of keeping the peace between the Apache and U.S. Army to his oldest son, Taza (Rock Hudson). Taza's younger brother Naiche (Rex Reason as Bart Roberts) is not happy with that decision and vows to join Geronimo (Ian MacDonald) off the reservation and continue fighting. Taza's determination to keep his father's legacy of peace with the U.S. Army and the encroaching settlers leads to conflict among the tribe and his brother. Not only do Taza and Naiche have conflicting ideas of leadership but they also desire the same woman, the beautiful Oona (Barbara Rush). 
Filmed in 2-D, 3-D and Technicolor at beautiful Arches National Park, Utah by Douglas Sirk, Taza, Son of Cochise is 79 minutes of fast-paced western action. The usual arrows, spears, torches, fists, and rocks are thrust and hurled at us to accentuate the 3D effect. The attack on the settlers and the taking of the fort highlight this gimmick very well. The mountains, rivers, clouds, and boulders do their part too and stand tall as the home of the proud Apache. The local Navajo community were asked to be extras in the picture and lend their culture to the authenticity of the beautiful costumes and customs portrayed.
Hudson, in an early leading role for Universal International is at his physical peak and looks great as Taza despite his body paint tan seeming darker in certain scenes than others. Hudson himself felt miscast and uncomfortable in the role as "noble savage" but Sirk, who always worked well with Rock, gets a good performance from him and the rest of the cast.  Rock's Taza plays great alongside Gregg Palmer as Captain Burnett and Roberts as Naicha. However, I find Macdonald as Geronimo to be more like a cigar-chomping mob boss than an Apache chieftain. 
Kino Lorber's "brand new 2K master" of Taza, Son of Cochise has listed Special Features as theatrical trailer and audio commentary by film historian David Del Valle, author/screenwriter C. Courtney Joyner and 3-D expert Mike Ballew.  Also included is the 3-D version of Taza, if one has a 3-D Blu-ray player. Unfortunately I don't have the technology to experience Taza, Son of Cochise (or any other 3-D Blu-ray) that way. 
The audio commentary, which is actually just Del Valle and Joyner, is fascinating as they bring to life the movie's backstory and many interesting behind-the-scenes anecdotes of the director, cast, and crew. As these two chat, they call attention to various themes, actors, costumes, make up, scenery, the history of the movie itself, and how it relates to other westerns of the time. A great way to rewatch the movie and gain further perspective on this positive portrayal of Native Americans in the western genre.
An extra little fun fact not mentioned in the commentary is that the character Tiswin Charlie's name derives from a traditional Apache alcoholic drink brewed from maize/corn, which was banned from the San Carlos reservation and is said to be one of the reasons the real Geronimo decided to flee the reservation.
Mike Ballew actually has his own 20 minute slideshow on the history of 3-D movies. His knowledge of the 3-D process and what role Taza played in keeping the trend alive in theaters was interesting and informative. He reveals that during the filming of Taza, Universal was experimenting with a new 3-D filming process that would eventually lead to a more practical and cost-efficient way for movie theaters to keep showing these films for a few more years. At least until the fad wore thin and Cinemascope reigned supreme.