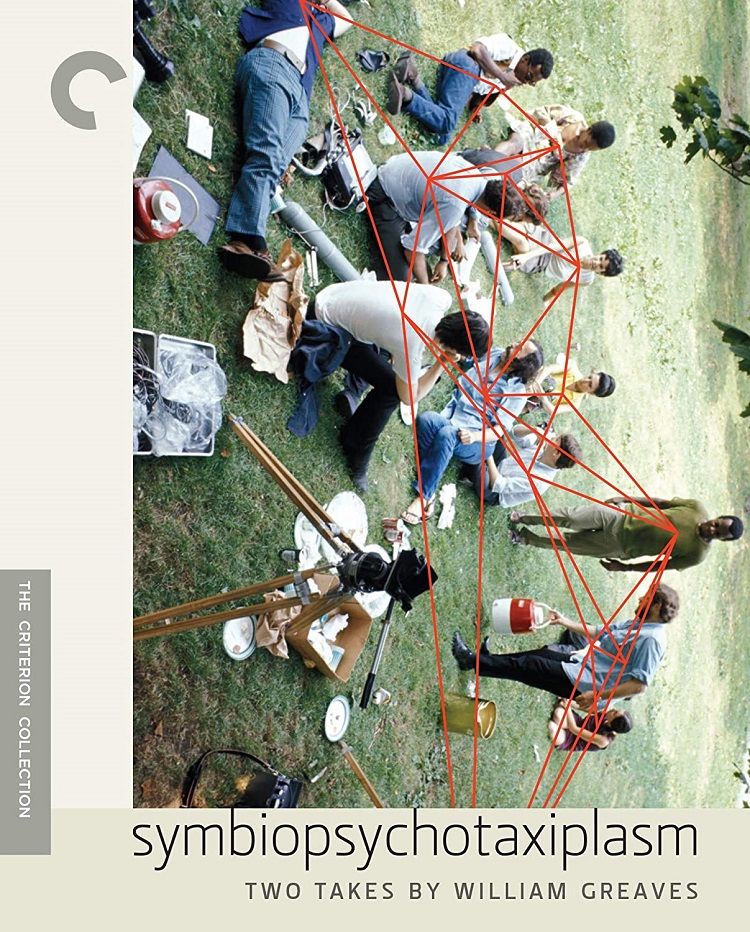 As a passionately dedicated lover of film, I really enjoy that not every film has to be a cliche, meaning that there are lots of films that don't neatly fit into one particular box; they seem to operate on a much different stratosphere of cinema. These types of cinematic works are so outside the norm that they don't seem like movies; they seem like real life unfolding right in front of you. This is definitely the case with celebrated filmmaker William Greaves' 1968 landmark avant-garde portrait Symbiopsychotaxiplasm: Take One, a subtle head-scratcher that showcases the often deep art of moviemaking
A film that on-the-surface looks like the making of a melodrama with a couple arguing over a husband's sexuality. But as it plays out, you get the sense that you're not exactly watching a typical documentary. Greaves' crew try to figure out what the hell he's trying to accomplish, especially during candid moments of conversations about making films, in which even they are being filmed by another crew. There are also locals (including a homeless artist) that unexpectedly wander into the frame at any moment. Different actors come in to play the parts of Alice and Freddie (the bickering couple), including a then-unknown Susan Anspach (1942-2018), who looks a lot like Catherine Denevue from The Umbrellas of Cherbourg, especially when she and the male lead sing their lines. Ultimately, the characters finally end up being played by Audrey Henningham and Shannon Baker, who become the subject of the 2005 'sequel', Take 2 1/2.
In Take 2 1/2, Henningham and Baker return after 37 years to continue the doomed relationship of Alice and Freddie. Time has changed for them both. Alice is a successful singer/actress living in Europe, while Freddie (who now happens to be dying of AIDS) wants her to adopt a young girl he has fostered. She is reluctant, but ultimately agrees to take care of her.
If you're confused by the overall narrative of the entire saga, you're not alone. At first, I found it difficult to get into, but then it started growing on me with repeat viewings. I started to get it. It's not about the film being filmed; it's about the relentless pursuit of reaching artistic ecstacy with any film you aspire to make. The Symbio series features so much improv that it successfully tricks you into believing you're still watching fiction, or perhaps reality. It's obviously not for everyone. I don't think it was meant to be that way. Personally, I now find it very fascinating, and it's no surprise to see that it is one of great actor Steve Buscemi's favorite films. He guest starred in 2 1/2, operated as a cameraman, and executively produced it (along with Steven Soderbergh).
Like the original DVD (released in 2006), the supplements aren't very much or new, but they are informative. There's Discovering William Greaves, a 2006 documentary about his career, featuring the man himself, his wife and co-producer Louise Archambault Greaves, actress Ruby Dee, filmmaker St. Clair Bourne, and film scholar Scott MacDonald; a great 2006 interview with Buscemi; and a trailer. There is also a fantasic essay by critic by Amy Taubin, and production notes by Greaves for Take One (also from 2006).
As I end this review, I have to say that I've seen a lot of movies about movies, but never one quite like the Symbio saga. It may be too meta for many, but it's also incredibly insightful and enlightening. If you happen to give it a chance, you may discover it to be a hidden gem, depending on your cinematic tastes.