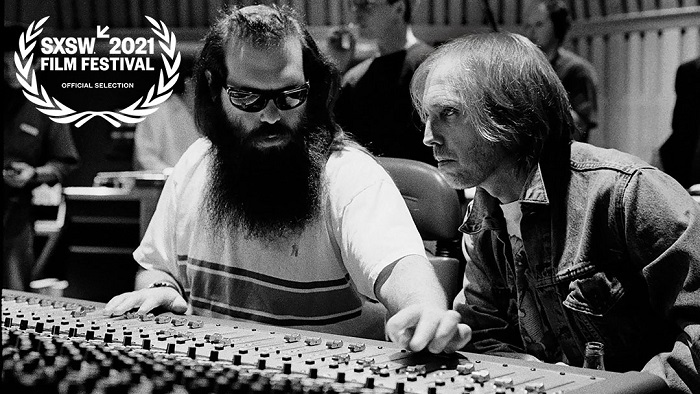 Mary Wharton's Tom Petty, Somewhere You Feel Free opens with title cards revealing in 2020 a collection of 16 mm film was discovered in the Tom Petty Archive. The footage was shot between 1993 and 1995 by longtime Petty filmographer Marty Atkins during the recording and tour for Petty's second solo album, Wildflowers. Most of this material hasn't been seen by the public. The film, whose title is a lyric from the album's title track, takes the audience behind the scenes, providing a portrait of Tom Petty the artist and Tom Petty the man thanks to the access Atkins was allowed.
After working with Jeff Lynne as a producer on The Traveling Wilburys Vol. 1; Full Moon Fever, his first solo album; and with the Heartbreakers, Into the Great Wide Open, Petty felt it was time for a change as he began work on what would be his first release for Warner Brothers Records. To help accomplish that, he explained in Conversations with Tom Petty that producer "Rick [Rubin] and I both wanted more freedom than to be strapped into five guys." Making a solo album would not only allow Petty to avoid the politics of the band, but also allow him to learn and grow as artist.
Yet, all the Heartbreakers but drummer Stan Lynch played on the album. He didn't connect with the material. Found it too laid back and didn't think that's what they should be doing. Petty was hurt by the remarks, and this clearly wasn't the first time Lynch clashed with him as session man Steve Ferrone, who played drums on Wildflowers, officially joined the band the following year.
There are new interviews, separately and together, with Rubin, and Heartbreakers guitarist Mike Campbell and keyboardist Benmont Tench. They talk about working on the album and their relationships with Petty. Tom's daughter Adria Petty speaks about her father and the issues with his marriage to her mother. Jane Benyo. Tom talks about being disenchanted with the relationship and going into therapy. The rift with his wife makes its way into the lyrics of songs such as "Time to Move On".
The Wildflowers sessions were inspiring and fruitful. Because of Rubin, the band was back to playing together rather than recording elements separately like Lynne. This led to creating so many songs that Petty considered a double album. Some would later be released on the follow-up Songs and Music from the Motion Picture "She's the One". Last year, Petty's family and bandmates brought fans back to this era with the expanded Wildflowers & All the Rest featuring additional songs, demos, and live performances. It serves as a soundtrack to the film.
Reflecting on their late friend who died in 2017, it's clear Petty's loss still weighs heavy on many of the interviewees. That sentiment will likely be shared by many fans, so it's wonderful to see Petty again, both in familiar settings, such as live on stage, and in new locations, like relaxing in his backyard, at this pivotal time in his life and career.