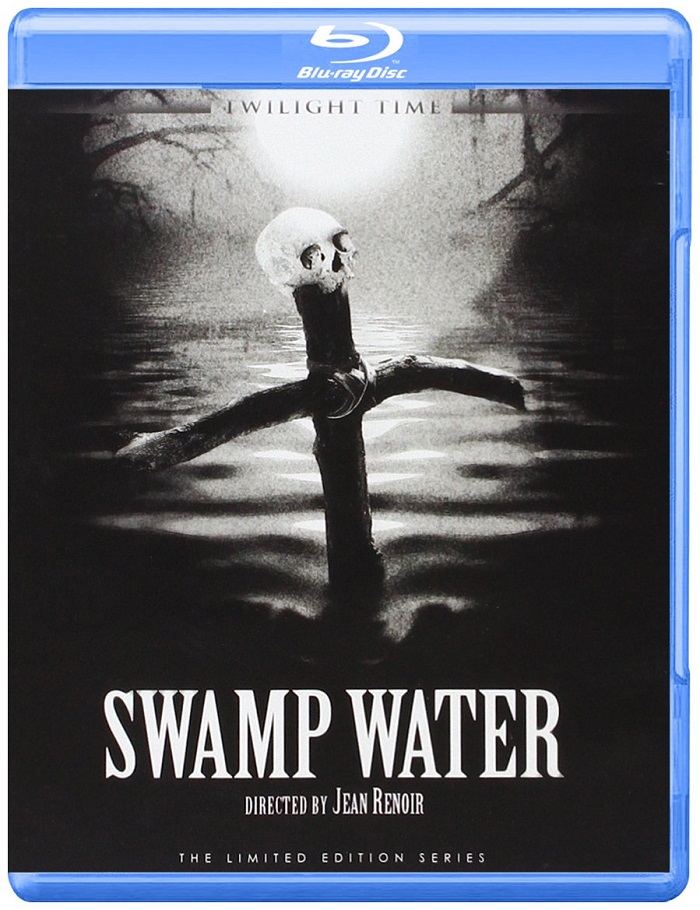 The legendary Okefenokee Swamp of Georgia has always presented its share of challenges. For some, it's a difficulty in pronouncing it correctly. For others, the test of time has been the spelling of it. It is for those who live around it, however, that the Okefenokee Swamp presents its greatest dare: survival — something the local yokels of Jean Renoir's Swamp Water (aka The Man Who Came Back) can easily attest to. Countless men have wandered into the foreboding, murky bog only to never be seen again.
And, as Renoir's tale (his first in America) of life, love, death and hate opens, we witness the men of the land venturing into the hazards of the water in search for two such missing persons. They're dead, of course. Only a hat remains, discovered in an capsized boat. And then, young Ben (Dana Andrews — our hero, though he is fourth-billed) is upset by the departure of his trusty dog, who hops off into the marshes around them. After returning home, Ben sets out to find his four-legged pal; an act of foolishness that his ornery father, Thursday (Walter Huston) strongly advises him against — with a promise of a good ol' paternal beatin' lying in wait.
Undaunted, Thursday's child (I had to say it) Ben sets out to find his canine companion — only to find a new, two-legged cohort instead. As it turns out, ol' Tom Keefer (the great Walter Brennan, who receives top-billing, and rightfully so) — a murder suspect from five years back — has been living off the land and blackwater of the swamp all this time (not an easy feat). After saving Tom's life from the most recent cotton-mouth snakebites he's received over the years, the two form an alliance; soon, Ben is returning from the swamp with pelts galore — splitting the profits with his fugitive-in-hiding partner.
Sadly, things don't go very well for long. Between the fuss he encounters with his old man, and local drama/beauty queen Mabel (Virginia Gilmore); his newfound friendship with Tom's daughter, Julie (Anne Baxter); and the likes of the community's backwoods boys — such as the none-too-bright but none-too-kind sibling duo, Tim and Bud Dorson (Ward Bond and Guinn "Big Boy" Williams — a perfect pairing of villainy if I ever saw one), Ben's life soon takes a one-hundred eighty degree turn.
John Carradine, Eugene Pallette (as the sheriff), Joe Sawyer, and former MGM girl Mary Howard (in one of her final roles, before retiring from the industry altogether) also star in this mesmerizing drama that shows us yes, American and French filmmakers can come together and create something truly great. In fact, this tale — which was based off of a Saturday Evening Post story by Vereen Bell — was so successful, that Hollywood remade it eleven years later under the title Lure of the Wilderness, hired Romanian-born director Jean Negulesco to helm it, and even featured Walter Brennan in the same role!
The folks at Twilight Time have done it again, folks. Once more, they have selected an enthralling classic from the past, performed an amazing restoration job on it, and released it on Blu-ray! This Limited Edition release is available exclusively at screenarchives.com. The 1.33:1 transfer shows off J. Peverell Marley's noir-esque photography beautifully, and the DTS-HD Master Audio mono soundtrack definitely delivers.
Sadly, the aforementioned 1952 remake isn't included here as a special feature (wouldn't that have been a blast?), but we do get a secondary audio track featuring an isolated music score of David Buttolph's work. A tangible bonus item — a booklet penned by Julie Kirgo — can be found within the confines of the Blu-ray case, and is a great read in itself.
Highly recommended.