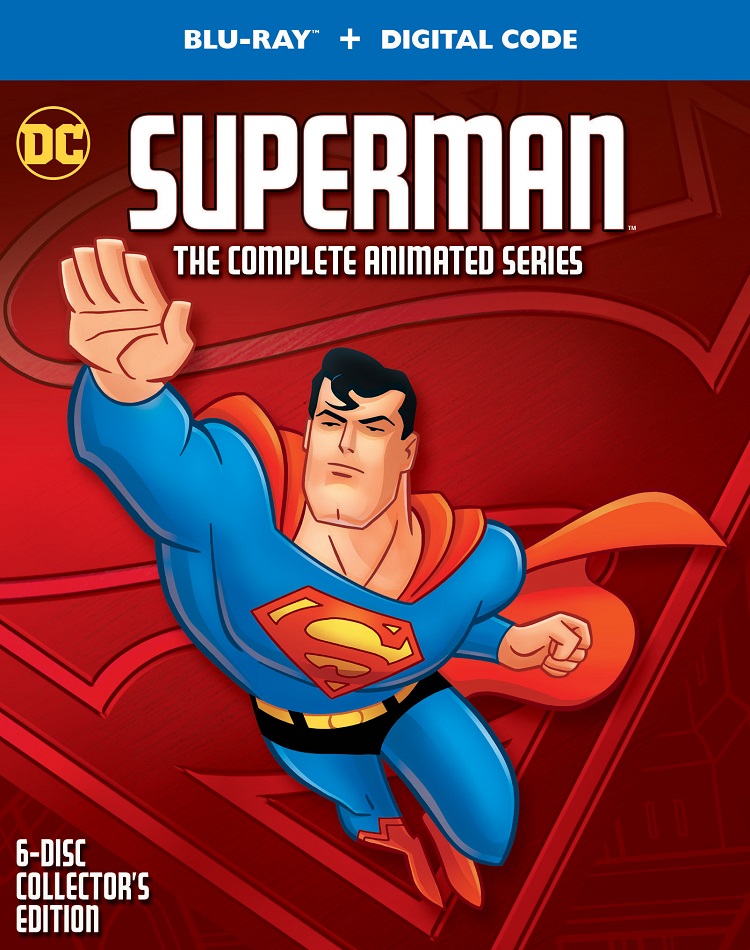 Remastered for its 25th anniversary, Superman: The Complete Animated Series presents all 54 episodes that originally aired aired on Kids' WB from September 6, 1996 to February 12, 2000 across six Blu-ray discs. It was the follow-up to Batman: The Animated Series, both with showrunner Bruce Timm at the helm, in what is billed as the The DC Animated Universe. Season 3 and 4 were part of the Kids WB! block The New Batman/Superman Adventures.
Superman: TAS opens with a three-part origin story, "The Last Son of Krypton." A major difference to the comics is that Brainiac is a computer on Krypton. Young Clark learns why he's different, which doesn't seem to fully manifest until a teen, and then he's off to Metropolis where he gets a job at the Daily Planet newspaper. Star reporter Lois Lane names the mystery hero about the town. She is interested in his story as a reporter and as the series goes on, so does her interest on a personal level. Billionaire Lex Luthor is a major presence in the city and throughout the series.
Guided by the talents of the writers and Andrea Romano's voice direction, the cast do such a marvelous job bringing these characters to life, I could listen to them performing a radio drama. But that's not knock on the wonderful animation. I just really enjoyed these characterizations. Tim Daly brings a nobleness to Superman and plays Clark Kent without small-town corniness as Christopher Reeve did. Daly also handles the broken English-speaking Bizarro, a failed Superman clone. Dana Delany's Lois is smart and strong-willed without being bitchy. Clancy Brown is a serious businessman whose villany makes sense for his selfish character.
The series features notable villains from Superman's rogues' gallery including Toyman, Parasite, Metallo, Darkseid, and Mister Mxyzptlk, and familiar DC heroes such Aquaman, Doctor Fate, Steel, Wally West, the Green Lantern Corps, and the Legionnaires.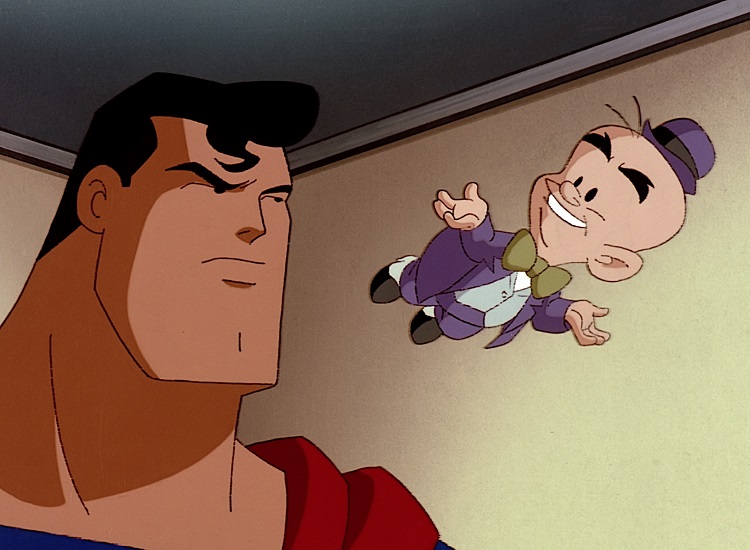 There are a number of standout episodes. "Speed Demons" finds Superman and the Flash racing for charity. That is until Weather Wizard causes problems. This is an adaptation of Superman #199, "Superman's Race with The Flash." "Identity Crisis" has a great start as Clark is baffled when he meets Superman only to discover Luthor has created a clone that devolves into Bizarro. Character is sympathetic as it tries to be Superman but gets things wrong. The three-part "World's Finest" sees Superman and Batman (from his Animated Series) team up when the Joker heads to kill Superman in exchange for $1 billion from Lex. Then, Superman helps Robin after Batman's disappearance in "Knight Time." In the two-part "Little Girl Lost," Superman discovers Kara of the planet Argo from the same galaxy as Krypton. She becomes Supergirl.
The series ends on a bit of a cliffhanger as Superman vows to win back trust of Metropolis citizens after being under Darkseid's control. While the series ended in February 2000, a slightly older version of this iteration of Superman, voiced by George Newbern, would appear in Bruce Timm's Justice League / Justice League Unlimited.
The video has been given a 1080p/MPEG-4 AVC encoded transfer displayed at the series' original aspect ratio of 1.33:1. Colors appear in bold hues, blacks are inky, and whites are accurate. The details and the depth that the animators create are apparent. The image is clean and free of dirt or defect.

The audio is available in DTS-HD Master Audio 2.0. The dialogue is clear. The sound effects help bring this comic book series to life. There's slight ambiance, and objects move about the channels to create a sense of movement. Shirley Walker and other composers created evocative musical scores that come through with great clarity. The elements balance well together in the mix.
There are four commentary tracks, but for SD versions of episodes, which seems an odd choice. "The Last Son of Krypton – Part 1" by Bruce Timm, director/storyboard artist Dan Riba, writers/producers Alan Burnett and Paul Dini, and art director/producer Glen Murakami; "Stolen Memories" by Timm, Burnett, Dini, Murakami, and director/storyboard artist Curt Geda; "The Main Man – Part II" by Timm, Riba, Burnett, Dini, and Murakami; and "Mxyzpixilated" by Timm, Riba, Dini, and Jason Hillhouse
Disc 6 contains the remaining bonus material, most of which is from the previous DVD release and hasn't been upgraded to high definition. Superman: Timeless Icon (HD, 33 min) – This new featurette brings the gang back together to reflect on the show's silver anniversary. Menaces of Metropolis: Behind the Villains of Superman (13 min) and Building the Mythology: Superman's Supporting Cast (10 min) focuses on Timm and the staff's approach to those titular characters while Superman: Learning to Fly (10 min) explores the same with the main character. A Little Piece of Trivia (21 min) is the episode "A Little Piece of Home" with factoids popping on screen. The Despot Darkseid: A Villain Worthy of Superman (SD, 17 min) sees the team talk about the legendary artist Jack Kirby and his Fourth World villain.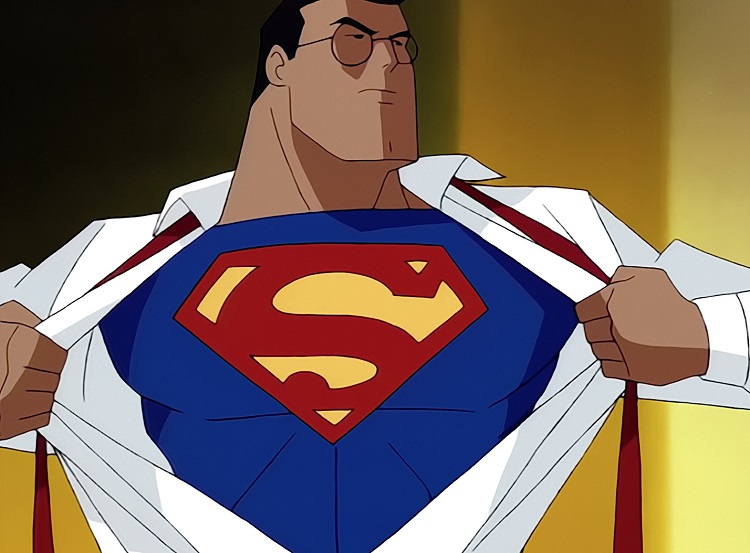 Superman: The Complete Animated Series is not only for fans of the character but is sure to make new ones for those who take a chance on it. The talented cast and crew created something special in terms of stories and animation with this series, and the quality of the high-definition presentation only adds to its luster. While it's a shame crossover appearances from episodes of The New Batman Adventures and Static Shock aren't included, this is a set for Superfans to treasure.