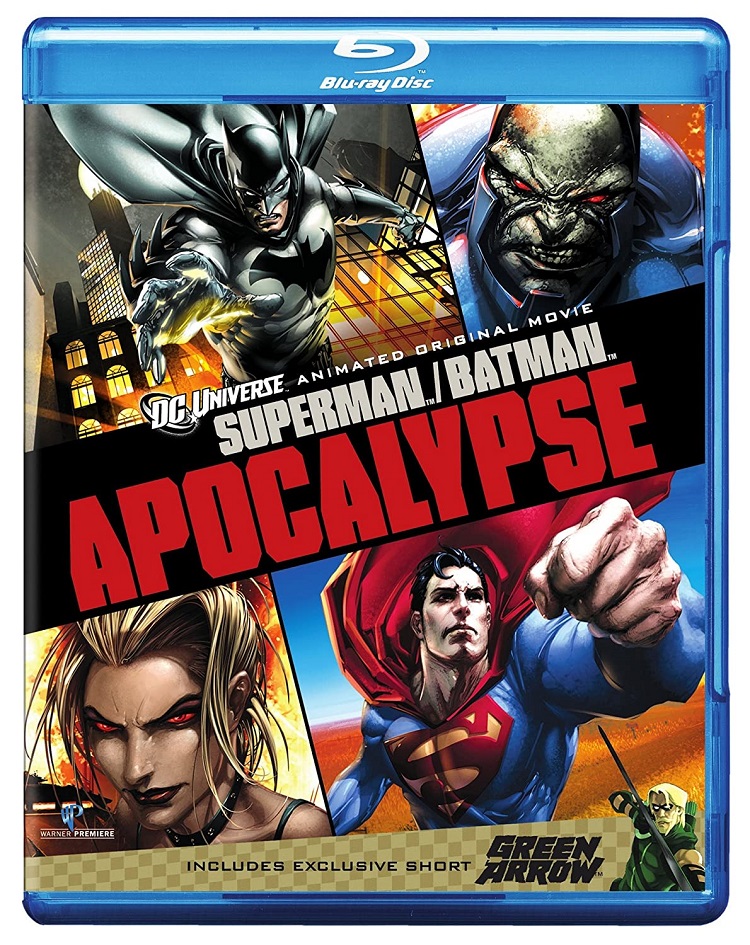 Here's a recipe for surefire fanboy satisfaction: pair the two most recognizable superheroes in the world with their most well-known and beloved vocal actors, stir in a great story adapted from comics stars Jeph Loeb and Michael Turner, season with eye-popping visuals and thumping sound, and simmer to perfection. The latest DC Universe Animated direct-to-video film once again proves that theatrical blockbusters aren't the only top chefs in the home video market, delivering a winning package destined to be a fan favorite.
Although Superman and Batman get top billing, the film is actually centered on the mysterious arrival and origin of Supergirl. Her appearance sets off completely different reactions in the star characters, with Superman immediately embracing her as his cousin while Batman warily investigates the validity of her story. Wonder Woman also pops in as a proponent for Supergirl, helping her to explore and refine her newfound powers. Of course it wouldn't be a proper comic-themed project without a big bad, so Darkseid also appears with a great deal of interest in the new girl in town. With intergalactic hijinks, tension between friends and family, and the thrill of watching the new heroine find her place in the world, there's something for nearly everyone to enjoy. Heck, even Superman's dog Krypto briefly shows up to appeal to the lame animal superhero fans out there, whoever you are.
The vocal cast is top-notch, with the especially notable fan-service casting of both longtime Batman vocal star Kevin Conroy and longtime Superman vocal star Tim Daly. There's even some amusing stunt casting with Ed Asner voicing burly female villain Granny Goodness. The only real dud is Summer Glau as Supergirl. Sounds like a good idea in theory, but she delivers her lines in such a dull monotone that one wonders whether she's still playing her Terminator role from The Sarah Connor Chronicles.
The animation has a fine amount of detail and vibrant color that can really be appreciated in Blu-ray, with the Metropolis and Gotham cityscapes in particular enveloping viewers in their vastness. However, that heightened resolution also unmasks some noticeable jaggies, particularly in the character models. The film is "hand-drawn" animation, or at least some semblance of what passes for non-CG animation these days, but it appears that it must have been drawn, scanned, or otherwise manipulated on computers that didn't have high enough resolution settings to account for image quality on large HD screens, with character outlines occasionally appearing jagged and pixelated. It's not really distracting and ultimately a minor quibble, but if we're ponying up a few extra dollars for Blu, we're probably paying special attention to image quality.
I was thoroughly entertained by the film and was especially thankful to see that the character models carried quite a bit of the late artist Michael Turner's renditions from the source comic book series. I enjoyed the story in comic form years ago and found this to be a fairly faithful and clearly worthwhile translation to film. The directing didn't always hit its mark, especially with a few silent reaction scenes failing miserably at their comedic intention, but with strong source material, mostly stellar vocal contributions and a great character lineup, the film is definitely worth a look.
The Blu is overflowing with an impressive array of bonus features including featurettes that provide background on Supergirl, Darkseid, and the New Gods, in-depth looks at three previous DC Universe Animated movies, and a generous behind the scenes sneak peak at the upcoming animated movie All-Star Superman. The Supergirl featurette is particularly comprehensive as it traces the character's comic book origin and subsequent career via interviews with the Apocalypse production team, DC Comics head honchos, Smallville Supergirl Laura Vandervoort, and even the star and director of the ill-fated '80s live action film.
But wait, there's more! A new and exclusive animated short shines the spotlight on lesser-known DC superhero the Green Arrow as he protects a young princess from the evil Merlyn the Magnificent and the League of Assassins. I'm not fond of the character, but the story moves well and the production quality is as good as the film. Viewers looking for even more entertainment and background on the Apocalypse characters can dive into not one, not two, but four full episodes of the '90s Superman: The Animated Series especially selected by producer Bruce Timm. It's great to see so much effort put into delivering a robust and informative package, kudos to DC and WB for taking the time to do it right.