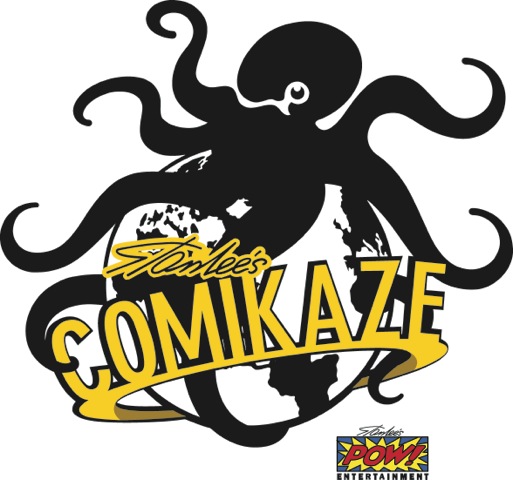 Up early on a Sunday morning for my first trip to Stan Lee's Comikaze Expo. Though this was Day Three, it was my first trip up to the Los Angeles Convention Center to see Mr. Lee and all that he, Cassandra Peterson (Elvira, Mistress of the Dark), and Regina Carpinelli (Founder and Chief Executive Officer, Stan Lee's Comikaze Expo) had created. Luckily, I was joined by fellow member of the Cinema Sentries team, Gordon S. Miller, who was facing his third day of the event with a modicum of enthusiasm.
Arriving in Los Angeles, we immediately took advantage of Gordon's experience and bypassed the $35 parking for the slightly less ridiculous $20 lot. I appreciated Gordon questioning why his parents had not left him a parking lot.
As we strolled down the street towards the convention center, we slowly began to stand-out in our t-shirts and jeans as costumed attendees waited at the cross-walks with us. I had thrown on an Iron Man t-shirt, so as to walk amongst the Comikazinites in virtual anonymity.
Upon entering the Convention center, I was excited to receive my press credentials and hit the Dealer's floor. Said floor resembled an indoor swap meet though the majority of the booths had more of a professional air to them than one would find at the average swap meet. Other than an occasional booth hocking jewelry or other such items, the theme was fairly clear in that it related to comic books, science fiction, horror, or the entertainment industry as a whole.
First on my agenda was to acquire an autograph from the man himself, Stan Lee. Though finding the location of the scheduled signing was surprisingly challenging, once there, it was run like a well-oiled machine as Mr. Lee (Much respect to The Bobbettes) sporting a flesh-colored Members Only jacket like no one else could, or should, whipped though item after item, including the Spider-Man movie poster I had brought with me. Though quite pleasant during the process, there was no time to talk to Stan who was very focused, which, at $60.00 per signature, he should be.
Proving that I was new to this environment, I spent a substantial amount of time talking to the young guy in front of me in line before realizing that he was in actuality female. Thankfully, I did not make any references to she as he, and am comfortable in believing that she did not notice. I was also comforted by the fact that I was not the least knowledgeable person there as one woman created somewhat of a scene because she did not want Stan to sign the plastic case containing her graded comic book, but was afraid to take it from the hermetically sealed container for fear of lowering its grade. She left the line, to return to the grading-service booth for advice, amidst snicker from us cool folk.
With signed poster in hand I was off to join Gordon (and about 40 others) in our first panel discussion of the day. The topic: "Horror/Kung-Fu Theatre: The Art of Horror Hosting." featuring panelists Nick Orefice, and Chris Casamassa. According to the program guide, there would be audience interaction and prizes including comic books, DVDs, T-shirts, and $200 cash. Good thing a discussion of hosting was not listed on the agenda since there was none, as this appeared to be more about self promotion for the panelists. We didn't win any cash, but did manage to win some t-shirts, so…I guess it wasn't a complete waste of time.
We then decided to hit the panel on a new Star Trek online series pilot, Renegades. Though the discussion was scheduled to feature seven panelists including Tim Russ, there was only Adrienne Wilkinson and Rico Anderson, both of whom had acted in the production. The two thespians were clearly excited about the project and to be in the room with 50 or so others who were interested, but they seemed out of their element as public speakers.
After talking briefly about the project, they asked if anyone had any questions. Since I needed the information for the article, I was obligated to ask them to introduce themselves. With Wilkinson portraying Starfleet Captain Singh, a descendant of the legendary Khan, the project certainly garnered a high level of interest from those in attendance. Unfortunately, the panelists did not seem to have enough information to please everyone.
Time for some nourishment and thus to explore the finer eateries surrounding the convention center. Hooters it is! After our fill of chicken and football, we returned to Comikaze.
Since we would both be writing of our adventures, I suggested we hit different panels in the afternoon. Though Gordon was hesitant to separate from someone who was clearly fitting in quite well, off we went. I opted for "Heroes & Faith" since I had skipped Church to attend the event; I looked forward to a lively discussion on how faith shapes comics, animation, TV, and film projects and careers.
The panelists had impressive resumes so I and the other 30 people in the room waited with anticipation to hear from Jordan Gorfinkel, David Sacks, David N. Weiss, Eric Kaplan, and Butch Hartman. Unfortunately, all the panelists were not there at the scheduled start time, and we were told that this was their first convention, and they were so intrigued with the all there was to see on the main floor, that it was taking them some time to get up to the room. I too was intrigued, but managed to break away from not only the main floor, but Hooters as well, to arrive on time. Nonetheless, the moderator chose to forge ahead.
Finally the panelists arrived and made their way to the front of the room without as much as an apology for the tardiness. We were then provided with extensive introductions for each panelist. Said introductions, along with several panelists being asked to define both faith and hero, managed to consume the first 30 minutes of the discussion. The audience finally sat back up in their chairs as it appeared they were going to get to the topic at hand, but instead ran off on the topic of why one of the panelists had a problem with character breast size while working on the Catwoman comic book. I'm not sure if they ever transitioned from the shape of breasts to how faith shapes comics, etc., as I had heard enough.
Gordon and I then met up at the Main Stage to hear Levar Burton followed by Louie Anderson. Whereas the speakers certainly met my expectations discussing their careers and current projects while taking questions from the audience, the "Main Stage" was a disappointment. Out on the dealer floor it seemed out of place as it did not even include chairs for the fans to sit and enjoy the presentation.
Finally, Gordon and I weaved our way through every row of dealers, stopping occasionally to peruse the wares; grab a whiff of Stan Lee cologne, which we agreed smelled like a man his age should; and of course notice the bevy of beautiful women there to attract the attention of the average comic-book men (not us of course). The bevy included the 2012 Playmate of the year Jaclyn Swedberg who was promoting her new film Muck.
We then made our way through the lobby which remained full throughout the day of people in costumes, many quite impressive, whose sole purpose appeared to be to get their picture taken with people in attendance. I'm not sure how they benefited or profited from this endeavor, but the fans seemed appreciative. We just happened to be escorted back to our car by Darth Vader who apparently had parked his ship in the same lot as our car. I guess Darth wasn't down with $35 either.
It would seem apparent that Stan, Cassandra, and Regina, have plans to grow this event into something that would rival San Diego's Comic Con. The name "Stan Lee" certainly carries a substantial amount of weight, and the proximity to Hollywood should help the cause, but at this juncture, more attention to that which will attract the entertainment industry is needed. More focus needs to be put on the panels to ensure they are interesting, informative, and entertaining. If the panelists are not taking the event seriously, why should the audience? The dealer floor was certainly impressive, as was the small list of celebrities in attendance, including Edward James Olmos and Alyssa Milano to name a few.
Ultimately, the event needs the space and a draw to bring everyone together one or two times over the course of the weekend. In reviewing the schedule for the first two days, which I understand from Gordon, drew substantially more people than Sunday, there was not a unifying event, and the main stage would not be the place to hold such an event anyway.
All in all not a bad day. I'd go again, but not for three days.