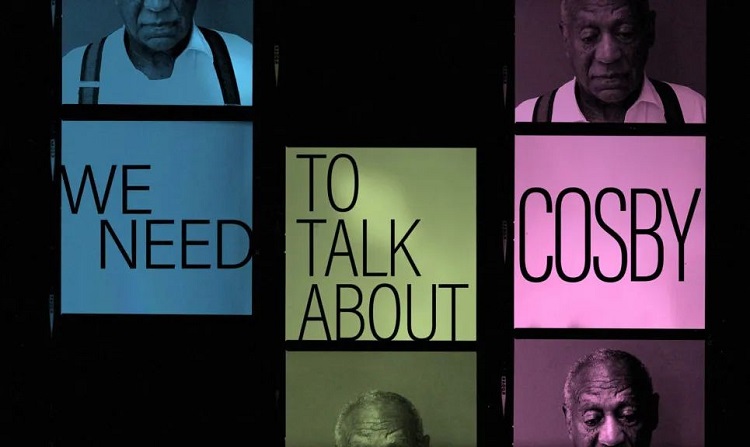 Director/producer W. Kamau Bell's We Need to Talk About Cosby is a four-part documentary series airing on Showtime that tells the story of Bill Cosby: comedian, educator, rapist. Through interviews and archival footage, Bell presents more than a biography of the man but also explores how a trusted hero is revealed to be a monstrous villain and the impact that has made upon fans and victims.
Cosby was introduced to America on The Jack Paar Show in 1963. When he started in clubs, Cosby's stand-up routines delved into racial topics, similar to comedian Dick Gregory, but before the Paar appearance, Cosby dropped the confrontational material from his act, choosing instead to tell stories infused with universal, observational humor. Executive producer Sheldon Leonard brought Cosby into I Spy. Not only did his character Scotty break racial stereotypes, Cosby changed Hollywood by fighting to get black stunt men on his show, which altered the industry moving forward. Cosby was lauded, winning two Emmys for his acting and six Grammys in a row for his comedy albums. During this decade, he married wife Camille and they started a family.
Former September 1963 Playboy playmate Victoria Valentino tells of going with a friend to Cosby's office where they were given spiked drinks, she was raped, and left to find their way home. Bell allows many women to tell of their encounters with Cosby over the years interspersed among the progression of Cosby's biography. The women are frank, which may be triggering to some viewers, and the stories are similar in spite of some women thinking they were alone in their experience.
It's additionally troubling to hear how the legal system and society failed them over the years. The women could offer little proof and the statute of limitations was short. Some of the women have also lived with the guilt of putting themselves in the situation, by drinking, taking pills, and/or being alone with him. A few didn't even know what happened initially, assuming they didn't handle the alcohol and acted inappropriately. Not all 60-plus women are interviewed, and one has to assume there are more women out there who choose not to come forward or have died, so the number of victims is much larger.
In the '70s, Cosby's star rose even higher. He had three TV series, starred in movies, and became an advertising pitchman. Becoming an educator was important to him, and he received a doctorate, although there are questions if he bought it or it was written for him. Educating children was his focus. He starred on The Electric Company and "Picture Pages" on Captain Kangaroo, and created the Grammy-winning album Bill Cosby Tales to Kids About Drugs and the animated series Fat Albert and the Cosby Kids.
In 1983, he released the stand-up concert film, Himself, an instant classic that people still quote. The family routines were spun into The Cosby Show, which focused on a variation of his own family. The series became a ratings hit and is credited with saving NBC, which jumped from #3 network to 1. The show appealed to all families and he became America's dad.
As his fame and power grew over the years, his abuse of women continued. While it seems those close to him and worked with him had some sense of what was going on, he was able to get away with it. Payments were made, and powerless women were taken advantage behind the scenes. All this time, while hurting so many women, he was helping so many people, particularly his people, such as a $20 million gift to Spelman College, the largest ever to a HBCU.
While rumors of infidelity had swirled and lawsuits had been filed for years, the major factor that altered the public's perception was a 2014 stand-up set by Hannibal Buress. Conversations started happening and many women who had been assaulted by Cosby went public. Because it was initially white women, the black community were mistrusting, understandably, because of events like the lynching of Emmet Till. However, as black women like Beverly Johnson joined the chorus, the number of doubters shrank, as it did when it was revealed that Cosby admitted to drugging women with the purpose of having sex with them in his deposition of the civil suit filed by Andrea Constand.
In response, the District Attorney of Montgomery County, Pennsylvania filed three counts of aggravated indecent assault in 2015. Cosby was eventually found guilty in 2018 and sentenced to 3-10 years. However, as the production wraps in June 2021, Cosby is released from prison by the Supreme Court due to prosecution misconduct and a deal made with the previous D.A. regarding self incrimination that the D.A. who filed the charges wrongfully ignored.
Unfortunately, we do need to talk about Cosby as Bell correctly surmises and he does great work presenting these stories, and allowing people to speak their frustrations about a man who did so much right yet so much wrong. While there is no understanding the level of narcissism that allows a man to think it's okay to drug women and have sex without their consent, society needs to reflect on how this was allowed to happen throughout the country for decades and how to stop it from ever happening again. Thankfully, these brave women have shared their stories to let everyone else know this kind of evil exists and flourishes in silence. This series is also a reminder that people are not their public persona no matter how much we may enjoy their work.