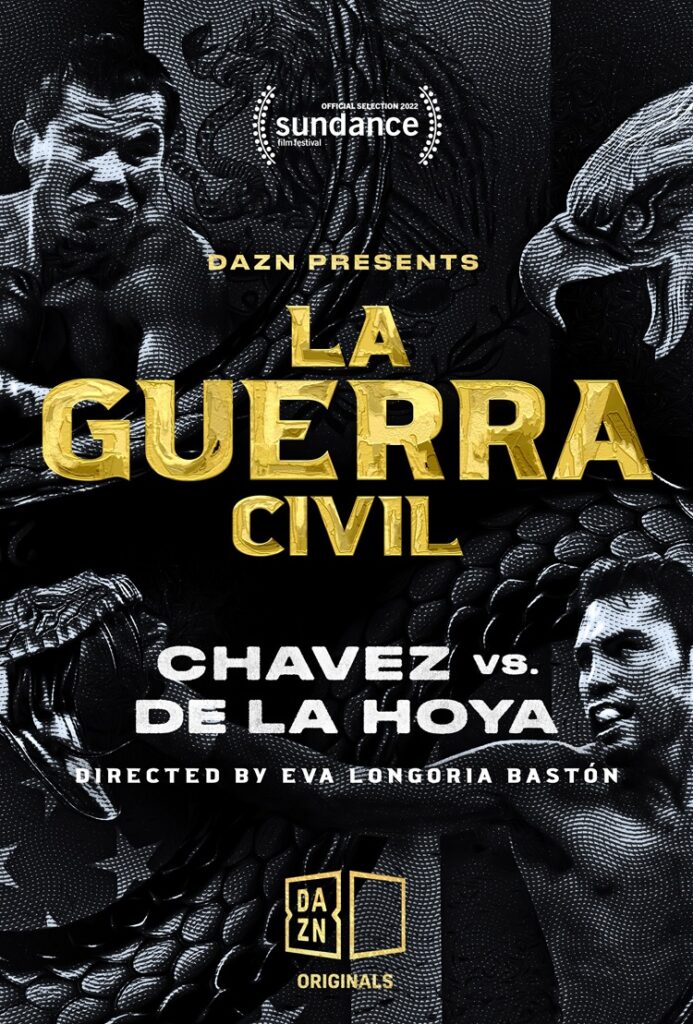 Directed by Eva Longoria Baston, La Guerra Civil tells the stories of two boxers, Julio Cesar Chavez and Oscar De La Hoya, who first fought against each other in 1996 for the WBC Super Lightweight Championship. The bout was much bigger than the two men as it also brought with it a culture clash. Both fighters are interviewed separately by Longoria Baston as she weaves the stories of their lives together along with the build-up to the fight.
Growing up in Culiacán, Mexico, Chavez was from a family off 11. He took odd jobs and found his way into boxing, which his mother was against. He promised her if he lost a fight in his first 10 bouts, he would quit. He went onto to win his first 87 fights until a draw with Pernell Whitaker in 1993 and won two more until his first loss, which was against Frankie Randall in 1994. He won his first championship title, WBC Super Featherweight, on September 13, 1984, and was highly regarded through the '80 and '90s while he accumulated wins and titles in higher weight classes. He was the pride of Mexico and of Mexicans around the globe.
De La Hoya was born in East Los Angeles to parents who had emigrated from Mexico and came from a family of boxers. He was six years old when he had his first amateur fight, which was stopped in the first round because he was so aggressive. He had a very successful amateur career and in 1990, at age 17, won the Gold Medal as a light welterweight at the Goodwill Games. He lost his mother, his biggest fan, to breast cancer and wanted to give up boxing. He won the Gold Medal as a lightweight at the '92 Olympics, and created controversy when he raised both the U.S. and Mexican flags, not realizing the impact it would have. Mexican and Mexican-Americans understood his pride and supported him, but that support would waver in a few years.
The success of both boxers led them to fight each other. However, once the match was booked, De La Hoya found himself no longer "Mexican enough" for many fans in comparison to Chavez. De La Hoya was booed by people, even in his neighborhood, who had previously cheered him. Dubbed "The Golden Boy of Boxing" because of the gold medals he won but also because he was handsome and brought in female fans, ho weren't necessarily concerned about boxing. He represented new generation of Mexican Americans. However, he didn't fight "like a Mexican". Chavez was a brawler who would take take 10 punches to land two. He fought professionally for 12 years before De La Hoya did, becoming a folk hero to a devoted fan base that led to over 133,00 people watch him fight Greg Haugen at Mexico City's Estadio Azteca in 1993. Seeming of most importance, Chavez was born in Mexico.
Longoria Baston speaks with celebrities, like George Lopez, writers, and family members to help flesh out the story. She makes great use of archival footage of the men, and both comment on the fight as it progresses, which is a treat, although I wish they had been brought together. They reveal themselves in the interviews, allowing the viewers to see a more complete picture of who the men are outside the ring.
Living in Southern CA and being a boxing fan, I was well aware of both fighters and their fan bases so I may have an extra connection to the material in La Guerra Civil. Boxing fans should definitely enjoy the film, but there's also something here for the non-boxing fan as the story reveals a culture clash within a community towards those among them who are first-born Americans, likely a common story in the melting pot that is the United States.