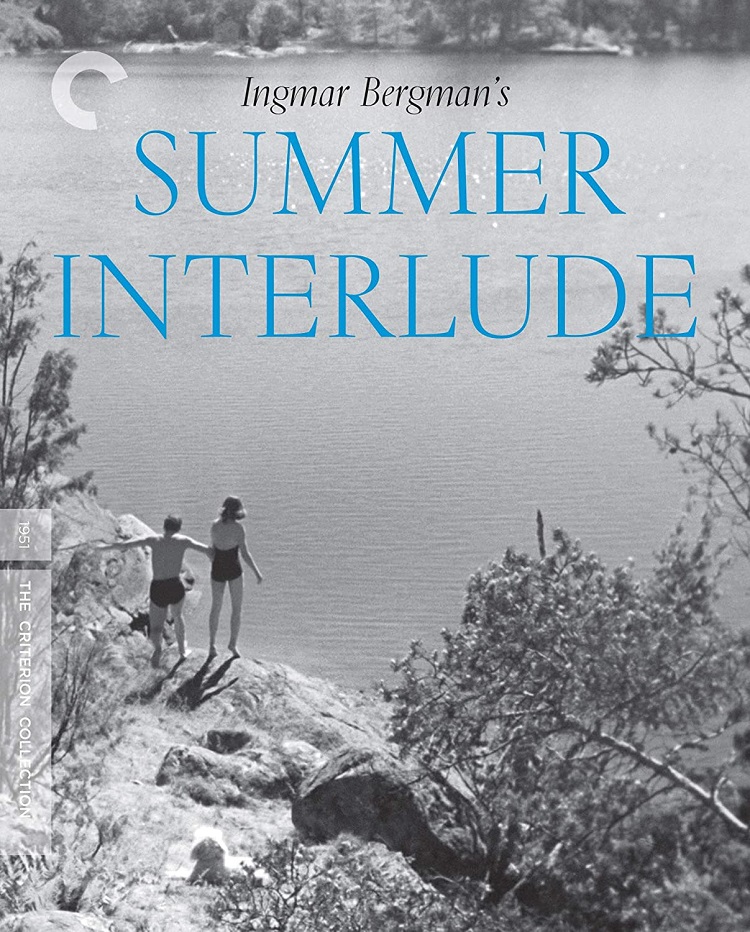 With Summer Interlude, Swedish master filmmaker Ingmar Bergman began to lay the foundation for some of his most memorable pictures. This 1951 picture, now available on Blu-ray and DVD thanks to Criterion Collection, is considered by the director to be one of his most important works. It is certainly a haunting project.
What we have here is a tale of loss. Innocence, love, artistic illusion, and religious faith are all lost in one way or another in Bergman's film. In other hands, those aspects would be utilized to depress. Here, however, Bergman crafts a uniquely human (and humane) tell that finds the protagonist discovering happiness in the despair and learning something about herself as well.
Summer Interlude stars Maj-Britt Nilsson as Marie, a prima ballerina. When we meet her, she is working on Swan Lake. Marie is sent the diary of Henrik (Birger Malmsten), her first love, and that opens the doors to a flood of memories. Henrik was college-aged and innocent, having met Marie while she visited her aunt and uncle on a summer vacation some 13 years prior.
Marie remembers their relationship, one of passion and innocence. She also remembers the tragedy, one that sunk her into a pit of despair. With the help of Uncle Erland (Georg Funkquist), Marie learns to further insulate herself from loss and "puts up a wall" around her. This blocks out her religious faith and she grows to hate God. It also puts up walls with respect to other relationships, including with her current lover David (Alf Kjellin).
Summer Interlude is about the significance of a moment. Marie is put on a path when her relationship with Henrik concludes; her lack of emotional involvement is set in stone with the loss of her love. Her coldness is rationalized and her innocence is all but gone. She doesn't seem to receive much joy from her art, either, and wants to end it all with David.
Nilsson, who worked with Bergman before on To Joy, is tremendous as Marie. She is suitably cold, yet ultimately sad. Interestingly, she doesn't draw pity despite her unfeeling nature. Marie is, at times, simply blank – she must be. Nilsson's melancholic approach in her present form is delectably offset by her almost criminal innocence and youth when she loves Henrik.
Summer Interlude is the film Bergman counts as first among his own. Indeed, he is fully in command of the project and it shows through the beautiful camerawork and capturing of the summer getaway. The use of water, its reflections, is magic. And the wonderfully dark sequence in which Henrik hits his destiny is subtle and grotesque at once as Bergman spares us the details but none of the bloody outcome.
There is also the delicate use of mirrors and make-up, forces of Marie's world. As a ballerina, she is required to wear layers of make-up and costumes that border on the absurd. This is pointed out to her by a clown, but the mirror proves the most illuminating conduit to Marie's soul and lack of faith. When she strips away the caked-on stuff toward the end of the picture, a weight is lifted.
The Criterion Collection Blu-ray release is quite good, but there's nothing really special about it. There is no commentary, no trailer and no special features to speak of outside of an in-booklet essay from film scholar Peter Cowie and a "new English subtitle translation."
The Blu-ray presentation is, in my estimation, about as good as can be expected. Criterion has notoriously high standards, but this picture's aesthetic has suffered in the rigours of time. The new digital transfer for the release comes from two 35mm duplicate negative sources, but one was certainly in rough shape with lots of scratches and imperfections. The Blu-ray release has done a damn good job at fixing the problems, but there's only so much that can be done with the source. Summer Interlude is presented in 1.37:1 aspect ratio.
Audio-wise, the picture features Criterion's usual usage of Pro Tools HD to work through some of the issues. The result is a relatively clean audio track.
All in all, Summer Interlude is a critical release for Ingmar Bergman fans. It is a beautiful picture. Criterion's release is satisfactory, but some bonus features of interest would've really made this release something special.