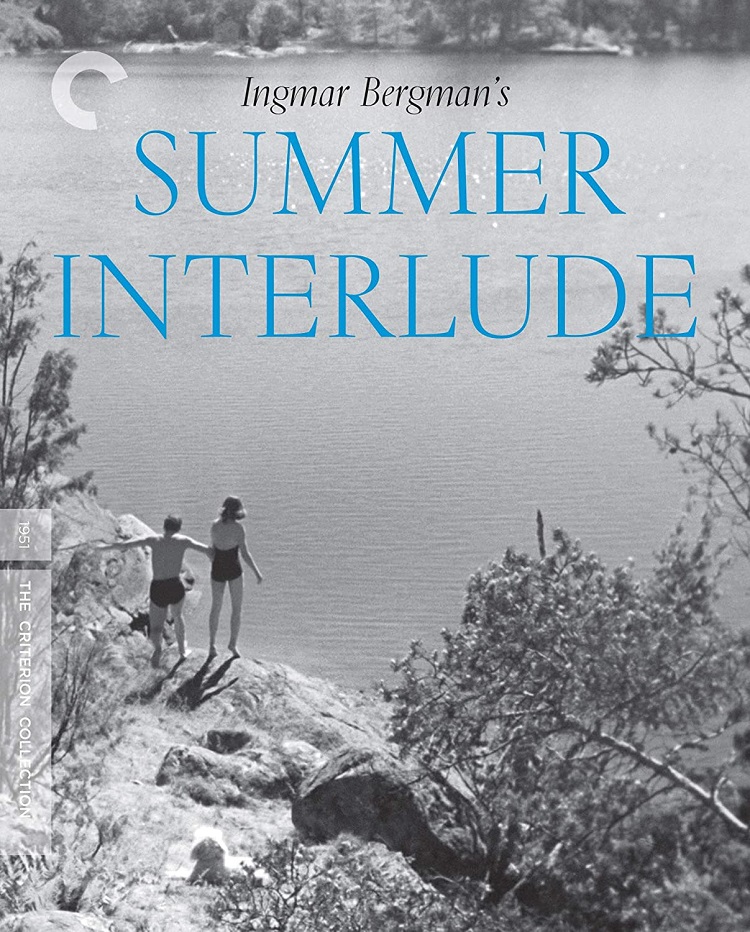 I've barely made a dent in the 64 films that director Ingmar Bergman made in his lifetime, but the handful I have managed to watch have been masterful, and nearly perfect. His films are often difficult, dark, deep, and intellectual, which means I don't watch them nearly as often as I'd like as I all too often prefer something more lighter, more easy to digest, but when I do make the effort I am always rewarded greatly. Criterion is releasing two of his earlier period works (Summer with Monika and Summer Interlude) and though I have never seen them, nor in fact never heard of them until now, I am making them both my Pick of the Week based upon Bergman's reputation alone.
Summer Interlude is about a ballet dancer haunted by a tragic love affair she had with a shy student. Berman considered it a creative turning point for himself. It features a new high-definition transfer with an uncompressed mono soundtrack and a new English subtitle translation. It also comes with a new booklet featuring an essay by Peter Cowie.
Summer with Monika was Bergman's first big international breakthrough. It is a sensual, erotic tale about a young couple who run away for the summer to a secluded beach but must eventually return to real life. In its original U.S. release it received some pretty severe editing, but Criterion now presents the original, unedited cut of the film. The Blu-ray features a new high-definition transfer and an uncompressed mono soundtrack. Extras include an introduction by Bergman, an interview with actress Hariett Andersson, a new interview with film scholar Eric Schaefer about Kroger Babb and Babb's distribution of Monika: Story of a Bad Girl as an exploitation film. There's also a half-hour documentary with behind-the-scenes footage, audio interviews with Bergman, a new subtitle translation, and a booklet featuring an essay by Laura Hubner, a 1958 review by Jean-Luc Godard, and a publicity piece from 1953 in which Berman interviews himself.
Also out this week that looks interesting to me:
We Need to Talk About Kevin: I love me some Tilda Swinton and word on the street is that she puts in a tour-de-force performance with this one. She plays a mother whose teenage son is quickly turning into something fearsome, dark and evil.
True Blood: The Complete Fourth Season (Blu-ray): I've tried twice now to get into this show, but have never made it past the first half dozen episodes. It is well made but there's something too soap opera-esque about it that keeps me from being enticed. Lots of people, including my brother, seem to love it so maybe someday I'll try again. Extras include digital copies of all episodes, interviews with the show writers on all episodes, 12 clips entitled "Inside the Episodes," a feature on the post-production process, and six audio commentaries. Blu-ray extras include: an interactive guide, character perspectives PiP, Flashback/Flash Forward (Jumpout Video) and vampire Histories /character Bios.
Coriolanus (Blu-ray): Ralph Fines directs and stars in this swords-and-sandals drama that also stars Gerald Butler and is described by Amazon as Shakespeare by way of Fight Club.
Lancelot Link: Secret Chimp: Do I have to say more about this Get Smart-style Saturday morning show?
The Rape of the Vampire, Remastered Edition (Blu-ray): Every now and then I borrow random movies from friends (yeah OK, I like to browse through the torrent sites in search of something interesting.) In one of those sessions I came across a few films by director Jean Rollin. He seems to make low budget yet strangely artistic erotic horror films. The Rape of the Vampire is one of the films I borrowed and while I haven't yet watched it, a quick preview of it showed it to be quite interesting and visually arresting. Extras include two short films by Jean Rollin, an interview with Rollin, cast & crew interviews, the original French trailer, and the original English trailer.