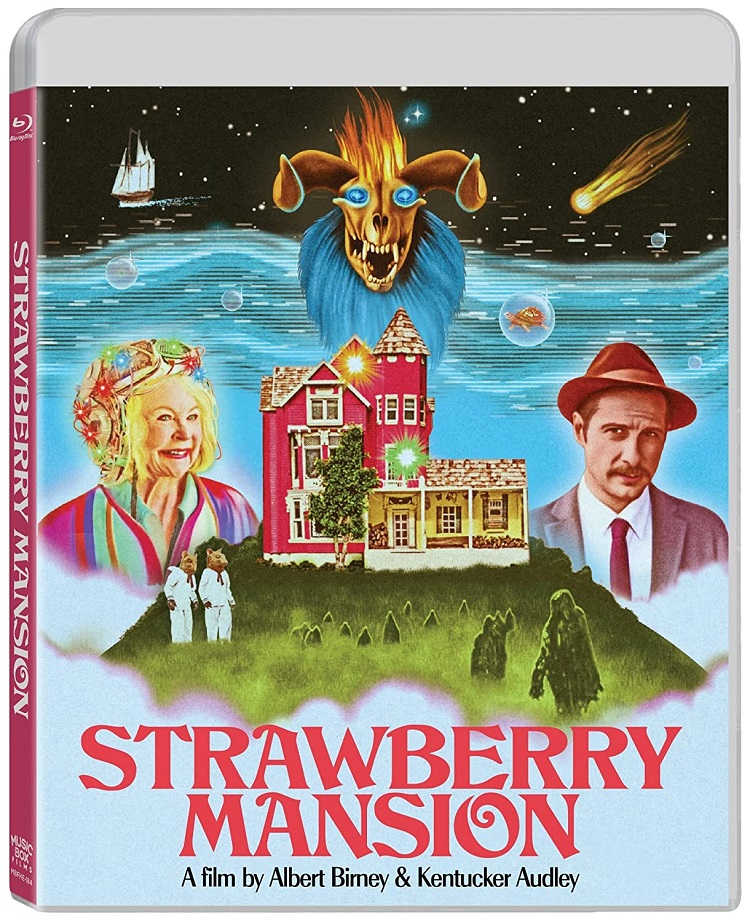 Directed and written by Albert Birney and Kentucker Audley, Strawberry Mansion is a surrealistic, genre-blending story that takes viewers on a captivating journey through the dreams of its characters, and its makers, as they try to make sense of the world.
In 2035, dreams are taxed and James Prebele (Audley) works as an auditor. His job takes him to the titular house of artist Arabella "Bella" Isadora (Penny Fuller). She has no tax records on file and has over 2,000 VHS tapes containing her dreams. While cataloging them, James meets a younger Bella (Grace Glowicki), a literal dream girl, who intrigues him.
In this world, advertisers project ads into dreams. Like the majority of people, James is unaware of this, even though his dream friend Buddy (Linas Phillips) frequently brings him products. Turns out Bella's estranged son Peter (Reed Birney) runs Guavatron Industries, the country's largest ad agency, and he takes extreme measures to keep the company's secret from getting out.
The video is presented in a 1080p/MPEG-4 AVC encoded transfer. The aspect ratio is displayed at 1.78:1. Colors appear in strong hues. Blacks are inky and. along with shadows, crush in some low-lit scenes. Film grain is noticeable. Occasional white specks and scratches appear, which is odd considering the film was recently shot, but for this low budget film, it adds to the visual aesthetic, Whites and bright lights bloom. Object edges can lean soft. The audio comes in DTS-HD Master Audio in 5.1 and 2.0. Dialogue is clear. Dan Deacon's score fills the surrounds and ambiance effects can be heard.
The Bonus Features are:
Audio Commentary with directors Kentucker Audley and Albert Birney
Isolated Musical Score DTS-HD Master Audio 2.0
Strawberry Beginnings: Making of Featurette (42 min) – Audley and Birney discuss the origins of their partnership and the creation of the film.
Deleted & Extended Scenes (33 min) – With a Play-All option, 10 scenes
Test Footage & Animation (16 min) – With a Play-All option, eight scenes of preproduction art
Dan Deacon Soundtrack and Music Video (2 min) – which uses visuals from the film.
Short films by Albert Birney (42 min) – Two short films: "Cactus" (18 min) and "Buzzer" (9 min) with "The Fly Story" serving as the latter's introduction (4 min). Birney's animation techniques, which make their way into Mansion, can be seen here. "Buzzer" is a funny, day in the life.
Watercolor & Collage Gallery
Reversible jacket artwork
Exclusive collectible trading cards
Making the most of their limited budget, Albert Birney and Kentucker Audley should be on everyone's "Filmmakers to Watch" list because this pair have proven to be ingenious talents. Strawberry Mansion brings to mind the works of Philip K. Dick, David Lynch, and the Quay Brothers. One scene to the next surprises with its visuals and details, and they demonstrate an understanding of dream logic. Fans of independent cinema owe it to themselves to seek this film out. Audiences will be hard pressed to find a more original screenplay this year, or most years, and the less one knows about it beforehand the better. The Blu-ray does as much as it can with the source in creating a high-definition experience, and it is packed with bonus features.