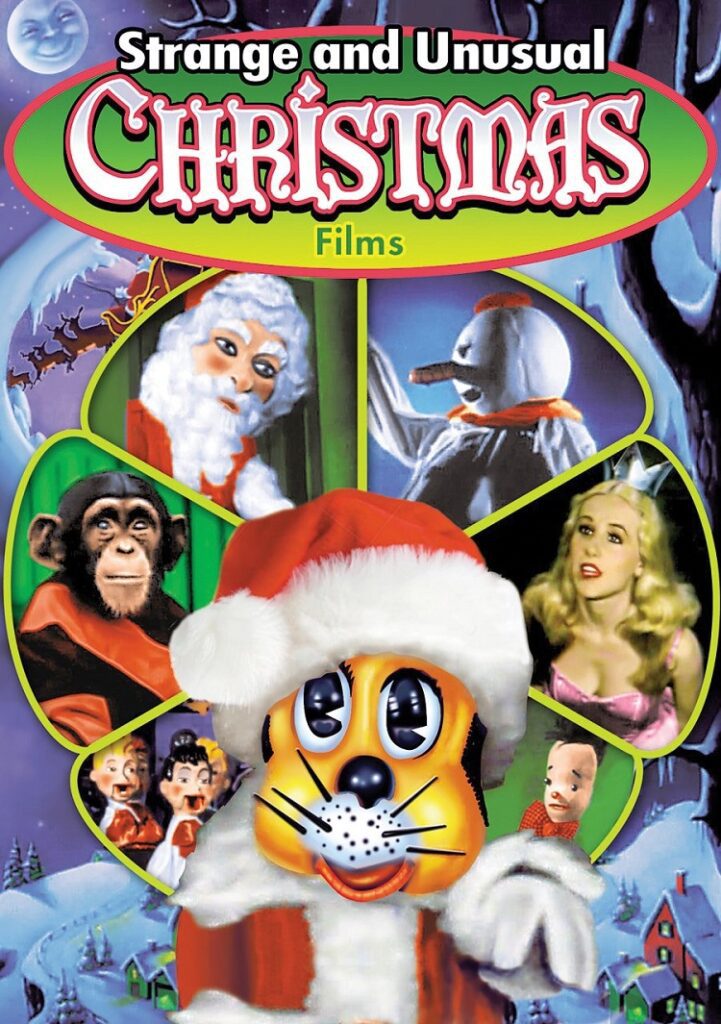 A longstanding idiom states "'Tis better to give than to receive" ‒ and that theory definitely holds true with Alpha Video's nightmarish gathering of vintage Christmas shorts, newly compiled and released to DVD-R. From live-action horror to unsettling animation and even bed-wetting puppet play, Strange and Unusual Christmas Films is quite possibly the greatest gift you could give to someone this season, whether they're into the whole holiday thing or not.
The assortment of oddities begins with a condensed Castle Films version of the 1945 Czech treat, A Christmas Dream, which actually won an award once upon a time. The same will never be said, however, with a mind-numbing black-and-white American offering from the same year, Santa Claus' Story ‒ which, despite its name, finds an appropriately out-of-work department store Santa teaching a little girl (who sometimes, inexplicably, morphs into a midget!) about monkeys (um, what?). The Night Before Christmas from 1946 is another Castle Films "classic," which blends live-action and animation as a special home invasion version of Herr Claus roams about a family's living room as the timeless poem everyone hates to hear today is read aloud.
For my money, Santa in Animal Land (1948) could very well be the most terrifying short out of the lot ‒ which is an attribute of evil that is not assigned lightly. A family of animals ‒ brought to hideous life by hand puppets and voice actors whom I'm certain are listed on the nsopw.gov website ‒ decide to visit Santa since he doesn't bring them anything to lure innocent children in with (God knows why). In the next distraction, Santa and the Fairy Snow Queen (1951), producer Sid Davis ‒ the same misinformed, misguided soul who brought us the "educational" disaster Boys Beware ‒ introduced us to a seasonal competitor for Mr. B. Natural, who tells us of the time an ice princess brought all of Santa's workshop toys to life because he was too drunk to get it up for her.
Further exercises in surrealism mixed with unrelenting terror are to be found in 1953's The Elf and Mr. Little (no, I really don't want to know what that means); Silent Night: The Story of the Christmas Carol (also from '53), an eviscerated version of a French adaptation of The Little Match Girl from 1954; The Little Lamb: A Christmas Story (1955), which features B-grade science fiction icon Morris Ankrum in a supporting role (one which I'm sure he was proud to list on his work résumé); and the 1961 soul-stealer, Christmas Fairy Tale, which features yet more disturbing puppets out to kill you. The entire package ‒ wrapping optional ‒ from Alpha Video is ready to jeopardize friendships and relationships alike this year. (And the next… And then the year after that…)
Scary Christmas, kiddies ‒ and don't forget, there are eerie, screechy-voiced puppets "…thinking of you and waiting for you at home!" (Shudder!)