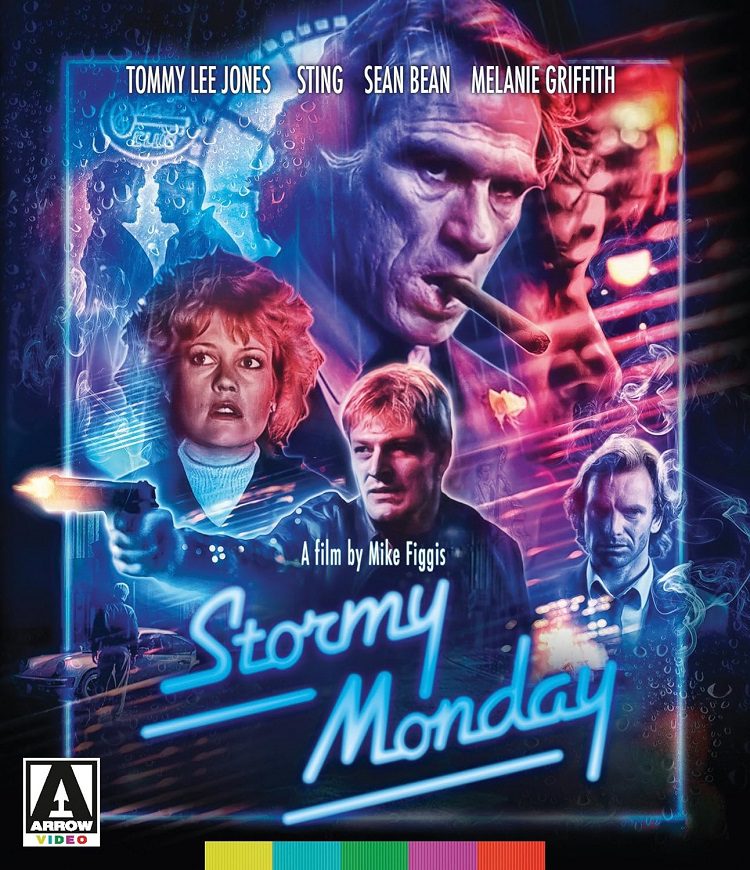 Years before he found himself Leaving Las Vegas, the one man showmanship of Britain's own Mike Figgis paved the way for the influx of jazzy, sex-fueled neo-noir titles that all-but dominated the film industry in the early '90s with 1988's Stormy Monday. Inspired by the many magnificent gritty crime dramas that emerged from Europe in the '60s and '70s (and filmed his Figgis' hometown of Newcastle-upon-Tyne, where Michael Caine's Get Carter was shot), Figgis' self-described "romantic thriller" finds young Sean Bean as a fellow who is desperate enough to do just about anything for work. Fortunately for him, he couldn't have picked a better movie to do so in.
Looking as he was just laid-off from being Patrick Swayze's stand-in, Sean snatches up a low-profile maintenance gig at a high-profile jazz club (one of many in the area), using his knowledge of the beautiful musical genre to impress ‒ and promptly bond with ‒ his new employer: Sting. But becoming instant buddies with the former frontman for The Police isn't the only cool thing that awaits our streetsmart greenhorn in his new life, as he also makes the acquaintance of all-American girl Melanie Griffith, who ‒ in addition to various other extracurricular activities for shady Yankee businessman Tommy Lee Jones (usually seen gnawing on a big stinky cigar) ‒ works as a waitress at a nearby establishment.
After our young lead learns of an intended hit on his boss, he finds himself diving that much deeper into the seedy underworld of the city ‒ which is in the midst of a surrealistic celebration of "America Week" per bad guy Jones' efforts to presumably sell the Britons a bunch of cheap patriotic paraphernalia that was more than likely made in China. In reality, the visiting corporate American muscle is just out to buy up all the commercial and residential property in town for his own diabolical motives. Because, after all, that's what people like that do. In the instance of Figgis' low-key feature film debut, however, it only adds to an overall feeling of unevenness throughout the brief (but nevertheless quite attractive) 93-minute crime drama.
Originally conceived as a UK TV movie, Stormy Monday took an interesting parallel to its own main character (even if the performer playing said character is fourth-billed, for reasons which should seem only too obvious) ‒ that of a young man from the streets rolling with the big dogs ‒ after the title received some good ol' American money to help fund its production. To those of you playing at home, this is why we have two prominently billed American stars, both of whom were experiencing something of a Stormy Monday in their professional careers at the time. But despite its fine cast and moderate success, the film's overall asymmetry almost makes it feel like a Stormy Monday of a different kind.
Not that I didn't enjoy it, mind you. In fact, I found Stormy Monday to be just off-beat and well, "British enough" to keep me sufficiently entertained. And I know I'm not the only one, since the film spawned a short-lived prequel series devoted to Sting's character a year before Figgis would release his critically acclaimed Leaving Las Vegas. It almost makes one wonder what might have happened had Figgis held back on this story and filmed it during the early '90s instead, by which time the neo-noir movement had really taken off. Either way, however, I found Stormy Monday to be a thoroughly entertaining flick, and the jazz soundtrack (by that Mike Figgis fellow himself) only adds to the dark and gritty underworld fun.
A worthy addition to the ever-expanding and very diverse Arrow Video library, Stormy Monday shoots for American audiences once more via an above-average HD transfer. Granted, said transfer was made in 2010, so it may not be up-to-par with most of today's Blu-ray releases, but this wasn't exactly a big-budgeted production to begin with. Presented in a 1.85:1 aspect ratio, the MPEG-4 AVC encode shows off cinematographer Roger Deacon's photography quite well, and the accompanying LPCM 2.0 audio makes for an equally good listen. English (SDH) subtitles are included with this release, while special features are limited to an audio commentary by Figgis, a filming location featurette, theatrical trailer, and image gallery.
Keeping on-track with their other great releases, Arrow Video's release of Stormy Monday includes a collectible booklet (featuring an essay by Mark Cunliffe and an assortment of stills) and reversible artwork. It's definitely a step-up from the old out of print US DVD, and the fact this combo set includes a bonus Standard-Definition DVD edition (also with special features) should warrant an upgrade from those of you who actually heard of the film before. And it's not too late for the rest of you to check this odd little slice of English neo-noir, either.
Recommended.