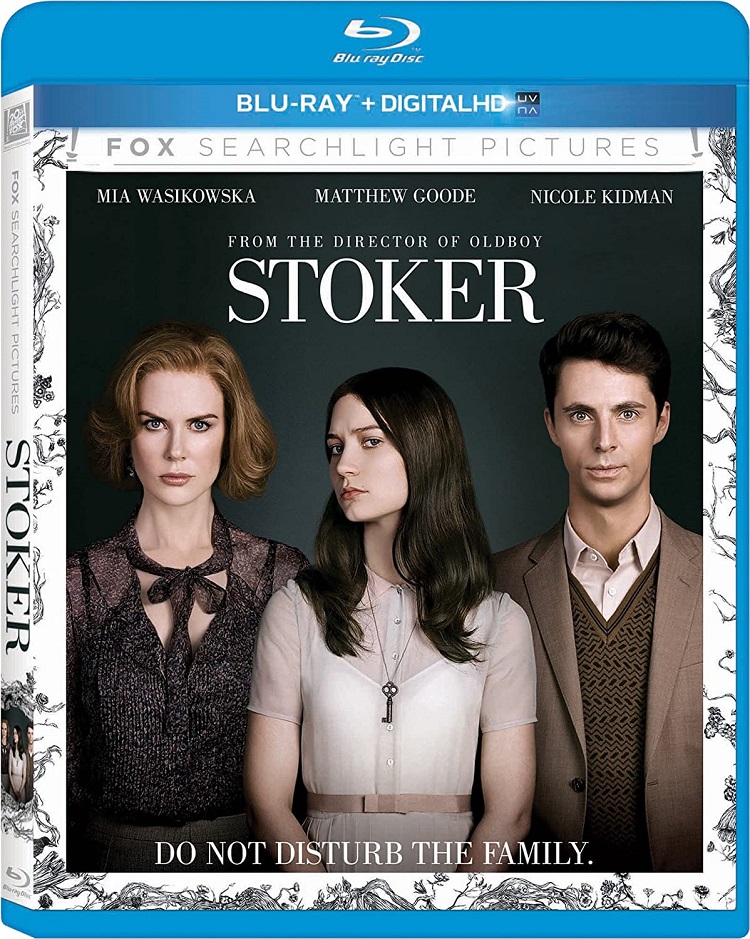 India Stoker (Mia Wasikowska) is a shy, isolated young girl devastated by the loss of her father Richard (Dermot Mulroney) to a strange and horrible accident. Her mother, Evelyn (Nicole Kidman), is distant and selfish and does not provide any comfort. Richard's brother, Charlie (Matthew Goode), shows up at the Stoker home after the funeral and offers to stay indefinitely. India never knew of his existence as he has spent his life traveling the world.
Charlie evokes immediate fear in the head caretaker of the house, Mrs. McGarrick (Phyllis Somerville), who suddenly and mysteriously disappears. India grows suspicious as she sees Evelyn and Charlie grow closer in what seems to be an intimate way. Charlie's aunt Gin (Jacki Weaver) comes for a visit and reaches out to India while showing her disapproval of the current living arrangements. When India attempts to reach out to Gin, her fears are validated and she is enveloped in a nightmare.
I enjoyed Stoker immensely and was hooked from the opening without knowing the significance that would have me appreciating it even more so at the end. It is a film to be savored and part of the pleasure is being surprised by how it unfolds.
The video has been given a 1080p/AVC-encoded transfer displayed at 2.39:1. There is great clarity in the image, revealing fine details and textures. Colors are well rendered. The DTS-HD Master Audio 5.1 offers an immersive experience that augments the tension through effects and the score.
There are several extras included, which I was anxious to watch since I was left wanting more at the end of the film. The deleted scenes were disappointing though since I was hoping they would enhance what we had already seen. On the other hand, "Stoker: A Filmmaker's Journey" provides wonderful insights and points out intricate details that increase the film's enjoyment. It had me wanting to watch it again right away for all of the things I didn't appreciate during my first viewing.
"Photography by Mary Ellen Mark" and "London Theatre Design" are still-image galleries. "Theatrical Behind the Scenes" focuses on the film's characters, look, and music at a deeper level. "Red Carpet Premier" offers red carpet footage along with a performance by Emily Wells of the haunting song "Becomes the Color" that plays over the end credits . The theatrical trailer and TV spots are also featured.
Stoker succeeds because of the talented people working on it. There is very little dialogue but director Chan-wook Park is able to convey thoughts and feelings while advancing the story through the actors' movements, facial expressions, glances, and even textures. Wasikowska, Kidman, and Goode are fantastic. Each one gives such depth to their characters, you know exactly who they are even though there is not much backstory provided.
There were amazing moments in Stoker that I had never seen anything like before on screen. It is slow and methodical with an unusual blend of beauty and horror. I can't remember a film that created an atmosphere like it. You get completely absorbed in it, but it is also really twisted and disturbing. This is not a film for everyone.