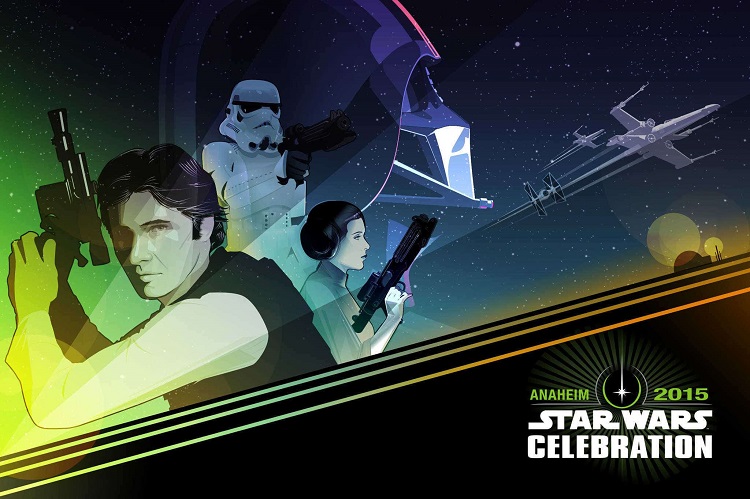 The biennial Star Wars Celebration took place over the weekend at the Anaheim Convention Center, an occasionally frustrating experience in extreme fandom. This was the place for fans so hardcore that they camped out overnight for the chance to attend a panel that the rest of the world was able to instantly enjoy via livestream from the comfort of their home/office. Sure, that panel debuted the new Star Wars: The Force Awakens trailer and featured old and new stars live on stage, but I'll take a good night's sleep and on-demand up-close web viewing over camping out any day.
The Celebration was primarily geared toward the original trilogy, as evidenced by the autograph lineup, programming, and merchandise on the floor. Hope you liked that glimpse of cute new droid BB-8 rolling around onstage during the livestream, because I didn't see him anywhere during my Saturday visit, although I could throw a lightsaber in any direction and hit an R2-D2, Slave Leia, or Darth Vader. Looking for Jar-Jar? You came to the wrong place, unless you spotted the one brave cosplayer out there.
As for those autographs, to their credit the stars worked hard during this show, with basically all-day availability for all four days. They also offered paid photo ops, where fans could get a treasured picture with their favorite star, although those pictures were upwards of $100 for the top draws and even higher for group shots, such as $211 for a picture with the "Skywalker Twins", Mark Hamill and Carrie Fisher. Thanks to the higher prices, the photo ops were the best solution for those who didn't want to wait in the hours-long autographs queues. Photo wait times varied by star, with Anthony Daniels reportedly the longest wait due to his kind insistence on striving to make every encounter a personal experience, while Carrie Fisher also tended to prolong the photo line by being a bit huggy.
In addition to the top original-trilogy stars, dozens of lesser-knowns also set up shop, including original Boba Fett Jeremy Bulloch seated right next to young Boba Fett Daniel Logan to the satisfaction of fans afflicted with OCD. Young Boba was one of the few representatives of the Episode 1-3 cast, with Ray Park (Darth Maul) easily the highest-profile participant present from that era. John Ratzenberger might have gone on to much greater success in Cheers and every Pixar movie ever made, but here he was just Major Bren Derlin from The Empire Strikes Back.
Elsewhere on the show floor, the licensees set up shop to peddle their latest wares, ranging from creative apparel by We Love Fine to ornaments and plushes by Hallmark to vinyl and plush figures from Funko. Wait times to purchase licensed merchandise out on the floor were much shorter than Comic-Con, with no wait at Lego or Funko, but mostly because they sold through most of their exclusive merchandise early in the day. Waits were much longer in the Celebration Store area, where artists offered exclusive prints, t-shirts, pins, and even flip-flops.
Although programming was offered throughout the show, none of it held enough interest for me to brave the lines. The Saturday highlight for many was the second season world premiere of the Star Wars Rebels TV show, while elsewhere Mark Hamill participated in a panel devoted to him, and Marvel discussed their plans for the Star Wars comic-book universe.
Navigation was difficult on the crowded show floor, not quite as bad as a Saturday at Comic-Con but pretty close. Crowd control was fairly uncontrolled, with little evidence of event staff to keep lanes moving. Thankfully there wasn't any discernible disturbance in The Force from all of the packed lines and aisles, with attendees more than happy to go with the flow.
While any Star Wars fan was likely to find something of interest, I was most entertained by the lifesize recreations of classic Star Wars sets, such as the interior of the Millenium Falcon, the exterior of a Sand Crawler, and an impressive Mos Eisley Cantina. There's a certain thrill to be had from personally witnessing and interacting with these impressive set recreations, and they were the only things that caused me to recapture the childhood wonder of seeing them onscreen for the first time. That awakening of wonder was clearly a priority for attendees young and old, and the Celebration delivered the goods.