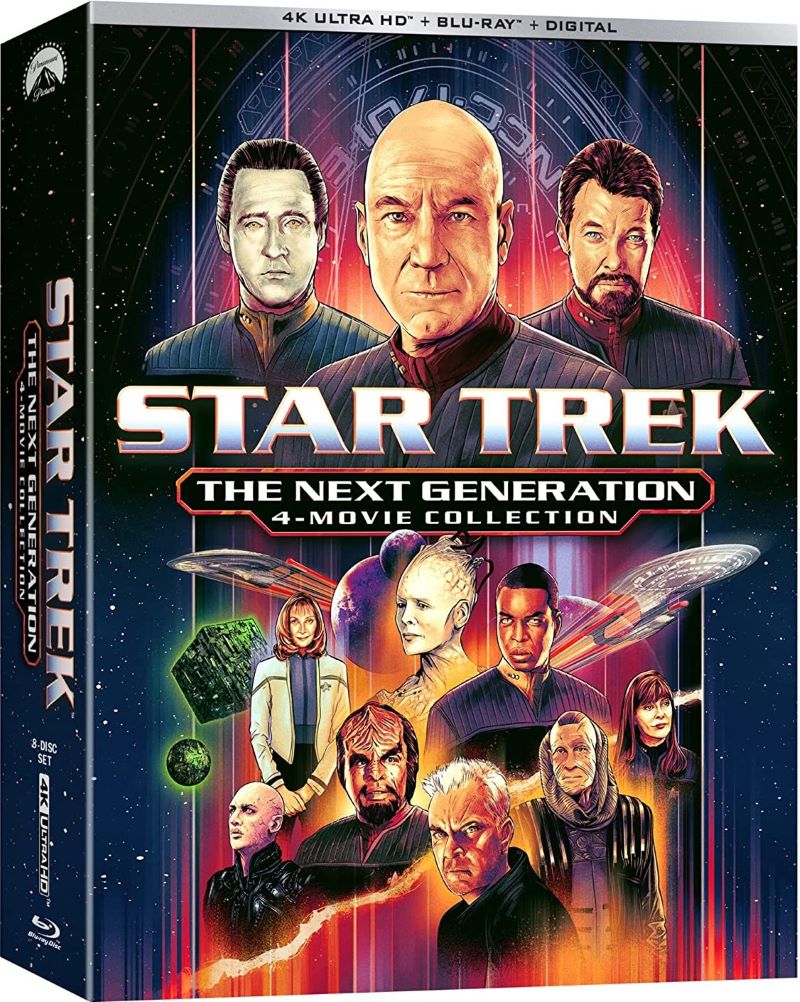 Following up on last year's six-movie 4K box set of the original Star Trek movies, Paramount has moved on to the next generation with this new set containing all four movies. The movies have all received Dolby Vision transfers with Dolby TrueHD 7.1 audio tracks, and arrive with hours of special features. While the new sheen can't gloss over the mixed bag of plots, and all of the films have also been released individually this week, the new box represents the most convenient method to collect all of the silver screen adventures of the ST:TNG cast in one all-encompassing box.
While time can sometimes be kind to films that didn't quite connect on first release, that doesn't seem to be the case here. Star Trek: First Contact is still clearly the best film of the Next Generation cycle, with a thoughtful, meaningful story leading up to mankind's first encounter with Vulcans. Not coincidentally, this week marks the release of the box set as well as the 40th pre-anniversary of the "First Contact Day" referenced in the film of April 5th, 2063. Aside from some dated special effects, the movie holds up remarkably well thanks to its superior writing.
And then there are the rest. Star Trek: Generations was doomed from the start with its mission to appeal to fans of both the original and Next Generation series, ultimately satisfying approximately no one. It's fun to see Kirk and Picard together, but it's far from a classic story. Star Trek: Insurrection is basically an overlong throwaway episode with very little stakes, while Star Trek: Nemesis is too dark in tone and lighting. At least they look and sound better now.
The picture quality of all four films is clearly superior to prior murky Blu-ray releases thanks to the upgrade to Dolby Vision and HDR10. This is most evident in the enhanced fine details as well as improved contrast levels that show deep, dark blacks, and bright but not overblown whites. This is especially useful for the shadowy, underlit setting of Nemesis, which is finally revealed and granted a depth of field previously obscured. Colors pop in HDR across the series, especially during busy battle scenes in all films and daytime outdoor scenes in Generations and Insurrection. Skin tones look natural for humans and suitably otherworldly for other critters, with Data's skin looking almost pearlescent and every Borg accessory and furrow of Worf's brow conveyed in exacting detail.
Regrettably, Paramount has opted not to provide Dolby Atmos audio tracks, instead choosing Dolby TrueHD 7.1 for all four films. Still, the added two channels provide a nice upgrade over the prior Dolby TrueHD 5.1 option provided on previous Blu-rays. The added channel separation generates the most impressive and immersive soundscapes during battle scenes, but even quiet conversational moments like most of Insurrection benefit from improved aural imaging that adds environmental depth. Dialogue is clearly defined, and Jerry Goldsmith's scores are impressively weaved into the audio tapestry.
Bonus features appear to be entirely legacy releases, but are extensive for all films. Multiple audio commentary tracks by the creative team are included, as well as text commentary tracks by special effects gurus Michael and Denise Okuda. Other highlights are a four-part featurette about Brent Spiner as Data, a look at effects works by Industrial Light and Magic, Trek roundtable conversations, deleted scenes, and storyboard archives. There's plenty here to keep even the most ardent of ST:TNG fans busy digging through the treasure trove.
This 4K box set release feels long overdue, but the superior technical results indicate that it was worth the wait. If you must own all of these films, the new box set is clearly the best option, but if you want to pick and choose only your favorites, Paramount has you covered with their concurrent individual 4K film releases. As Star Trek: Picard Season Three winds down this month and the Next Generation cast once again rides off into their apparent final sunset, there's no better time to celebrate their complete cinematic adventures in 4K.