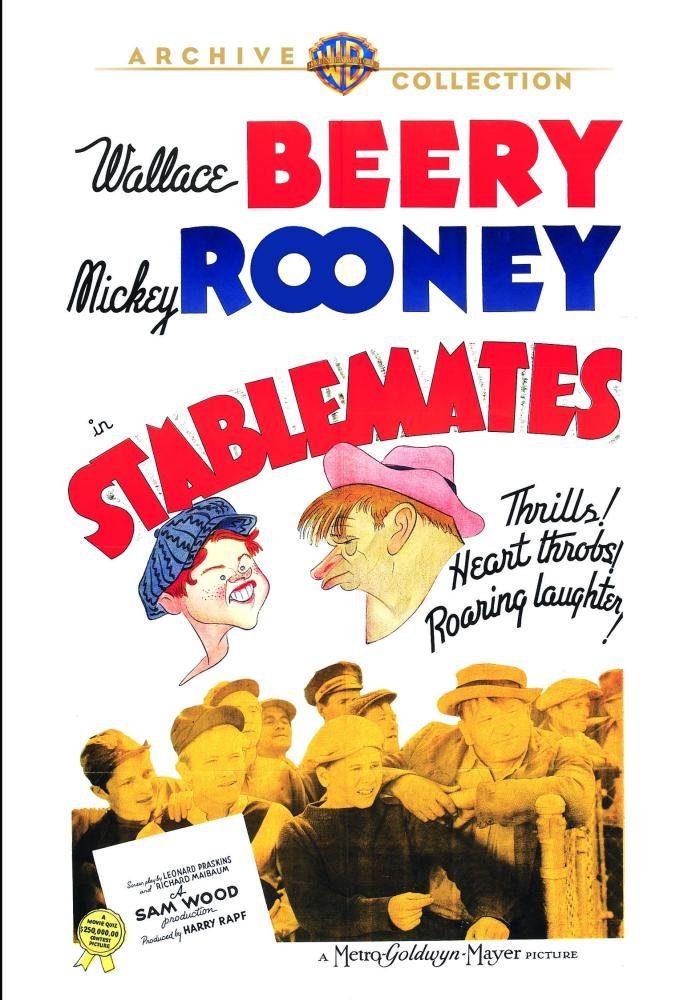 The late Mickey Rooney made a sizable impact on classic cinema, leaving behind a list of motion picture and television appearances tallying well over 300. With a résumé like that, it may be quite some time before all titles are present and accounted for on home video (and even then, it's unlikely we'll see everything). Nevertheless, the Warner Archive Collection and it's many Mickey Rooney fans working there have been doing their best to fill in the gaps to their abilities. Two recent releases from the WAC marked the home video debuts of MGM's Stablemates and Lord Jeff, both released in 1938 and directed by workaholic director Sam Wood.
Wood had previously directed The Marx Brothers in their two biggest MGM films ‒ A Night at the Opera (1935) and A Day at the Races (1937) ‒ which may have prepared him for putting up child actors. The first released film in this duo, Stablemates, was an utterly shameless play on MGM's part to recreate the success they had achieved in 1931 with The Champ, which starred Wallace Beery (who may or may not have been partly responsible for the death of Ted Healy) as a has-been boozer of a boxer who tries to get his messy existence back together for the sake of his young son. Here, sharing one of the same filming locations as A Day at the Races, we have young orphan Mickey Rooney, who unintentionally forms a bond with a washed-up alcoholic ex-veterinarian.
Keeping most of the sappiness of The Champ, Stablemates follows the at-first topsy-turvy (but later tender) friendship between a grumpy old man (Beery) who has a tendency to lie, cheat, and steal (to say nothing of his dependency on the bottle) and a young jockey (Rooney) who wants nothing more than a father figure (and to get his poor horse back on track). A scene-stealing, pre-Wizard of Oz Margaret Hamilton co-stars as a five-time widow who casts her eye on the lovable grown-up rogue; Arthur Hohl is the racetrack detective trying to track down the elusive Beery for his past indiscretions. Minor Watson, King Baggot (you can't make these names up), and a little dog named Terry ‒ who would become the most famous dog in cinema a year later when he was cast as Judy Garland's lovable Toto ‒ also star.
Placing the adult stars on the back burner, Rooney returns as co-star once more in Lord Jeff, wherein he plays yet another orphan. This time, however, Rooney's fatherless child gets an Irish accent to go with the part (which is pretty good, I must admit). Playing second-fiddle to star Freddie Bartholomew, Rooney also gets to ditch the yearning fatherless child shtick in favor of a more admirable (or at least stomachable) moral supporting character. Here, Bartholomew is the spoiled bratling child element of a trio of con artists, completed by Gale Sondergaard and cult villain George Zucco. When his adult partners leave Freddie behind, he gets placed in British naval academy for orphaned youth (something only the British would do), where he butts heads with all, only to impress the lot of 'em when his natural knack for seamanship emerges.
Charles Coburn, Herbert Mundin (who played one of Errol Flynn's Merrie Men in The Adventures of Robin Hood earlier that same year, and who was killed in a road accident the next), and child actors Terry Kilburn, Walter Tetley, and future Rat Pack member Peter Lawford also star. Four writers are credited to this picture; the IMDb lists three uncredited additions, one of which being Sam Wood himself. The Warner Archive Collection slips us both of these Mickeys (with plenty of Wood, too) in MOD DVD-R form, preserving each film's original 1.37:1 aspect ratio. Each movie sports a nice video transfer, with clear mono stereo soundtracks and even a trailer or two in accompaniment (fair warning, though: that Stablemates preview is about as mawkishly corny as you can get ‒ even by 1938 standards!).