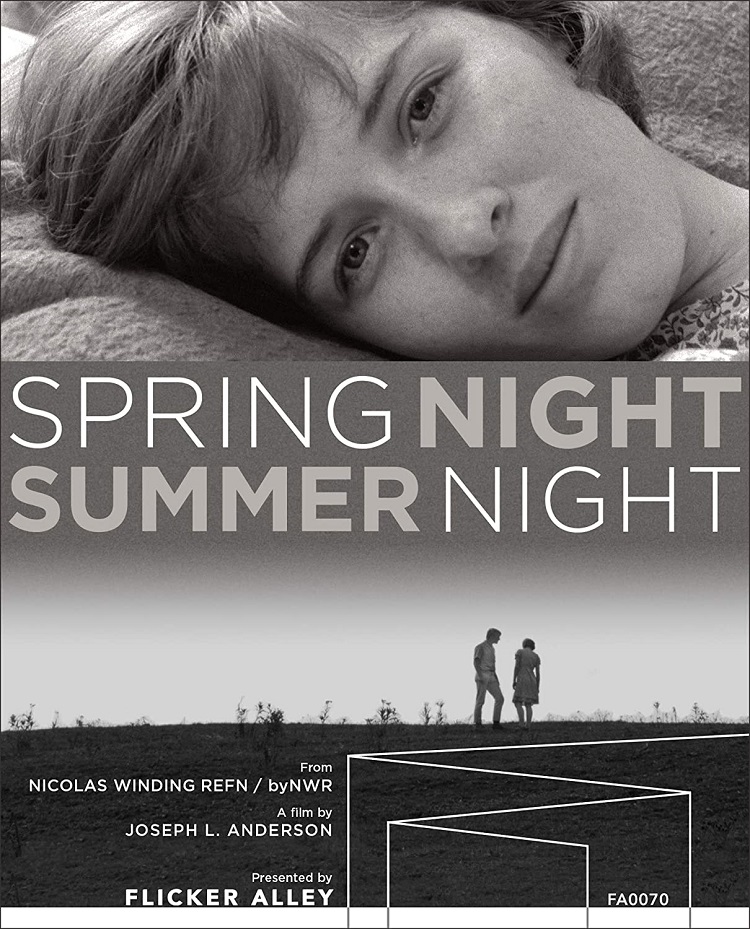 What I truly love about Independent film is the attention to people and places, and the issues that take place underneath the surface. There are no car chases, explosions, or overbaked spectacles. It's about the realities of characters trying to live each day, with regret, sadness, but also dreams of a better life/future. And even better, it's always a privilege to discover unknown/neglected works of cinematic art, because you never know when you may find your next masterpiece. This is definitely the case with director Joseph L. Anderson's exquisite 1967 small wonder of a film, Spring Night Summer Night, which captures the drab essence of rural life that rarely gets depicted in cinema.
With a mixture of Italian neorealism, Bergmanesque drama, and the coal-mining country of southeast Ohio, the film focuses on Jessie (Laurie Hall) and Carl (Ted Heimerdinger), half-siblings who are trapped and dominated by the often suffocating pressures of small town life. They end up having an unexpected one night tryst that leaves Jessie pregnant, and Carl running away and then coming back to face his past actions. However, the 'saving grace' comes in the form of their mother's checkered past, in which they discover they may or may not be related. This causes them to throw caution to the wind and leave their hometown behind with the hope of a better and brighter future.
The film went through distribution hell for several decades. It was shot over a period of two years, and was entered into a few arthouse film festivals, where it wasn't received very well overseas, and was bumped off the 1968 New York Film Festival, to make way for John Cassavetes' Faces (1968). To make matters worse, Anderson, having to find a way to pay his cast and crew, sold the movie to Jospeh Brenner, who recut and released it as an exploitation film in several drive-ins as Miss Jessica Is Pregnant, with nudity and sex scenes. After this event, it disappeared and was on a verge of being lost forever, until it was saved from a university basement in and given full restoration treatment, respectfully by Peter Conheim and Ross Lipman, with participation by celebrated filmmaker Nicolas Winding Refn and his company byNWR. With dedication and commitment, the film was scanned in beautiful 4K and reconstructed to fit Anderson's original vision.
Flicker Alley's brand new deluxe Blu-ray/DVD edition contains these excellent special features:
The Bluegrass Trilogy: three early short films from Anderson and Franklin Miller – Football As It Is Played Today (1961), How Swived (1962), and Cheers (1963)
In The Middle of the Nights: From Arthouse to Grindhouse and Back Again – Lipman presents the film in contrast to the recut exploitation version
I'm Goin' to Straitsville – Conheim explores the location of the film fifty years later
16mm Behind-the-Scenes Footage (1967) – Rare and unseen outtakes and other material from the film's production with optional commentary from Conheim and Miller
Spring Night Summer Night: 50 Years Later – Glenn Litton interviews the cast and crew of the film, discussing its legacy and the obstacles it faced when first released
Cleveland Cinematheque Q&A (2016) – Panel discussion with cast and crew before its Cleveland, Ohio screening. Available only on the Blu-ray disc.
Slideshow Gallery – Images taken during the film's production by photographer Jon Webb.
Also included is a limited collector's edition booklet with a new essay Ian Mantgani, Litton's memories of Anderson, Conheim on the film's restoration, a look at the career of Brenner, an overview of critical responses, and film credits.
Wow, for a small film, the folks at Flicker Alley really outdid themselves with this release of a very overlooked masterwork of Indie cinema. Despite its complicated past, it's a work of lyrical beauty and sheer realism, and an honest portrait of small town woes and broken dreams that should be a grand relevation to film students and scholars for years to come. Of course, I give it a very big recommendation.