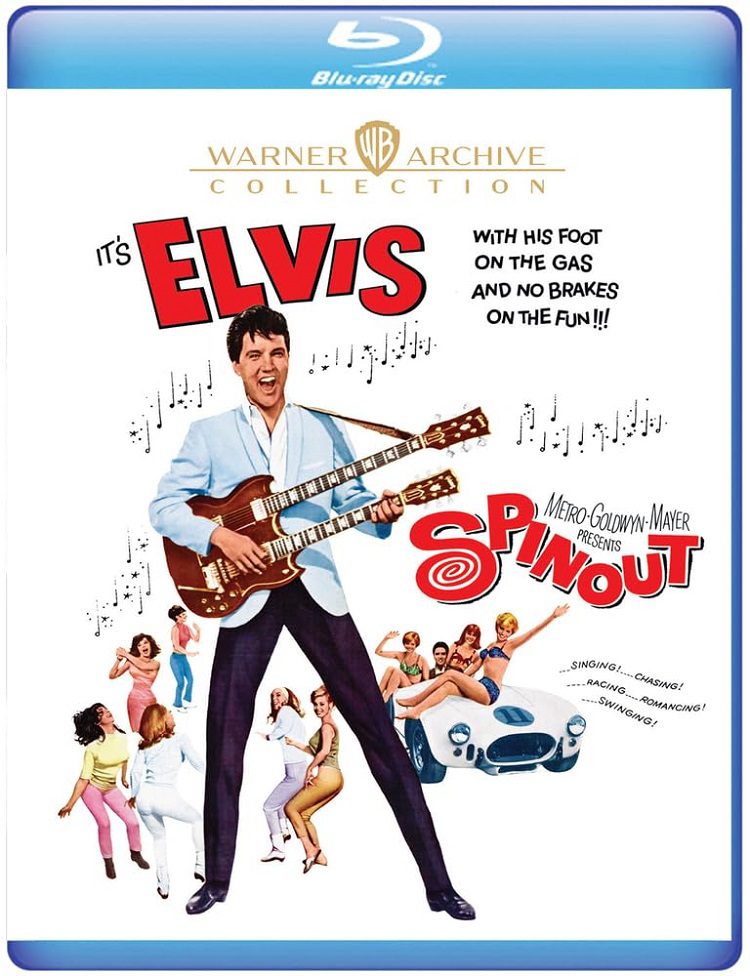 Elvis Presley leads a small rock 'n' roll band, likes racing fast cars, and gets into all kinds of trouble with girls in Spinout (1966). Another silly excuse for Elvis to sing some songs, kiss a few girls, and win that race. 
This time through Elvis plays Mike McCoy, leader of a small band gigging around the west coast. Mike also loves fast cars and totes his racer behind the 1929 Duesenberg used to haul the band around. While playing in Santa Barbara, a rich car manufacturer named Foxhogh (Carl Batz) offers Mike five grand to play a private birthday show for his daughter, Cynthia (Shelly Fabares). Mike turns down Foxy with a hard no, much to the band's dismay. Foxy also wants Mike to drive his new racer. the Fox 5 (actually McLaren Elva), in a big upcoming race. Mike, having none of that offer either, loads up the band and takes off. 
Foxy and his daughter won't take no for an answer and have the band's bookings canceled, forcing Mike and the three stooges, (yes, actually named Larry, Curly, and…Les, the female drummer) to reluctantly play the private show. It's after this performance we learn Cynthia wants Mike for more than just a one-shot show. All the while, drummer Les has been not so quietly eyeing lead singface all for herself. Because two just won't do, there's a pretty lady with binoculars and a notepad keeping tabs on Mike. Turns out she's Diana St Clair (Diane McBain), author of best-selling books about bachelors, researching her next project. What all three have in common is that they want to hitch Mike to the matrimony post. How will Mike deal with it all? Will he win that race for Foxy? Will he race with the Duesenberg? Will he keep his cool and remain single with spurs that jingle, jangle, jingle? Or will this all spin out of control, like some wacky racer with no brakes?  
Add a few parties, a bunch of silly song breaks, and that's Spinout in a nutshell. Another weak-plotted, cornball comedy directed by Norman Taurog (Boys Town, The Adventures of Tom Sawyer) that makes a good excuse for Elvis to sing some lackluster songs while sexy, bikini clad women dance the Pony, Swim, and Jerk all around him. Notable misfires include "Beach Shack" and "Smorgasbord." The music itself is actually rocking but gets bogged down by the throwaway lyrics Elvis is forced to utter. The real shame about the soundtrack album is that buried deep on it and left out of the movie is a great version of Bob Dylan's "Tomorrow Is a Long Time," where Elvis proves he's still got some heart and can still handle real tunes; a foreshadowing of what will come just a few years later with the '68 Comeback Special and the albums that follow.  
I generally like most Elvis movies just to watch him work his mojo and swagger about crooning to hot chicks but Spinout is a clunker. This is the frivolous movie era for Elvis, where each would be just that much worse than the previous, somewhere he himself admits this. He seems to zombie walk through his roles while his chemistry with his co-stars just isn't there; neither with the lame screwball sidekicks or the ladies with top billing. Thankfully though, it is these years that will drive Big E to scrap the crap, shed some pounds, and get back to rocking and reclaim his throne clad in black leather, leaving the beach blanket nonsense to the imposters and wannabes. 
Included as Special Features besides the Spinout Theatrical Trailer are two great Tom and Jerry cartoon shorts, both about six minutes long and funny as all get out. Catty-Cornered has Jerry mouse outwitting not only Tom cat but the next-door-neighbor cat as well. While Filet Meow finds Jerry defending a little lady fish in a bowl from a hungry Tom. Good stuff as cannons roar, grenades explode, and the aroma of cheese fills the air. 
Smack in the middle of the no sideburns, "blah" years Spinout isn't one of Elvis' better offerings. There are plenty of sexy, sometimes bikini-clad, groovy '60s chicks shaking and gyrating directly in front of the camera but that's still not enough. I'd much rather grab a lemonade (that cool refreshing drink) and watch Viva Las Vegas or even Fun in Acapulco where the King's chemistry with his co-stars is still hot and he's got his mojo working. Lastly, cheers to Eddie Murphy and his Elvis bit from Delirious. Still hilarious 40 years on. "We gotta win this race."