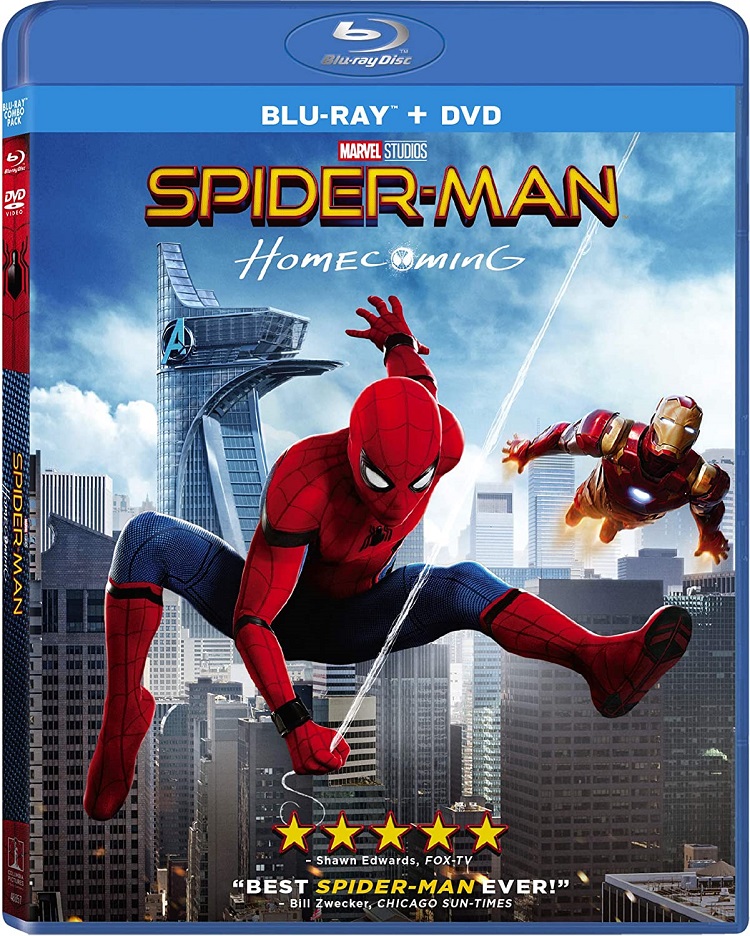 Towards the end of Captain America: Civil War, there is a sweeping scene in which Captain America and Black Widow prepare to train War Machine, Vision, Falcon, and Scarlet Witch to be new Avengers. It was a "passing of the torch" moment. Truth is, over the last decade and dozens of films. the old Avengers are getting, well, old. The actors are all getting tired of playing the same characters and I suspect many fans are ready to move on as well. Marvel has constantly been expanding their cinematic universe and it seems they are preparing to allow some of their original characters depart while ushering in new ones.
Spider-Man: Homecoming was an attempt to bring that idea forward. We got to see this new Spider-Man a little bit in Civil War but now he's got his own movie. It's a pretty good one too. Tom Holland is a lot of fun as Spidey, bringing youth and enthusiasm to a role that had grown a little too dour over the years. It isn't by any means a perfect film, or even a perfect Marvel film, but it shows the universe can continue to grow and will keep chugging along for many more years.
I've had changing opinions about this whole cinematic universe thing since its beginning, but it doesn't seem to be going anywhere anytime soon. As long as they keep making fun, entertaining films, I'm happy to let it be a little escapism in a world grown increasingly dark.
As per usual with these type releases you can get Spider-Man: Homecoming in a variety of formats with varying amounts of extras, including a cute little mask.
Also out this week that looks interesting:
American Gods: Season One: I started watching this Starz show based on the Neil Gaiman book back in the summer. Got a few episodes in and quit because I wanted to get farther along in the book. I'm a slow reader so I'm still digging into it, but the series remains firmly on my list.
Puppet Master: Toulon's Trunk: It's October, which means we're still seeing lots of horror films being released, but it's also close to November, which is close to December and so we're also seeing lots of boxed sets already coming out for early Christmas shoppers. I don't think I've seen a single Puppet Master movie, but this massive set comes with all 11 movies inside an impressive looking trunk. As far as I can tell, the actual disks are the same ones Full Moon released awhile back but if you don't have them and are a fan, and don't mind the heavy price tag, then that's a cool-looking box.
Batman vs. Two-Face: Last year, Batman: Return of the Caped Crusader brought the silly camp of the sixties TV series into an animated movie. It also brought the voices of Adam West, Burt Ward, and Julie Newmar. This sequel adds William Shatner as Two-Face to the mix. Sounds delightful.
Batman/Superman Anthology: A nice gift set containing all four Christopher Reeves Superman films plus the four Batman movies from the Tim Burton/Joel Schumacher years.
Alfred Hitchcock: The Ultimate Collection: Contains 15 of Hitchock's best films (Saboteur, Shadow of a Doubt, Rope, Rear Window, The Trouble With Harry, The Man Who Knew Too Much, Vertigo, North by Northwest, Psycho, The Bird, Marnie, Torn Curtain, Topaz, Frenzy, and Family Plot). Appears to be a re-release of an older boxed set so don't expect any new material, but at $85 it will make a great gift for the Hitchcock fan in your family.
Twin Peaks: Fire Walk with Me (Criterion Collection): Now that the new series is over you can go back and watch the movie.
Barry Lyndon (Criterion Collection): William Thackeray's novel about an 18th century Irish rogue was adapted by Stanley Kubrick into an epic cinematic drama in 1975. It confounded audiences and critics then; it continues to do so today. It is the one Kubrick film I've never seen. I keep telling myself I need to get to it, but its run time (185 minutes) and reputation as a bit staid and, well, dull keep me from it. But maybe this Blu-ray upgrade from Criterion will finally get me on it.
Samurai Jack: The Complete Series: This Adult Swim action-adventure series ended abruptly after four seasons in 2004. Recently a fifth season was developed that gave the show an actual (albeit controversial) ending. I've never seen any of it, but it's always intrigued me.
Girls Trip: Jada Pinkett Smith, Queen Latifah, Regina Hall, and Tiffany Haddish star in this raunchy comedy about a group of friends who get together in New Orleans for a weekend of fun.