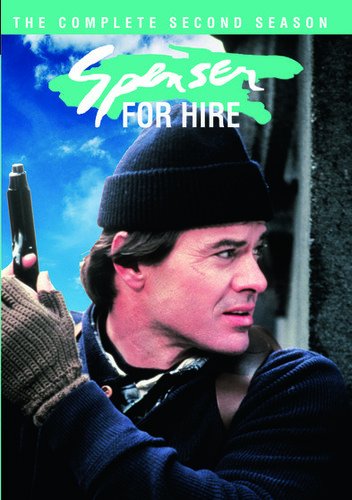 A frequently used adage from the past likes to remind us "The more things change, the more they stay the same." This can be particularly pithy when it comes to television shows, including the numerous changes ABC's '80s private eye neo-noir series Spenser: For Hire went through during its second season. From the very opening of its second season, Robert Urich's titular P.I. experiences new changes, beginning with his old abandoned firehouse station pad – which he had moved into after his quaint top-floor apartment burned down in the first season – being replaced by a new and entirely different quaint top-floor apartment. His faithful '66 Mustang meets a fiery fate here, only to be replaced by a butt-ugly '87 5.0 GT model before being swapped out with another beauty from '66 (a GT) once everyone finally said, "Please, no more of the butt-ugly '87!"
Why, even the woman in Spenser's life has been changed. His original lady love, Susan – as played in the previous season by Barbara Stock – is written off and announced over the show's iconic narration that she has moved to California. But it isn't long before Spenser accidentally runs into (several times) a young Assistant District Attorney named Rita Fiore (Carolyn McCormick), who initially tries to prosecute our hero for blackmail when a bitter adversary gains access to Spenser's private files (stored haphazardly in a storage locker, because he's Spenser) and starts to exploit the weaknesses of our man's clientele. But at least Spenser still has his best friend and gym/shoot-up buddy to play with: Hawk, as played once again by the great Avery Brooks, who adds even more gusto into his classic "Spen-sah!" catchphrase (something that, sadly, never made it to t-shirts).
In fact, with Spenser's character so fully developed now, the For Hire writers behind this season were allowed to give some of the show's co-stars a chance to shine a little bit here and there. Hawk, naturally, is one of them – who goes from getting arrested by a mean Tom Atkins (and his unconvincing stunt double) in a hick town, to being blown into the water by yet another bitter adversary for the season's finale. Even Ron McLarty's character of Sgt. Frank Belson – who was usually only seen as a slobby simpleton sidekick to police lieutenant Richard Jaeckel – is fleshed out here to the point where he actually becomes a human being with a personality. Sadly, though, the aforementioned Mr. Jaeckel's part of Lt. Martin Quirk is cut down and reduced to being primarily seen in the background and/or long shots – even when his character is wounded by an evil Hawk impersonator!
Story-wise, this second season of Spenser: For Hire doesn't seems to be as hard-hitting as its predecessor. One episode in particular "One for My Daughter" – featuring guest stars Margaret Avery, David Strathairn (with dark hair still), and Pam Potillo – is so dumb, that it comes off as a deranged ABC Afterschool Specials version of The Cosby Show (complete with a living room that is an exact opposite of the other show's famous set), and almost seems to be mocking African-American culture of the 1980s. (Interestingly, episode co-star Pam Potillo wound up being cast on both the ABC Afterschool Specials and The Cosby Show.) It would be funny were it not for the fact that said episode was adapted for TV by Spenser's own literary creator, Robert B. Parker himself! (There's even an episode here featuring a little girl with psychic powers!)
But hey, it's those little ironies in life that make it interesting, right? Take, for example, a latter episode in the season, "If You Knew Sammy," wherein Robert Urich's Soap alumni Sal Viscuso plays an NRA-endorsed vigilante who stood his ground and shot down three thugs – Death Wish style – in Florida. A young William H. Macy even shows up in said episode (back when he was still just W.H. Macy), and there's a slew of other faces that would become famous in the future to be seen here mixed in with a few already-established veterans, including Ed O'Neill, Marg Helgenberger, Samuel L. Jackson, Nancy Travis, Seth Green, Spalding Gray, Rob Morrow, J.T. Walsh, Laurence Fishburne, Ruby Dee, Earl Hindman, Mako, David Margulies, Tony Shalhoub, Frank Whaley, and David Hyde Pierce.
Of course, the ever-active B movie lover in me couldn't help but notice the likes of Vampire Hookers co-star Trey Wilson as a cop who has gone a bit mental over not being able to capture an untouchable bad guy; Patricia Elliott, who was also featured in Richard Jaeckel's 1968 magnum opus, The Green Slime; and – if you look fast – you'll even spot artist/writer/film historian Larry Blamire, who brought us the unforgettable 2001 ode to 1950s B movies, The Lost Skeleton of Cadavra. All this plus a few noticeable moments where the late Mr. Urich lets his acting guard down and openly plays around with his fellow cast members as himself. Even with weird episodes like "One for My Daughter" and "Shadowsight" mixed into the fray here, it's still an awful lot of '80s fun.
The Warner Archive Collection releases Spenser: For Hire: The Complete Second Season to DVD in a five-disc set that brings us all 22 episodes from the show's 1986-1987 run. Each episode is presented in its original broadcast aspect ratio (1.33:1) with English audio, and neither are a let-down. As to be expected with a Manufactured-on-Demand release, no special features are to be found here, but that shouldn't deter you from diving head first into this pool of cool, soothing nostalgia.
Bring on Season Three!